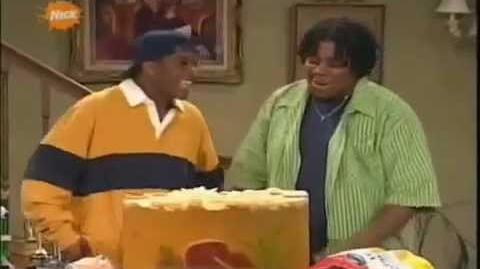 "I! DROPPED THE SCREW! IN THE TUNA! IT WAS ME! Oh, the humanity!"
The ending to "Mental Kel-Epathy", in which Kel (pretending to be psychic) takes part of a test set up by a talk show. He had to press a button to turn on a green light, the other buttons though sends a nasty buzzing sound to headphones worn by the Rockmores & "Ezekiel" (Actually Chris in disguise). Naturally he screws up and in the end he admits he's a fraud.
 Kel: "I'm so sorry! I'm sorry!"

Kenan: "What?"

Kel: "Sorry!"

Kenan: "Your sorry?"

Kel: "I'M NOT A PSYCHIC! I'm just a child!"

Kenan: "You just a child? Here I come, I'm gonna get you for messing up my-" (Kel pressed the button that sends a buzz in Kenan's headphones) "-Ow, plan!" (Kel pressed the button again) "You're supposed to be my boy!" (Kel pressed the button again) "This could've worked!" (Kel rapidly pressed the button) "OW! OW! I'm gonna beat ya-OW!" (Kel pressed almost every button) "Daddy, he's hurting me."
Kel taunting Mad Dog in episode "Girl Watchers":
 Kel: I mean, who wanna be your girlfriend?

Kenan: Kel! Shh! He doesn't mean that.

Kel: Oh yes I do. I mean, look at you. You're big, and ugly, and... tattooed.
 Kenan: You'll be Amy.

Kel: And who'll you be?

Kenan: ME! I'll be me!
Kel acts all girly and in front of a mirror.
  Kenan: Ring. Ring. Ring. Ring. Ring! MAN, PICK UP THE SHOE!!
Kenan didn't hang up well, and the Dawsons' answering machine recorded everything Kenan and Kel said about Mr. Dawson, which is what Roger said.
 Kenan: Stop saying my name.

Kel: Why Kenan?

Kenan: I'm sorry! Oh please forgive me! Don't fire my daddy! This isn't even Kenan. This is... [with accent] Fernando. Fernando Mantebal. I don't know nobody named Kenan. I... [loses accent] oh! [hangs up]

Kel: Smoooth.
"Kenan, I don't wanna go to Alaska! Can we just stay here in America?"

In "The Raffle":
 Kenan: Elaborate.

[Kel just stands there]

Kenan: Tell me what happened!
 Kel: That I don't get to keep.

Kenan: Enough!
"Grab a seal, some a veal, and the Shaquille O'Neill, and meet me down by the ferris wheel. To be real!"
Kenan's girly scream: "BEETTYYYYYYYYY!!!"

Kel: "New Zealand?"
"I'm Gonna Get You Kenan" has Kel tackling a nun, think she's the Jackhammer. Blasphemy, right?

There's also the scene in the police station where he opens and closes the Jackhammer's cell door.
 Kel: Oh, Mr. Jackahamma! The door's open! Oh, it's close! Wait, wait, wait, it's open! No, it's close! Ha-ha-ha-ha! Wanna come out?
Kel doesn't recognize Kenan, who is in disguise.
 Kel: Has anyone seen Kenan?

Kenan: Kel, it's me.

Kel: And I'm me.
"Foul Bull" would have the duo looking at the newspaper of them being blamed for Ron Harper's injury.
"The Chicago Witch Trials"
 Sharla: Don't worry, Kenan. She doesn't dislike you... yet.

Kenan: Well, if she's with you, she can't be picky. (long pause) Hi, Becky.
Kel: Which trials?
Sharla accidentally blew dust on Becky. It made her itchy. Kenan peaked to see her scratching.
Then Kenan walked up to her to sniff her, then walks back to the backroom. She smelled the barbecue sauce that was squirted on her.
 Kenan: She smells like fire!

Kel: Maybe she was on fire.

Kenan: She wasn't on fire! She's a witch!
 Kenan: But I'll tell you one thing: if I do go out with her, man, I am not wearing this stupid, ugly, rice pants. You know, for somebody that works in a clothes store, she sure has bad taste in clothing.

Kel: Yeah, she got bad taste in perfume, too. She smells like a stinky water buffalo.
The policemen in "Attack of the Bug Men" who are basically Kenan and Kel all grown up.
Community content is available under
CC-BY-SA
unless otherwise noted.