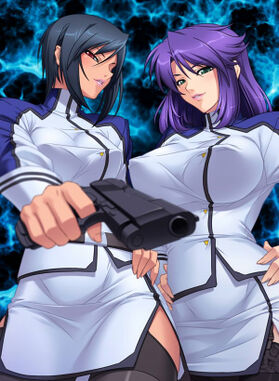 Lieri Bishop, an up-and-coming New Solars Commander and her aide, Major Naomi Evans board a battleship to earth to report the Neo Terrors' crimes to the Universal Federation. The captain of the ship who is of the Neo Terrors, Donny Bogan, has had a grudge on them since four years ago when they had sabotaged a kidnapping mission on earth and got him arrested. So he has his chance and brainwashes them. Now when the lights change in the battleship, their personalities switches to one that suits the crew and that's when the "sexual" party begins...
Kangoku Senkan or Prison Battleship is a visual novel series created by Black Lilith. The series follow Villain Protagonist Donny Bogan as he kidnaps and covertly brainwashes the central figure of the Universal Federation, to set up his own rise to power. It is consider by many as Black Lilith's second most popular franchise after Taimanin Asagi. The series includes three main title games, a four-episode anime OVA adaptation of the first visual novel, and a Spin-Off game, Kangoku Academia.
The Series has examples of:
Redbell has examples of:
Community content is available under
CC-BY-SA
unless otherwise noted.