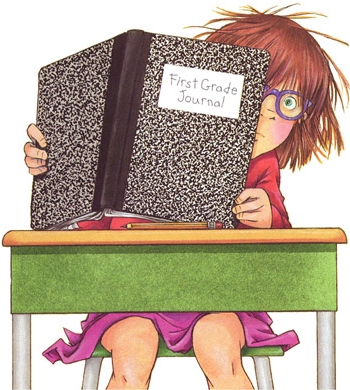 Junie B. Jones is a series of books aimed at elementary school audiences, written by Barbara Park. The "B." stands for "Beatrice," but she just likes B., and that's all. The stories are told in the first person by Junie B. herself, and all of the stories in the original series also include a brief letter at the end by Barbara Park.
Junie B. was originally conceived as a character that was Not Allowed to Grow Up, but Barbara Park changed her mind on this matter and "graduated" Junie B. to first grade, with the latter books in the series released under the banner "Junie B., First Grader." There were a total of 27 books in the series, 17 in the original line and 10 in the "Junie B., First Grader" series, as well as a couple of supplementary titles. These were released approximately once a year until 2007. No new releases were seen after Junie B., First Grader: Dumb Bunny, and it was assumed that the series has ended, until Turkeys We Have Loved and Eaten (and Other Thankful Stuff) was announced for August 2012. The Junie B. Jones series made ALA's list of the top 100 challenged books or books series from 2000-2009, related to complaints regarding the social values taught by the books and that Junie B. Jones is a poor role model, due to her poor spelling & grammar and mouthiness. This series has spawned a stage show by TheatreWorks USA.
Junie B. Jones celebrates her 20th anniversary in 2012 and a full-color anniversary edition of the first book in the series, Junie B. Jones and the Stupid Smelly Bus, was released in April 2012, with bonus material.
Barbara Park died of ovarian cancer in November 2013. A set of Junie B. valentines was released posthumously in 2014 called "Junie B. My Valentime".
---
Junie B Jones and her books contain examples of the following:
 "My name is Junie B. Jones. The "B" stands for Beatrice. Except, I don't like Beatrice. I just like "B" and that's all." (All of the books open with this line.)

"Wowie wow wow!"

"Hurray! Hurray!"

"That is a hoot, I tell you!"

"(name/pronoun) am/is a lucky duck."

"I hearded that (name/pronoun) is easier than my math!"

"Hello. How are you today? I am fine." (When she gets in trouble)

"HEY! WHO TURNED OUT THE LIGHTS?" (When she didn't see something)

"My teacher's name is Mrs. She has another name, too. But I just like Mrs. and that's all." (in all of the kindergarten books)

"I am not even scared of him, hardly." (When referring to her first grade teacher, Mr. Scary.)

"The end." (when she's finished telling her stories to other characters or telling the truth)

"X looked up at the ceiling. I looked up there too. But I didn't see anything." (In reference to when adults roll their eyes at Junie B.)

"Missy's my name when I'm in trouble."

"(Varies) and I MEAN it!"

"(Varies) And she (Grandma Helen Miller) said don't call her Helen."

"Yeah, only..."

"Plus also..."

"Here's the problem..." (when she doesn't like something)

"On account of..."

"Dumb Bunny" (mostly mentioned in Junie B., First Grader: Dumb Bunny)

"She forgot my B again!" (when others don't call her Junie B.)

"Boom.....Do the math"

"Speedy quick"

"Only too bad for _____, because..."

"Except not (actually) (name)"

"CALL 911 CALL 911!!" (When in shock or scared)

"How did you do that Maxine. How did you do that" (Junie B. Jones is a Beauty Shop Guy)
Notes
↑

or "the man with the can" as she calls him in the book
Community content is available under
CC-BY-SA
unless otherwise noted.