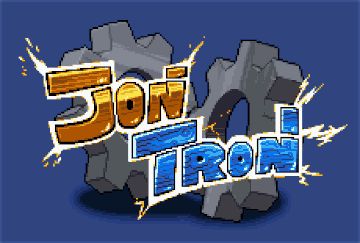 This guy makes Egoraptor look sane by comparison.
Jon Jafari is JonTron, a Video Game critic on normalboots.com. Using a cheerful, energetic style and plenty of cutaway gags and visual puns, he talks about certain elements of video games, good and bad, and occasionally reviews specific titles. His sidekick is a green parrot named Jacques, who talks in a vaguely robotic voice, has glowing red eyes, and offers stoic commentary to contrast Jon's boundless energy.
Although Jon sometimes critiques bad video games and bashes them a lot (at times rather harshly), he is not a Caustic Critic. He uses a lot less profanity than most others in his profession, and reacts to bad games with exaggerated confusion (and sometimes sadness or disappointment, or less often, outrage). His initial reaction to the nonsense and weirdness in the games he plays is chilled out and accepting... until he finally snaps, often with hilarious results.
He claims to have been inspired mainly by The Angry Video Game Nerd and Spoony. Then he photoshopped them making out.
---
Games Discussed
The Adventures of Mighty Max
Aquaman: The Battle For Atlantis
Banjo-Kazooie: Nuts & Bolts
Three Bubsy games
Dino City
Joe and Mac
Monster Bash starring Johnny Dash
Aquaman: Battle For Atlantis
---
Tropes
Jon (Trying to appease Jacques): Jon, that doesn't go there, you silly BITCH!
Brick Joke: Turns out the characters from the game can " just leave" too. The episode ends with a dinosaur boss walking into Jon's living room.

Faux Horrific: When trying to play Final Fantasy XIII, it turned out that "The game's playing itself, Jon. The game's playing itself, Jon!"
Four Point Scale: Invoked Trope and Played for Laughs. Jon devised a meaningless ratings system wherein it's actually impossible for a game to receive bad marks, no matter how much he bashed it in his review. Sonic Colors and Donkey Kong Country Returns received an "A/5" and a "Six Golden Bananas+/Shigeru Miyamoto" respectively; even though Jon spent the whole video mocking them (though it's pretty clear he enjoyed both). Nimbus, described as "A game you will maybe forget", got a B/5.
Funny Foreigner: Malkovich
Genius Ditz: Despite his frenetic and slightly spastic persona, Jon has a very good understanding of game theory and will sometimes take a moment to explain exactly why a particularly bad fault is so fatal. For instance, his comments on being able to ignore the complex combo system inAquaman and win reliably by mashing the A button leads to an explanation of "Dominant Strategy", and the blatant Breaking the Fourth Wall in Bubsy 3D prompts him to elaborate on Willing Suspension of Disbelief and how such forced self-reference damages it. Since he tends to slow down when explaining these concepts to allow the audience to comprehend what he's saying, he usually lampshades them by shierking GAME THEORY TIME!! and/or splicing in a The More You Know type clip.
Go Mad From the Revelation: Reading 3 to 4 YouTube comments caused this to (briefly) happen to him.

In the Stairfax Tempratures review, his reaction to the Bamfodad.

Hypocritical Humor: When Hitalia

reveals herself as a Randor

in Malkovich's Gaming Game Show, she begins speaking in a made-up language with the occasional made-up word (namely "Malkovich" and "Quarksia") left in English, despite Jon criticizing this exact thing a mere month earlier in his Star Fox Adventures review. Knowing Jon, this was almost undoubtedly intended.
Keet: Jon himself, though lately he's been becoming less like this and more of a "scream a lot to bash the thing being reviewed" reviewer.
Large Ham: Jon
Malaproper: Jon does this constantly as part of his character. Sometimes he makes up for it by adding subtitles... which are also full of malapropisms.
Metaphorgotten: Jon has given us such beautiful similes as claiming that Christopher Belmont "climbs like frickin' Beach Boys on a hot summer Sunday" and describing a certain enemy in Monster Party as starched white pants "walking around like J. Edgar Hoover on a Tuesday afternoon." To say nothing of his analogy for the resilience of the human spirit in his Stairfax Temperatures review:
Jon: Here I am, a whole year later, still trucking along like a sack of potatoes on a long open road, wishing I'd stopped for gas at the last rest stop, and then on the Interstate 12, he gets hijacked and murdered by a bunch of Quaker ghosts!
JONTRON QUITS
"Falling damage in a platformer? There are some things no man should have to see. Nice tits btw" says a melancholy JonTron
Take That: In his review of Sonic Colors (even though he ultimately gave the game a score of "A/5"), he mentions that a crucial matter in determining whether or not the game will be good is that the Wii may not have enough Blast Processing to run it. For those without context, "Blast Processing" is an utterly meaningless term invented by Sega in the early nineties to promote the Sega Genesis and Sonic the Hedgehog, claiming technical superiority over the Super Nintendo. Jon takes cracks at Sonic Team regularly, but seemingly all in good fun.
Top Ten List: Though he sometimes does six when he can't think of ten.
Unexplained Recovery: In the Star Fox Adventures episode, Jacques dies in a fiery, bloody explosion. A few minutes later, he's back to normal, as if nothing had happened.
Jon (casually): Oh hey, Jacques. I thought you died.
Community content is available under
CC-BY-SA
unless otherwise noted.