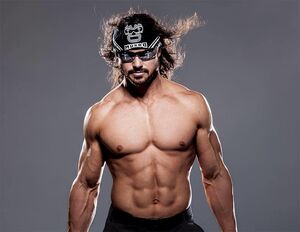 "Hello, my name is John Morrison and if I had a nickel for everybody at Wrestlemania better looking then me......I'd have no nickels."
 "Hi, I'm John Morrison and think so deep, I eat religion and crap out enlightenment."
John Randall Hennigan (born October 3, 1979) is an American professional wrestler better known by his ring name, John Morrison (and previously Johnny Nitro).
That Other Wiki has a rundown on his life and career.
Tropes associated with John Morrison include:
  "My name isn't Johnny Nitro."
Community content is available under
CC-BY-SA
unless otherwise noted.