Protagonists
Jonathan Joestar
Jonathan Joestar. Nicknamed JoJo. Just a 12 year old boy minding his own business in 1880s Victorian England. One day, his father announces that an orphan boy named Dio Brando is moving in with them, and Dio proceeds to push him out of his father's favor and ruin his life in every way possible. Jonathan, however, puts up with Dio, managing to get beyond it all and become an archaeologist. He researches a Mesoamerican stone mask that was in his father's collection, that, at first, appears to be a trap that kills the wearer. JoJo then finds out that Dio plans to kill his father and races to get an antidote from the evil Wangchan with his newfound friend Robert E. O. Speedwagon. After getting the cure, the two men save JoJo's father and fight Dio, who, during the fight, shows that he has used the mask on himself and not died but become a vampire, and burns down Jonathan's house and escapes. JoJo and Speedwagon meet the Italian William Antonio Zeppeli, who teaches JoJo the vampire-killing fighting style Hamon to beat Dio. JoJo, Speedwagon, and Zeppeli go to a European village and face off with Dio.
---
| | | |
| --- | --- | --- |
| | | |
Joseph Joestar

(Stand: Hermit Purple)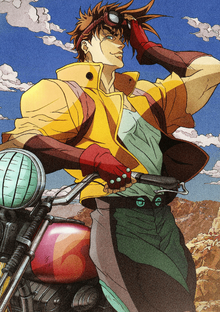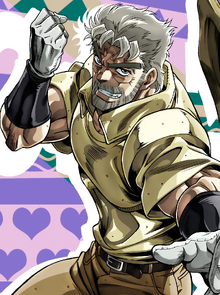 Grandson of the original JoJo. An unscrupulous fighter who uses any means necessary to defeat his opponent. During the course of Battle Tendency, he travels the world to keep the vicious Pillar Men from obtaining the Red Stone of Asia and attaining a level of immortality that would render them absolutely invincible.
Following that, he joined up with his grandson, Jotaro, in order to put a stop to the revived Dio Brando. His role during these events was more or less a supporting part, though he did get a few moments to himself.
His final appearance was during the events of Diamond is Unbreakable, where he met his biological son Josuke and adopted the child known as Achtung Baby (later christened Shizuka Joestar).
---
Jotaro Kujo (Stand: Star Platinum

/Star Platinum: The World

)
Grandson of Joseph Joestar, the son of Joseph and Suzie Q's daughter Holly and the Japanese musician Sadao Kujo. A perpetually angry youth, Jotaro's first appearance has him sitting in a jail cell which he willingly put himself in to keep the people around him from getting hurt by his Stand, Star Platinum. Shortly afterward, he is recruited by his grandfather and Mohammed Abdul to search out and kill Dio Brando before the vampire takes over the world.
He next appeared in Diamond is Unbreakable, where he sought out his grandfather's son, Josuke. He made a few appearances after that, but was regulated to a supportive role for most of that adventure. He also sent Koichi Hirose to find Giorno Giovanna in Vento Aureo, but aside from that had nothing to do with the plot.
His final appearance was in Stone Ocean, wherein he spent most of the time in an almost vegetative state brought on by Enrico Pucci's Whitesnake Stand; but not before he helped his daughter Jolyne develop her own Stand. At the end of that adventure, he recovered, but lost his life in the end. However, it's implied that Pucci's death before Made in Heaven could finish its work restored Jotaro in a slightly different form. That's how the rest of Emporio's slain comrades (expect F.F.) turned out, after all.
---
Josuke Higashikata (Stand: Crazy Diamond)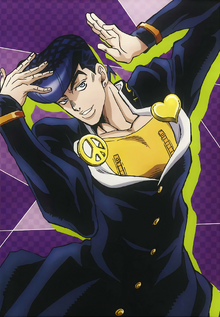 Son of Joseph Joestar (though Joseph didn't know of him), raised by his mother Tomoko and his grandfather in Japan. The highschool-aged Josuke is known for his unique hairstyle and fierce temper regarding said hair. His adventures started when Jotaro tracked him down and informed him that he was Joseph's son and warned him about the deadly Stand user Angelo, who killed his grandfather shortly after the start of the story. Following that, he was pulled into the search for the serial killer that threatened Morioh-cho.
Note that going with the Theme Naming of JoJo, the second kanji in his first name, can also be read as "jo," as well as that his proper name would be Josuke Joestar.
| | | |
| --- | --- | --- |
| | Voiced by: You Taichi and Maureen Price (child), Yuuki Ono and Billy Kametz (teen) (TV anime); Wataru Hatano (video games) | |
---
Giorno Giovanna (Stand: Gold Experience

/Gold Experience Requiem

)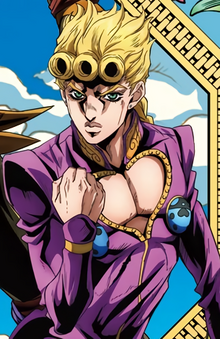 | | | |
| --- | --- | --- |
| | Voiced by: Romi Park (Part 5 video game); Natsumi Fujiwara and Janice Kawaye [as Janice Roman-Roku] (child), Kensho Ono and Philip Reich (TV series); Daisuke Namikawa (newer video games) | |
Son of Dio Brando, who had obtained Jonathan Joestar's body, making him part of the Joestar bloodline. His goal was to join up with the mob and set things right from within. As soon as he joins, he gets roped into traveling with Stand users, protecting their boss' daughter. Unfortunately, the real reason for the boss wanting to meet his daughter was to kill her. They rescue her and make it their goal to kill the boss instead.
Note that for the Theme Naming of JoJo, his name is romanized as Joruno Jobana, though during Part 5 Araki would write it in English as GioGio. It's still pronounced the same.
---
Jolyne Kujo (Stand: Stone Free)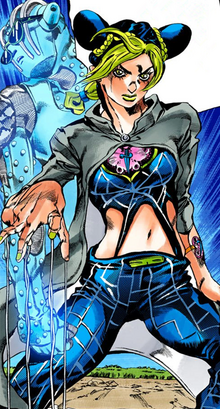 Daughter of Jotaro Kujo. After being arrested for a crime she didn't commit, Jolyne was incarcerated in Green Dolphin State Penitentiary. Her father, realizing that something was amiss, sent her a package containing the tip of one of the Stand Arrows, activating her latent abilities in the form of Stone Free. After her father was attacked by White Snake and rendered comatose as a result, she set out to stop the priest Enrico Pucci and get Jotaro back to normal.
---
Gyro Zeppeli (Stand: Scan/

Ball Breaker

)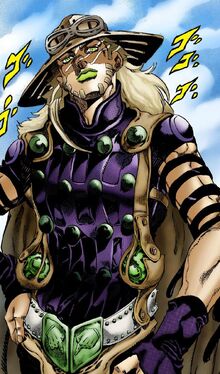 A mysterious racer who suddenly shows up in the U.S. for the Steel Ball Run. He ends up catching the eye of many people, good and bad, due to his unique ability to manipulate steel balls. He eventually acts as a sort of partner and mentor to Johnny after the race begins.
Gyro hails from Italy and comes from a family line of executioners. After questioning the morality of the job when an innocent boy, Marco, is involved, he sets out to enter the Steel Ball Run and land first place so he can use the prize money as amnesty for Marco, who is awaiting execution.
---
Johnny Joestar (Stand: Tusk)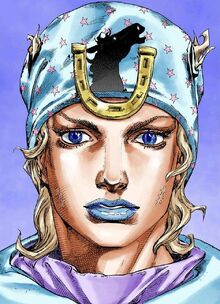 A young horse racing prodigy, Johnny's heyday as a horse jockey came to an abrupt end when a public incident left him paraplegic. He meets Gyro before the Steel Ball Run begins and finds himself captivated by his steel ball ability. After fighting for Gyro's attention, the two team up for the race.
---
"Josuke Higashikata" (Stand: Soft & Wet)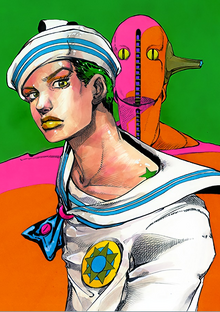 The hero of Part 8, Jojolion. He was found by a girl named Yasuko Hirose, and alongside her he does what he can to find out who he really is and what kind of people he hung out before losing his memories.
---
Supporting characters (Part 1, Phantom Blood)
George Joestar I
Robert E. O. Speedwagon
Will A. Zeppeli
Tonpetty
Dire
Straizo
Erina Pendleton-Joestar
Supporting characters (Part 2, Battle Tendency)
Smokey Brown
Rudol von Stroheim
Caesar Anthonio Zeppeli
Lisa Lisa
Suzie Q
Supporting characters (Part 3, Stardust Crusaders)
Mohammed Abdul (Stand: Magician's Red)
Noriaki Kakyoin (Stand: Hierophant Green)
Jean Pierre Polnareff (Stand: Silver Chariot

/Silver Chariot Requiem, also just known as "Requiem"

)
Anne aka Runaway Girl
Iggy (Stand: The Fool)
Supporting characters (Part 4, Diamond is Unbreakable)
Koichi Hirose (Stand: Echoes/

Echoes Act 1/Echoes Act 2/Echoes Act 3

)
Okuyasu Nijimura (Stand: The Hand)
Antonio "Tonio" Trussardi (Stand: Pearl Jam)
Shizuka Joestar (Stand: Achtung Baby)
Rohan Kishibe (Stand: Heaven's Door)
Reimi Sugimoto
Shigekiyo "Fatty" Yanguu (Stand: Harvest)
Aya Tsuji (Stand: Cinderella)
Mikitaka (Stand: Earth, Wind, and Fire)
Hayato Kawajiri
Yuya Fungami (Stand: Highway Star)
Yukako Yamagishi (Stand: Love Deluxe)
Supporting characters (Part 5, Golden Whirlwind/Vento Aureo)
Bruno Buccellati (Stand: Sticky Fingers)
Leone Abbacchio (Stand: Moody Blues)
Guido Mista (Stand: Sex Pistols)
Narancia Ghirga (Stand: Aerosmith)
Pannacotta Fugo (Stand: Purple Haze)
A member of Buccellati's gang and one of the most mature and smart people in the group. Leaves Buccellati and the rest after he learns the Boss's plan and is the only one who decides not to stay with the rest.
Trish Una (Stand: Spice Girl)
Coco Jumbo (Stand: Mr. President)
Supporting characters (Part 6, Stone Ocean)
Hermes Costello (Stand: Kiss)
Emporio Alnino (Stand: Burning Down The House

/Weather Report

)
F.F. (Stand: Foo Fighters)
Weather Report

/Wes Bluemarine

(Stand: Weather Report)
Narciso Anasui (Stand: Diver Down)
Supporting Characters (Part 7, Steel Ball Run)
Stephen Steel
Lucy Steel
Pocoloco (Stand: Buckethead)
Mountain Tim (Stand: Oh! Lonesome Me)
Hot Pants (Stand: Cream Starter)
Sugar Mountain (Stand: Unknown Name)
Supporting Characters (Part 8, Jojolion)
Yasuho Hirose
Daiya Higashitaka (

Stand: California King Bed

)
Antagonists
Dio Brando

(Stand: The World)
Kars
Yoshikage Kira (Stand: Killer Queen)
Diavolo (Stand: King Crimson)
Enrico Pucci (Stand: White Snake

/C-Moon/Made In Heaven, the latter was originally called "Stairway To Heaven" in the Shonen Jump release

)
Funny Valentine (Stand: Dirty Deeds Done Dirt Cheap, also shortened to D4C)
Minor Enemies (Part 1, Phantom Blood)
Bruford
Tarkus
Jack the Ripper
Wang Chan
Minor Enemies (Part 2, Battle Tendency)
Santana
Esidisi
Wamuu
Wired Beck
Minor Enemies (Part 3, Stardust Crusaders)
Gray Fly (Stand: Tower of Gray)
Captain Tennille (Stand: Dark Blue Moon)
Forever (Stand: Strength)
Devo The Cursed (Stand: Ebony Devil)
Rubber Soul (Stand: Yellow Temperance)
Hol Horse (Stand: Emperor)
J. Geil (Stand: Hanged Man)
Nena (Stand: Empress)
ZZ (Stand: Wheel of Fortune)
Enya "The Hag" Geil (Stand: Justice)
Steely Dan (Stand: Lovers)
Arabia Fats (Stand: The Sun)
Mannish Boy (Stand: Death 13)
Cameo (Stand: Judgement)
Midler (Stand: High Priestess)
N'Doul (Stand: Geb)
Boingo (Stand: Thoth)
Oingo (Stand: Khnum)
Caravan Serai/Chaka/Khan (Stand: Anubis)
Mariah (Stand: Bast)
Alessi (Stand: Sethan/Set)
Daniel J. D'Arby (Stand: Osiris)
Pet Shop (Stand: Horus)
Terence T. D'Arby (Stand: Atum)
Vanilla Ice (Stand: Cream)
Kenny G (Stand: Tenor Sax)
Nukesaku
Minor Enemies (Part 4, Diamond Is Unbreakable)
Angelo Katagiri (Stand: Aqua Necklace)
Keicho Nijimura (Stand: Bad Company)
Tamami Kobayashi (Stand: The Lock)
Toshikazu Hazamada (Stand: Surface)
Akira Otoishi (Stand: Red Hot Chili Peppers)
Bug Ear (Stand: Ratt)
Yoshihiro Kira (Stand: Atom Heart Father)
Ken Oyanagi (Stand: Boys II Man)
Erba Gatta (Stand: Stray Cat)
Toyohiro Kanedaichi (Stand: Superfly)
Terunosuke Miyamoto (Stand: Enigma)
Masazo Kinoto (Stand: Cheap Trick)
Minor Enemies (Part 5, Vento Aureo)
Polpo (Stand: Black Sabbath)
Mario Zucchero (Stand: Soft Machine)
Sale (Stand: Kraftwerk)
Formaggio (Stand: Little Feat)
Sorbet and Gelato
Illuso (Stand: Man In The Mirror)
Prosciutto (Stand: Grateful Dead)
Pesci (Stand: Beach Boy)
Melone (Stand: Baby Face)
Ghiaccio (Stand: White Album)
Squalo (Stand: Clash)
Tiziano (Stand: Talking Head)
Carne (Stand: Notorious B.I.G.)
Risotto Nero (Stand: Metallica)
Cioccolata (Stand: Green Day)
Secco (Stand: Oasis)
Scolippi (Stand: Rolling Stone)
Minor Enemies, Part 6 (Stone Ocean)
Guess (Stand: Goo Goo Dolls)
Johngalli A (Stand: Manhattan Transfer)
Xander McQueen (Stand: Highway to Hell)
Mirashon (Stand: Marilyn Manson, also called "The Debt Collector")
Lang Wrangler (Stand: Jumpin' Jack Flash)
Sports Max (Stand: Limp Bizkit)
Viviano Westwood (Stand: Planet Waves)
One of the guards assigned to the solitary confinement portion of Green Dolphin. He attacks Jolyne when he falls under Survivor's influence.
Kenzo (Stand: Dragon's Dream)
D&G (Stand: Yo-Yo-Ma)
Guccio (Stand: Survivor)
Miumiu/Miuccia Mueller (Stand: Jailhouse Rock)
At first, looks like another female inmate. She's actually the prison's head of security.
Ungaro (Stand: Bohemian Rhapsody)
One of the four sons of Dio. Nasty-tempered drug addict. His Stand, Bohemian Rhapsody, evokes stories right onto people who like them. This is worse than it sounds... much worse.
Rykiel (Stand: Sky High)
One of the four sons of Dio. Not the most self-confident of people, and arguably only assisting Pucci out of gratitude.
Donatello Versace (Stand: Underworld)
One of the four sons of Dio, and the most like him in mentality.
Minor enemies, part 7 (Steel Ball Run)
Diego Brando (Stand: Scary Monster

/ The World

])
Mrs. Robinson
Don't let the name fool you. This character is actually a he, and is always referred to as such.
Andre Boomboom
L.A. Boomboom
Benjamin Boomboom
Oyecomova (Stand: Lucy in the Sky with Diamonds)
F. V. Stroheim
Pork Pie Hat Kid (Stand: Wired)
Pork Pie Hat actually seems to be his first name, being referred as such a number of times.
Dr. Ferdinand (Stand: Scary Monsters)
Ringo Roadagain (Stand: Mandom)
Blackmore (Stand: Catch the Rainbow)
Sandman (Stand: In a Silent Way)
The Eleven Riders (Stand: Tattoo You!)
Mike O. (Stand: Tubular Bells)
Wekapipo (Stand: Wrecking Ball)
Magenta Magenta (Stand: 20th Century Boy)
Axl R. O. (Stand: Civil War)
Disco (Stand: Chocolate Disco)
Minor enemies, part 8 (Jojolion)
Yoshikage Kira

(Stand: Unknown)
Sasame Oujirou (Stand: Fun Fun Fun)
Community content is available under
CC-BY-SA
unless otherwise noted.