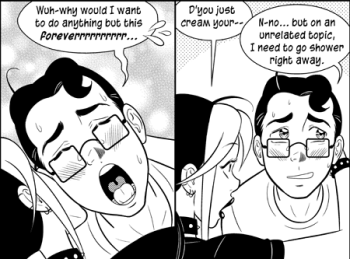 I jizz right in my pants, every time you're next to me,

And when we're holdin' hands, it's like havin' sex with me,

You say I'm premature, I just call it ecstasy,



I wear a rubber at all times, it's a necessity
Bob, being the loser virgin or horndog he is, is... easily overstimulated-- so much so that he ejaculates in his pants without even having sex, or in extreme cases, just from Alice talking to or brushing up against him. If he's in public, expect Hilarity to Ensue. If he's in private, expect Alice to be either extremely disappointed in Bob or proud of herself, depending on whether or not it was her intention.
In anime, a similar situation usually causes an explosive Nosebleed. Compare to Raging Stiffie. Contrast with The Loins Sleep Tonight. The end result of a Nocturnal Emission. A man ejaculating too quickly while making love is Speed Sex. Often combined with The Grunting Orgasm.
Examples of Jizzed in My Pants include:
Anime And Manga
Comic Books
Film
 One of the most frequent problems encountered during the sexual act is that of premature ejaculation. Should premature ejaculation occur, the Joy of Sex album comes equipped with *BOOM* BIG JIM SLADE. Big Jim, former tight end for the Kansas City Chiefs, is outfitted with various whips, chains, and a sexual appetite that will knock your socks off! Big Jim has satisfied women throughout the world, and the capital of Nebraska is Lincoln!
Girl: Did you just cum? --> Guy: ImplausibleDeniability No. Did you? --> Girl: No. --> Guy: Well somebody did.%% -->
Literature
Live Action TV
 Rachel: "Oh, God!"

They roll to their sides, and Rachel tenderly caresses Ross's face.

Rachel: "Oh...honey...oh, that's okay."

Ross: "What? Oh, no, you just rolled over the juice box."

Rachel: "Ohhh, thank God!"
  Mike: Oooooh boy, this is gonna be great this is gonna be--oh. I'm done.
Music
Video Games
Webcomics
Web Original
Western Animation
Community content is available under
CC-BY-SA
unless otherwise noted.