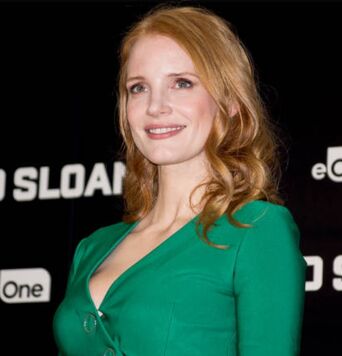 Jessica Michelle Chastain, born March 24, 1977, is an American actress and producer. If you had asked who asked who she was in 2010, cinephiles would have had no ready answer. If you asked the same question in 2012, the results would be very different. The year of 2011 saw no less than seven films featuring her, and transformed her into the personification of the breakout actress, and invited comparisons to both Kate Winslet and a younger Meryl Streep among reviewers and filmgoers.
Previously, Chastain had laboured for years in minor parts on television and in theatre, before working with Al Pacino in a stage performance of Oscar Wilde's Salome, where she played the title character. More roles followed, and due to a number of release delays, Chastain ended up having a very busy 2011 indeed, to the point where critics were split over which of her many performances was most deserving of recognition. The ultimate winner was The Help, the one that had made the most money, which earned her an Academy Award nomination for Best Supporting Actress, which many tip to be the first of many. Whether she'd live up to this auspicious start remained to be seen.
And if you confuse her and Bryce Dallas Howard, don't worry, it's not the first time. Though both actresses and a song helped differenciate them better.
Notable films of Jessica Chastain:
The Debt (2011)
The Tree of Life (2011)
Coriolanus (2011)
The Help (2011)
Take Shelter (2011)
Madagascar 3: Europe's Most Wanted (2012)
Lawless (2012)
Zero Dark Thirty (2012)
Mama (2013)
The Dissapearence Of Elenor Rigby (2014)
Interstellar (2014)
The Martain (2015)
Miss Sloane (2016)
The Zookeper's Wife (2017)
Molly's Game (2018)
X-Men: Dark Phoenix (2019)
IT: Chapter Two (2019)
Tropes applying to Jessica Chastain
| | | |
| --- | --- | --- |
| | "When someone tells me I'm a sex symbol I'm like, "what?" But I'll take what I can get." | |
Community content is available under
CC-BY-SA
unless otherwise noted.