"You're not wrong, Walter. You're just an asshole."

—The Dude, The Big Leboski (1998)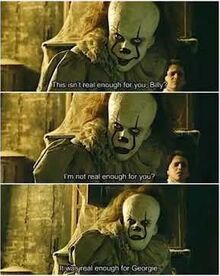 He's not good. He's not nice. He's a Jerkass. What he just said is not what we wanted to hear. And yet, he's right..
The jerkass in question can be anything from your ISO Standard Jerkass or Anti-Hero all the way up to any flavor of Villain (though the chance is inversely proportional to the distance they go down the "slippery slope"). Whoever he or she is, they're seriously deficient in the morals department, at least from the point of view of the perspective characters. Then they have a moment where they say something undeniably true - the good guys don't have to like what he's saying, but they can't deny he's right without deluding themselves. Perhaps even the protagonist is caught on a moral stumbling block, and the antagonist is all too glad to point out their hypocrisy.
The other main reason a character is likely to say "I don't believe I'm saying this, but I agree with him."
It's worth noting that the Alpha Bitch and the Jerk Jock, two of the main distributors of this trope, have a tendency toward bluntness. While our hero's friends may be hesitant to insult him, these characters don't really care what he thinks and are willing to say exactly what he's doing wrong, without sugarcoating their "What the Hell, Hero?".
A rare outcome of the claim "We are Not So Different". A response of "Shut UP, Hannibal" would be out of place, and is likely to get shot down if it appears. See also Not Himself and What the Hell, Hero? for situations likely to inspire this. See Don't Shoot the Message for what happens when this occurs in Real Life. Sister Trope to Dumbass Has a Point, Villain Has a Point, The Extremist Was Right and Wisdom from the Gutter.
This is an In-Universe Only Trope:
.For it to be Jerkass Has a Point, the work or characters within the work must acknowledge that the jerkass is right. If a character who is often unpleasant makes a point that readers are meant to see as wrong, but still comes across as more sensible than the counterargument, that's 
Strawman Has a Point
.
Examples of Jerkass Has a Point include:
Anime and Manga
Comic Books
In volume 4 of Empowered, the protagonist is overjoyed to be running for the Caped Justice Awards, until Sistah Spooky informs her that the award is a setup used to publicly humiliate the receiver and that she should watch out. Given that Sistah Spooky has been nothing but antagonistic from day one (not to mention breaking her own pedestal, since Empowered was a big fan of hers until they met), she assumes Sistah is just raining on her parade.

She's not.
In both the graphic novel Watchmen and film adaptation of the selfsame, Ozymandias is moved to set his plan into action after The Comedian mocks (Captain Metropolis in the novel,

Ozymandias

himself in the film) for trying to form a Super Team and points out that with the Cold War inching mankind closer to nuclear annihilation with each passing moment ideals like "right" and "wrong" were outdated.

The Comedian also condemns Dr. Manhattan for his noninterference. The Comedian shoots a pregnant Vietnamese woman over Manhattan's objections, and is then chastised for it. While this is obviously a heinous crime, he correctly points out that Manhattan could have prevented it with his godlike powers, by teleporting her away or changing the bullets into something harmless, but chose not to. As it turns out,

this passive observation eventually leads to the deaths of thousands.
Fanfic
Futari wa Pretty Cure Blue Moon: Though she's just a member of the Girl Posse, not the actual Alpha Bitch herself (that's Emiru), Mia makes a full Heel Face Turn by breaking Asa out of her Heroic BSOD. At the same time, Hoshi, who, while good from the start, never much liked Yoko, is the one to lecture her for causing it.
In the Avatar: The Last Airbender fanfic How I Became Yours, Mai's supposed Moral Event Horizon is causing Katara to have a Convenient Miscarriage, but she makes a pretty good case for why she did it, even if it's not a nice one, but since she plays the Designated Villain we're supposed to take Zuko's side.
Harry Potter and The Methods of Rationality: Harry James Potter-Evans-Verres makes this awesome. He only tends to be a Jerkass when he's got a point.
Film- Animated
Mr. Potato Head: What if Andy starts playing with me more, Woody, huh? You gonna knock me out of the window, too?
Earlier, Mr. Potato Head is quick to point out Woody can't relate to the other toy's fears of being replaced due to being Andy's favourite. As smug as he is about it, he was proved correct when Woody himself got usurped by Buzz and he became incredibly insecure.
Woody himself in regards to his resentment of Buzz- while it's largely a case of Driven by Envy, he has every right to be annoyed at Buzz's delusions of grandeur (e.g. his belief that he's the real Buzz Lightyear as opposed to an action figure), especially considering it results in him being The Load for a good portion of the movie, and Woody is constantly, to no avail, trying to inform Buzz that he's a toy.
Film- Live-Action
The Avengers: Captain America, tired of Stark's egomania, tries to insult his manliness by accusing him of being nothing without his Iron Man armour. Stark effortlessly swats the insult down:
What really makes it this trope, however, is that it's followed by Natasha - not the biggest Tony Stark fan given their interaction in Iron Man 2 - nodding in acknowledgement of the point.
There's also Cap's question to Tony where he asks if he would lie on barbed wire to let others get across safely. Tony's response? Cut the wire.
He gets a third one in when Steve says that Tony had better stop pretending to be a hero. "You're a laboratory experiment, Rogers. Everything special about you came out of a bottle". Harsh but true, compared to Tony and Banner's intelligence-derived powers and Black Widow and Hawkeye being trained, Cap's power was handed to him for being a Nice Guy.
Clamp: That thing that was in here a minute ago, that's dangerous! This guy's from the art department.
Forster: Well, ask him how he knows so much about these "green things"
Clamp: That's a good question Bill – how do you know so much about them?
Literature
Vidia from the Disney Fairies series does this on occasion.
A variation of this occurs in The House of Night series, which leads to friendship between The Hero and The Alpha Bitch, who eventually becomes the The Sixth Ranger and a major supporting character.
In Darkest Powers, Tori Enright, while not necessarily evil, is a self-proclaimed bitch who once made it her priority to make Chloe's life hell. While her first time attempting to give Chloe advice ends up in the two of them almost getting carved up by a trio of street thugs, when it seems that Chloe is having trouble with Simon and Derek and gets subsequently very depressed about it, Tori's pep talk ends up helping Chloe to realize just what's wrong with herself. Which in turn leads to her accepting the fact that the one she's liked all along is actually Derek and allows her to return to a mostly normal state.
In A Song of Ice and Fire, there's a scene in the second book where Alliser Thorne, an abrasive and arrogant training instructor with the Night's Watch, comes to King's Landing to present evidence that the dead are walking and warn everyone that an invasion by the Others is imminent. Every time we've seen Thorne before, he's been portrayed in a negative light, so most readers cheer when Breakout Character Tyrion makes a fool out of him in front of the royal court:
 Tyrion: Lord Baelish, buy our brave Ser Alliser a hundred spades to take back to the Wall with him.

Alliser: Spades?

Tyrion: If you bury your dead, they won't come walking.
It doesn't change the fact that Alliser was telling the truth: The dead are walking, the Others are coming, and the kings and lords of Westeros are too busy fighting each other to do anything about it.

This is also a major bit of Nice Job Breaking It, Hero for Tyrion; knowing what a Jerkass Thorne is, Tyrion refused to see him when he arrived, and kept him waiting for so long that the severed, yet still moving, wight hand Thorne had brought with him had rotted down to the bones. Had Tyrion seen him earlier, he would have been presented with indisputable proof that Thorne was telling the truth, and the course of the whole series might have been dramatically changed.

In Harry Potter, Malfoy believes Hagrid's Blast-ended Skrewts are abominations of nature. The Skrewts are jet-propelled scorpion-leeches that eventually grow to be 10-feet long

and are apparently illegal hybrids of Manticores and fire-crabs meaning they shouldn't even exist in the first place

. While Hermoine defends the Skrewts in Hagrid's class out of loyalty to Hagrid, she privately agrees with Malfoy that the Skrewts are horrible monsters.
Live Action TV
Supernatural: The Trickster/

Gabriel

was a big one. Sure, his method was cruel (a time loop within which Dean died every day, and Sam couldn't save him), but he did have a point: Sam had to accept that Dean was going to die, and that sacrificing themselves for each other isn't a good idea.

Not that it stopped them...

The Big Bang Theory:

Sheldon is annoying, but he did spend years telling Penny to pay attention to her "check engine" light in her car before it broke down on the road in Season 7.
In another episode, Penny gives Howard a blistering Reason You Suck Speech when he yet again sexually harasses her. She does go too far, but her grievance about him constantly making disgusting comments when she's clearly not interested - and has outright said that - is perfectly valid.

Degrassi: "Whisper to a Scream" is a great example. Ellie, a Goth Zen Survivor, is the only character all season who has been able to stand up to Paige [the Alpha Bitch]. The episode starts with Ellie fighting Paige's latest scheme...then, due to trouble at home, Ellie begins cutting herself. Paige finds out and tries to help her get counseling.

There was also a much less serious episode where Emma has her first period, and Paige tries to convince her that it's great because "You'll get boobs now" And "Boobs aren't that bad... they're really great actually."
From our other Alpha Bitch, Holly J, we get a few moments where she gives 'advice.' The first is after Mia finds out Sav likes Anya ("We need men, not boys."), after her Fallen Princess she gives advice to Spinner and Jane in season 8. Season 9 she has a wonderful scene with shades of the Paige Emma discussion telling Clare that having a impure thoughts isn't bad... so long as it doesn't lead to kissing the neck of Holly J's boyfriend.
Mrs. Torres, oh wow. She's mad at Snake because her son was shrinkwrapped to a pole. Then she's mad at Snake because her other son who she still isn't quite used to not being her daughter was the victim of a hate crime in school. By this time she's probably wondering what kind of school he's running. Then Vegas Night happens...
Another example involving Paige happened in the episode "I Want Candy". Ashley would not get out of bed to go to school after Craig cheats on her with Manny (several months after it's already happened). In an effort to try and cheer her up, Paige and Spinner skip school and take her out on the town. Of course, Ashley does nothing but whine the entire time. Finally, Paige gives Ashley a What the Hell, Hero? speech, tellng her that while what Craig did to her was wrong, he was not the issue. The real problem was Ashley because she wouldn't move on with her life.
Bianca's gotten her fair share in, pointing out that while she did steal Drew from Alli, it wasn't as bad as Alli kissing Clare's ex-boyfriend/current step-brother. Since Alli is Clare's best friend she should know better, Bianca has no such loyalty to break. Later on she sets Jake straight that no matter what Clare says, she's not going to be able to separate the sex from the romance she has building in her head, and if he sleeps with her he's royally messing her up. Bianca didn't choose the nicest ways to go about sharing these lessons, but she was right in both counts.

Odo being saved by advice from Quark in an episode of Star Trek Deep Space Nine.
Late into Lizzie McGuire, the Will They or Won't They? between Lizzie and Gordo was getting unbelievably tedious so Lizzie finally got a Sorkin Relationship Moment...from Kate.
Mad Men: Joan Holloway gets to hand out a lot of this. So does Bobbie Barrett.
In The Wire, William Rawls is a complete asshole that openly hates protagonist Jimmy McNulty.

But, when McNulty's partner is shot, Rawls makes it a point to tell Jimmy that the shooting wasn't his fault

.
Glee is full of this and most of the Jerkass characters get one or more scenes where they get to tell one of the 'good' characters the plain truth and force them to address their problems.

Sue Sylvester tells Will that he shouldn't use demeaning hairography in the glee club's set list. Later, Will thanks her and as required willingly shows her the set list which she promptly leaks to the competing schools.
Quinn tells Rachel that Finn does not have the same dreams for the future as Rachel and as such she should stop pursuing him since they will just end up miserable. This makes Rachel realize that she has been too self-absorbed and has not really considered what Finn wants out of life and a relationship.

Scrubs: Dr. Bob Kelso is a Jerk with a Heart of Gold on the best of days and a straight-up Jerkass most days, but being the Chief of Medicine, he'll inevitably make a point now and then that's harsh but true. An good example is in the season 1 episode "My Occurrence", when he calls out JD for withholding crucial information about Ben Sullivan's health, simply because he feels sorry for him.
Gossip Girl: Both Chuck and Blair often fill this role, telling the blunt and terrifying truth.
From The Walking Dead, there's Daryl. He may be a caustic redneck, but he is usually the only one of the group to recognize the gravity of their situations.
In the second season of Community, a recurring plot arc was Pierce Hawthorne's increasingly Jerkass behaviour towards his friends, which eventually reached a point where they were debating whether to throw him out of the group or not. However, while Pierce was shown to be unreasonable and cruel with many of his actions, he was also shown to make the entirely valid point that one of the main reasons that he was acting out in this fashion was that his supposed friends weren't actually that much nicer or better towards him in many ways, often deliberately excluding, mocking or ignoring him. While Pierce is the group's Acceptable Target in that he's a racist, sexist jackass, his friends were forced to concede that in several ways he had a point. However, the trope is played with in that Pierce is also forced to concede the point that it's in many ways his own fault he's excluded in the first place.
Torchwood: In the season 1 finale "End of Days", Jack chews out Owen for messing with the Rift, thus going against the first thing he learned when he joined the team. Owen, however, retorts that if he hadn't opened the Rift, Jack and Toshiko would still be stuck in the 1940s, something the far nicer Gwen also points out.
In the season 1 finale of Spartacus: Blood and Sand, Oenomaus angrily calls out Ashur for his cowardice, dishonorable tactics, arranging Barca's murder, ruining Crixus and Naevia's relationship, and other slights. Ashur retorts that ever since he arrived in the ludus, everyone gave him a hard time: repeatedly calling him a wimp and a coward even though he won a few matches, and making fun of him when Crixus crippled his leg, so why shouldn't he try to ruin their lives?
 Ashur: My fucking treachery? When did YOU stand forth for Ashur? When did ANY OF YOU GREET ME SHORT OF MOCKERY, AND SCORN?!?!! FUCKING CUNTS!!!
Annie's father in the Masters of Horror episode "Cigarette Burns". Kirby treats him like an unreasonable jerkass, but Kirby did get his daughter killed by indulging her drug habit, abysmally failed to get her on the right track despite agreeing with him to do so, is still massively in debt to him, and just evades him whenever the topic of repaying the loan comes up.

It's only when he resolves to kill Kirby that he crosses the line into outright villainy.
Theatre
Video Games
In Phoenix Wright Ace Attorney Justice For All's second case, it's strongly implied that Dr. Grey is right and that Mimi Miney was, in fact, at fault for the malpractice incident that killed fourteen patients, as Phoenix says near the end of the trial.
Mass Effect series:

The turian councilor Sparatus is generally the meanest of the three council members (which is saying something, considering how infamously out of touch the Council tends to be) but he is also the only council member who thinks it plausible that Matriarch Benezia would be willing to murder her own daughter. And he turns out to be right - because of indoctrination, she is. Also when you consider that turians are taught to value discipline and self-responsibility and their government is based on hierarchical meritocracy, it makes sense why he's irritated by Shepard's maverick attitude and insubordinate nature to authority.
Miranda Lawson spends the first act of the second game as an arrogant Ice Queen, but when she dismisses the scientists of Project Lazarus as expendable, Jacob, usually the Nice Guy, takes her side, saying that they knew what they were signing up for and, without Shepard, the past two years of labour will have been for nothing. Her calling Jack a mistake during their 'disagreement' is also well-placed, as Jack is a Psychopathic Womanchild who's guilty of every crime imaginable and plans on going on a Roaring Rampage of Revenge once the Collectors are dealt with. She's also in general a highly unpleasant person, especially to Miranda, having dismissed her as a 'Cerberus bitch' before she even opened her mouth.
The sequel also has an instance with Quarian Admiral Zaal'Koris, who is entirely distrustful of both Tali and her father trying to get the family exiled. However, he's also the only member of the Admiralty board who opposes going to war with the geth and sees them another sentient species with the quarians also largely to blame for what has happened.  If you speak to him during the trial, he will explain his position in detail and tell Tali that he has no personal vendetta against her or her father: he is just doing what he thinks needs to be done for the good of the quarian people. Tali responds with "I do not agree, but I understand." He takes a level in kindness in the third game, and is even integral in 

bringing a peaceful solution to the quarian/geth conflict

.
Also in the second game, while Kaidan/Ashley was harsh in chewing Shepard out for working with Cerberus, their warning that the Illusive Man is using the Reaper threat and Shepard's gratitude to manipulate him/her turns out to be very accurate. Among other things, Miranda had to be explicitly forbidden from putting a control chip in Shepard's brain, the post-mission summary for Archangel's recruitment explicitly notes that Archangel's 

unexpected identity as Garrus Vakarian could be very useful for making Shepard comfortable

, the post-mission summary for Tali's loyalty mission cites how much intel Cerberus was able to gain on quarian internal politics from it, and the summary of the mission to gain the Reaper IFF mentions how much Cerberus was able to learn about the husk creation process because of the data Shepard recovered. When trying to convince Shepard

 to preserve the Collector Base, the Illusive Man resorts to directly reminding Shepard of everything Cerberus has done for him/her.

In the third game, the player finds a video of the Illusive Man explicitly laying out his plan to make Shepard invested in Cerberus's goals the old fashioned way (something Kaidan/Ashley is the only squad member not to be surprised by), and the data on the husk creation process resurfaces in one of the most horrifying sequences in the trilogy.
If you sacrificed the Council in the first game, in the third, the new council reminds you of this while refusing to divert resources from protecting their own homeworlds to help Earth. It's fairly presumptuous to expect them to help you after you betrayed their predecessors, possibly in order to allow humanity to take control of the Council.

Regardless of what Council it is, however, Udina ends up being the Only Sane Man by saying that they need to stand together. Shepard even notes that while he/she hasn't always agreed with Udina, he's nevertheless right in this case; in fact, it's precisely because of the Asari's initial refusal to cooperate that

Thessia gets taken by storm, when logically they should have had all the warning in the world.

In Pokémon Black and White, Ghetsis says, 'A Pokemon, even if it's revered as a deity, is still just a Pokemon!' After all the legendary Pokemon being called 'gods', it's kind of nice to see someone who isn't falling for it. Even if he redefines 'bastard'.
Uncharted 2: Among Thieves: In chapter 11, Chloe calls out Nate for attempting to save the injured Jeff, saying that he's as good as dead already and if they don't keep moving, Lazarevic will catch up to them. Callous as she may have been about the whole thing, that's exactly what happens, and the first thing Lazarevic does afterwards is shoot Jeff dead, making the entire chapter pointless.
In Katawa Shoujo, when Hisao suggests that Jigoro Hakamichi could visit his daughter Shizune, Jigoro counters by, among other things, asking when the last time Hisao has called his parents. Hisao concedes that he has not made much of an effort to keep in touch with them, although he hates Jigoro enough to be tempted to punch him in the face.
Dangan Ronpa series:

Byakuya Togami often plays this role in the first game. He spends most of his time distancing himself from the group, believing himself to be one of the smartest and most capable people alive, and, therefore, above everyone else present. And while he doesn't have to be such a jerk about it... he's got a point, given how many incredible things he's accomplished without even being out of high school. Also, whenever something sad or horrible happens, you can count on him to coldly lay out the facts or state the status quo.

Played for Laughs in chapter 5, when he says the current discussion is completely idiotic. Considering they're discussing whether the corpse they found is Kyoko when she's standing right in front of them, "idiotic" doesn't even begin to describe it.

Hiyoko Saionji, a bully who enjoys squashing ants for fun, sometimes plays a role similar to the first game's Byakuya in the sequel. After the first murder, she points out that everyone has to get their acts together and find the killer, or everyone besides the killer will die. After the second trial ends, in which it is revealed that 

Fuyuhiko didn't kill Hiyoko's best friend, Mahiru, but was responsible for her death

, she coldly blames him for everything that happened. 

Fuyuhiko

agrees, then attempts Seppuku as a way for atoning for his crime.

Also from the second game, Monokuma, of all people, gets a moment of this in chapter 5; Chiaki is more or less going out of her way to rule out

Nagito's

death as a suicide, as she (and Sonia) can't believe one of the group could kill someone in such a horrible fashion.[1] Monokuma, however, points out that it's more that they don't want to believe it, and for all their faith in each other, they've been betrayed multiple times so there's no reason for them to believe that this time is any different. Nobody is able to give him a decent rebuttal, and Kazuichi even says that he agrees with him.

Tales of the Abyss:

Luke might be an entitled jerk to everyone, inviting plenty of teasing and mockery, but he makes a very good point as to why picking on his lack of general world knowledge is over the line. For what it's worth, the rest of the party stop picking on him over that, and from then on only criticise him or insult him over things that have greater consequences, or can't be excused on his circumstances (for example, his arrogant behaviour as Ambassador).
Luke: I didn't have time for any of that! I had other things to learn. Like my parents' faces!
Shortly before entering Akzeriuth, the party is at Deo Pass after a detour to the Zao Ruins to rescue Fon Master Ion. Luke, naturally, complains that they wasted time rescuing Ion from the ruins when he wasn't in any danger. The party immediately reprimands him for saying that, but Luke was right! The God Generals had taken him, certainly, but they had no motive, incentive or any desire to harm him. In fact, they would have still needed him to open more doors with a Daath seal on them. Ion was in no danger. Luke was right, the party and player could've been saved this entire ordeal and gotten to Akzeriuth sooner.
Jade Curtiss is often harsh and blunt in his statements, but he always has a good point to make when he speaks up towards people's actions or attitudes not helping the situation. He's just not nice about it. Towards the end of the game, the party has learned to trust his advice, even if they acknowledge his complete lack of people skills. When Natalia  nearly gets the entire party killed towards the end of the game due to having a Heroic BSOD after Asch's death, resulting in them getting caught in a trap, Jade smacks her in the face and reprimands Natalia. Even though Natalia thinks Jade went too far, she concedes the point.

Tales of Xillia:

Gilland

 states that his actions were merely things he had to do, in order to save 

Elympios

 and doing everything to survive, which included using spyrix, something that kills spirits. When Milla tells him that it's their own fault for using the dangerous technique of spyrix, 

Gilland

 backfires that he, and the others, shouldn't be blamed for something that was started 2.000 years ago and that "it wasn't us!" who decided to use spyrix to begin with. Milla is left speechless after that last outburst.
Web Comics
Something Positive: When Kharisma leaves the medicaid company at which she works with Davan, she advises him to get out, telling him that he can do better and that she wouldn't wish the job on her worst enemy.
 Molly: Now lets sit back, just us bitches and figure out how to fix this, 'cause being a bitch is kind of my thing, and two bitches is one bitch too many.
 CG: IF I RECALL, IT WASN'T THAT LONG AGO FROM EITHER OF OUR PERSPECTIVES THAT YOU WERE RIPPING ON ME AND MY SMUG WINDBAG FUTURE SELF FOR ARGUING WITH EACH OTHER

GG: oh come on...

GG: this is NOTHING like that!

CG: HOW IS THIS NOT LIKE THAT

GG: because she's...

GG: well

GG: she's ACTUALLY INSANE

CG: OH I SEE, AND ALL THOSE IDIOT PAST AND FUTURE KARKATS WEREN'T???
Web Original
Global Guardians PBEM Universe: Achilles, leader of the titular superhero team, goes to his father for advice on his personal life all the time. His father, by the way, is Lord Doom, one of the setting's world-conquering master villains. This is a slightly inverted example, though, because usually Achilles is the blunt antagonistic one (for a hero), and Lord Doom is generally urbane and polite (for a villain).
In The Onion's articles by Jean Teasdale, "Hubby Rick" is an interesting intersection of Jerkass and Closer to Earth. He spends most of his time at the bar, mainly because Jean's Cloudcuckoolander It's All About Me behavior frustrates him; one article has her squirreling away money to "invest" (read: buy Betty Boop collectibles), and when Rick finds out he chews her out because they could use that money to pay their bills.
Western Animation
In one episode of The Spectacular Spider Man, Peter, under the influence of the black spidey-suit, acts uncharacteristicaly abrasive to his friends. A speech from Flash Thompson causes Peter to realize what a jerk he's been and cast off the symbiote.
 Peter: OK, if Flash Thompson is making sense, something must be seriously wrong.
Real Life
Notes
↑ He, in no particular order, was tied by his legs and left arm, had his mouth sealed via duct tape, was stabbed in his right hand by a knife and got impaled on a metal spear.
Community content is available under
CC-BY-SA
unless otherwise noted.