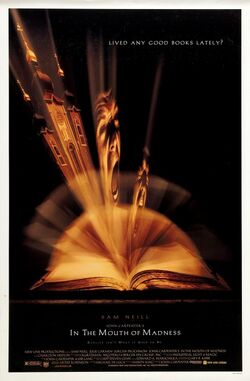 A reality is just what we tell each other it is.
John Trent (Sam Neill), insurance fraud investigator, has just been placed in an insane asylum. Months earlier, he was hired to find bestselling horror writer Sutter Cane (Jurgen Prochnow). Cane has disappeared under mysterious circumstances, but his publishers think it might just be a stunt to drum up support for his next book, In the Mouth of Madness.
When Trent finds that the covers of Cane's books seem to become a map to the supposedly fictional town of Hobb's End, he and Linda Styles (Julie Carmen), who works for the publisher, decide to go there and find Cane. What they find, however, is something much worse.
The third installment of John Carpenter's "Apocalypse Trilogy" (preceded by The Thing and Prince of Darkness), In the Mouth of Madness explores reality, fiction, and the thin, horrific line that separates the two.
---
This film gives examples of:
   Trent: Pull the book. Don't distribute it. Even if everything I've said is totally Looney Tunes, I know this book will drive people crazy.
Harglow: Well, let's hope so. The movie comes out next month.
Trent: Oh, Christ.
Apocalypse How: Humanity is in full-on societal breakdown, and may very well go extinct. It's left deliberately vague as to whether people are just losing their minds, or are being invaded by a species of Eldritch Abominations.
Arc Words: "Do you read Sutter Cane?" and "He sees you."
Bedlam House: At the start of the film, we find Trent locked up in a mental asylum, from which he tells the rest of the story prior to his arrival there to a psychiatrist.
Bigger Than Jesus: Sutter Cane repeatedly claims more people believe in his novels than believe in the Bible.
Bizarrchitecture: The Black Church. On the outside it's spooky enough, what with its rural New England location, but inside it turns into a full blown Eldritch Location.
Body Horror: Mrs. Pickman and

Linda Styles

.
Bloodless Carnage: Averted. However, when Cane's agent gets shot dead by a cop, he doesn't bleed.
Breaking the Fourth Wall/Unnaturally Blue Lighting:

"Did I ever tell you my favorite color is blue?"

Fridge Brilliance:

Almost every characters' eyes are blue in closeup, whether or not the actor or actress actually has blue eyes.

Brown Note: The whole premise.
Catapult Nightmare: Trent startles awake from his alleyway nightmare,

but it turns out that he's still asleep when he finds the monstrous cop sitting next to him on his living room couch. He has a second Catapult Nightmare when he wakes up for real.

Clingy MacGuffin: Once Trent has the manuscript, he can't get rid of it. Even when he destroys it, it reappears very quickly.
Credits Gag: Right after the "No animal was harmed during the making of this film" blurb, they have a slightly different report on the humans.
Creator Worship: Sutter Cane, in-universe.
 "I have to, he [Suttter Cane] wrote me this way."
Fan Disservice: An in-universe example.

After Cane possessed Linda, he makes her try to seduce Trent, who is understandably unnerved

.
   Possessed!Linda: It's what the readers want.
Cane: I'm not going anywhere. I'm God now, you understand?
 "The crosses are a nice touch. They'd almost have to keep you in here after seeing these, wouldn't they?"
Rule of Scary: A rare in-universe example; Hobb's End runs on this

because it's the product of Sutter Cane's imagination.

Shotguns Are Just Better: Averted. The shotgun-armed angry mob trying to confront Cane in the Black Church fail to defend themselves from his guard dogs.
Spooky Painting: Mrs. Pickman's hotel lounge is adorned by a painting of a couple standing besides a lake. Every time Trent takes a look at it again, the couple transform more and more into shrieking human-tree hybrids.
Stepford Smiler: Mr. Saperstein.
Tears of Blood: On those who read Cane's latest book.
This Is Reality: Trent insists on this and states it word for word.
Through the Eyes of Madness: The movie was heavily inspired by the Cosmic Horror of H.P. Lovecraft. To make it even better, the question isn't just limited to whether John Trent is (in)sane or not, but also whether he actually exists or is just a figment of the in-story horror writer's imagination (or for that matter, a figment of the screenwriter's mind). The man's not just in the mouth of madness, but being digested.
Title Drop: The movie title is that of Sutter Cane's latest novel. It's title dropped by Sutter Cane when he finishes the novel's manuscript for Trent to return it to the real world.
 "All done. In the Mouth of Madness."
Community content is available under
CC-BY-SA
unless otherwise noted.