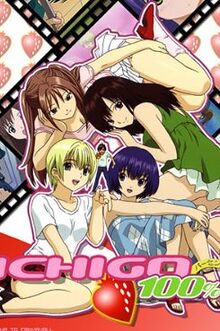 Junpei Manaka is on the cusp of high school, and he's obsessed with only one thing: movies. He has dreams of becoming a director one day, and often goes out and daydreams of the movies he wants to make on the roof of the school.
One day while going there, though, he catches a glimpse of a beautiful girl... and her strawberry-print panties. For the first time in Junpei's life, he notices the opposite sex. It also helps that the mystery girl left behind a notebook, filled with a story that Junpei can't put down (and would make, in his opinion, a great movie). Obsessed with this mystery girl, he isn't sure where to turn... shy bookworm Aya Tojo, whose name is in the notebook, or confident school beauty Tsukasa Nishino, who outright told him she was wearing strawberry-print panties. Of course, other girls eventually start showing interest in Junpei...
By manga artist Mizuki Kawashita, it ran for several years, has been adapted to anime, and has appeared in Jump Super Stars and its sequel (despite being a slice-of-life high school romance). One thing that makes the series noteworthy for many people is the fact that the series itself is makes it unclear who the main character will end up with, despite the assumptions one would make about this sort of series. This resulted in much uproar when the main character finally made a choice.
---
Ichigo 100% provides examples of:
  That swimsuit scene was nothing but fanservice. Don't you know that degrades the quality of the movie?
First Girl Wins: Subverted! Tsukasa wins... though to be fair, she was the first girl to express interest in Junpei.
Foregone Conclusion: By the second chapter in the first volume (or since the very beginning, given the not-so-subtlety in concealing her identity), the reader can already tell that Aya is the strawberry-panties girl Junpei had been soughing after. Since she usually hides behind her Nerd Glasses and has her hair tied in braids when in public, it takes long for Junpei to put two and two together.
Furo Scene: Naturally, Junpei finds himself thrown into a bath with several of the girls.
Gainaxing: Satsuki seemingly does this intentionally.
Getting Crap Past the Radar: Even this anime has its limits due to the fact that it's actually not ecchi. While on a group date Junpei and

Nishino

decide to ride the ferris wheel and more importantly talk about their feelings but it breaks down halfway up. To make things worse, the door flings open causing

Nishino

to almost fall out but clings to Junpei in the nick of time. While this happens, she somehow gets on top of Junpei and even manages to get her knee to pressure his crotch, she of course is unaware of this. Junpei then exclaims (while tightly holding on to her panties) that his "body part" is about to explode! No I'm not making this up. This is done in plain view of the general public no less!
Genki Girl: Satsuki
Gonk: Komiyama
Groin Attack: Satsuki delivers one so hard to Manaka that he gets airborne and falls out an open window. Strangely enough, he acted like nothing had happened in the next panel.
Idiot Crows: Spotted in the first volume of the manga, after Manaka finds out that, while asleep, he drooled on the paper with Nishino's phone number, blurring it away.
Imagine Spot: Those panty shots aren't just going to happen by themselves, you know.
Innocent Fanservice Girl: Yui - she's not particularly bothered by her habit of removing her clothes in her sleep. Even while in the same room or bed as Junpei.
I Will Definitely Protect You: Junpei says to Satsuki, "I will protect you to the full extent of my abilities!" (meaning against the pervs in the Film Studies Club). She blushes and thinks to herself, "He just said he was going to protect me ... what the hell was he talking about!"
Likes Older Women: Sotomura. For all that he obsesses over taking pictures of cute girls for his webpage, he's actually interested in his teacher, Kurokawa-sensei.
Marshmallow Hell: Junpei is subjected to / blessed with this at regular intervals.
Measuring Day: Treated as Serious Business at the all-girls' academy attended by Yui and Tsukasa. And guess who's there to accidentally witness it?
Names to Know In Anime: Mamiko Noto as Aya, Nana Mizuki as Yui, Sanae Kobayashi as Satsuki, Yuji Ueda as Sotomura, Kana Ueda as Kozue, plus some other fairly well-known names. The phrase "wasted talent" may come to mind.
Nerd Glasses: Aya hides behind these.
Omake: The final OVA episode is an expansion of one of the manga omakes.
Otaku: Junpei's obsession with moviemaking often comes off like this, to the extent that he becomes pretty much the last boy in class to even notice the opposite sex.

Sotomura also qualifies, due to his "Beautiful Girls I've Found" web page.

Panty Fighter: Apparently where Satsuki draws her fighting style inspiration from.
Panty Shot: practically Once an Episode, though some are just Junpei's fantasies.
Porn Stash: Later in the manga, Nishino

visits Junpeis' house and sleeps in his bed for the night and

finds Junpeis' porn stash under his bed. Junpei is tremendously embarrased but soon becomes furious when she tells him that she moved it for "Safer Keeping."

Aya also finds it at one point and accidentally ruins one of the magazines. Junpei claims that it isn't actually his, because he doesn't want to look like a pervert. Aya, in response, is almost too nonchalant about it - she knows from her brother that boys "just have magazines like that"... and buys Junpei a replacement for the one she ruined.

He's All Grown Up: A rare gender inversion of this. In the Distant Finale, Junpei is one of the last people to show up at the gang's three-year reunion, and he is jacked.
Shrinking Violet: Aya; Mukai
Status Quo Is God: You'll think the character relations have changed over the course of, say 40 chapters. Then, bam, the comic ends up right back where it started, ready for round two.
Theme Naming: The family names of the girls all have the kanji for a cardinal direction in their names[1], while Junpei's last name has the kanji for "middle".
Third Person Person: Yui; Chinami
Those Two Guys: Komiyama and Ookusa, at the start of the series. After the cast move into high school, Ookusa more or less disappears (although he is in the same high school as Junpei) and is replaced by Sotomura.
Token Mini-Moe: Yui, who also has the smallest chest on the show.
Tsundere: Satsuki and to even greater extent, Misuzu.

Your mileage may vary on this. Satsuki was mean to everyone she didn't know. Once she knew she could trust someone, or at least wanted to trust someone, she was only ever affectionate, sometimes to a fault.

Twelve-Episode Anime - to detrimental effects.
Twice Shy - The whole reason why

Junpei and Aya DON'T end up together

.
Unlucky Childhood Friend: Averted -- Yui never displays any serious love interest in Junpei.
Wet Sari Scene: The girls' shirts / blouses regularly get wet and see-through, either as a result of falling into oceans / fountains / pools or having drinks spilled on them.
Why Did It Have to Be Dogs: Yui
Notes
↑ Nishino = west, Toujou = east, Kitaoji = north, Minamito = south
Community content is available under
CC-BY-SA
unless otherwise noted.