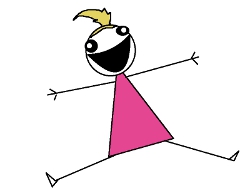 If I had to explain myself in six words, those words would be "heroic, caring, alert and flammable." That's only four words. Oh well, I guess I should have thought of that before I started writing. Too late now.
Hyperbole and a Half is a hybrid blog/Journal Comic by Allie Brosh. The journal and its attendant comics detail the life--past and present--of its writer, in a surreal, sketchy style. The humor is random, the stories even more so, and the comics, sketchy as they are, somehow have a distinct appeal.
Read it here. Or click the link above. Either works. Also see the wiki here. Allie also created a forum where her readers could gather, though it has spun off into its own community only tangentially related, you can find it here.
Currently on something of a hiatus while Allie works on her first book.
---
This work contains examples of:
 Mrs. Davison: Allie! What are you doing?

Me: Looking for ants.
"I have a fucking trophy in my living room. For all of my accomlishments. It says "Allie: BEST FUCKING PERSON EVER!!!!!!!!!!" and it totally has all of those exclamation points too."

Calvin Ball: "Baby Uterus Wall Ball", conceived by Allie as the explanation behind one of the Google queries leading to her site being "baby uterus not sticking to".
Clothes Make the Maniac: After putting on a dinosaur costume in "Menace", young Allie goes mad with power and begins making trouble whenever she puts it on.
Cloudcuckoolander: Simple Dog.

Allie herself seems to slip in and out of this.

Corner of Woe: Allie, in the recent strip.
Creator Breakdown: No joke. Rather unfortunately, it got worse.
Creepy Child: Young Allie comes across as one remarkably often. "Wolves" features not just her but her entire group of friends acting like Creepy Children.
Dada Comic: There's really no explanation behind most of what goes on in the Spaghatta Nadle universe, but it resonates with people anyway.
Deadpan Snarker: Boyfriend
 Me: "The rules of Baby-Uterus-Wall-Ball are extremely rigid."

Boyfriend: "You need a job."
Allie: PARP! (Tries to jump out of moving car, having forgotten to take off her seatbelt)
Kids Are Cruel: Or at least have very twisted ideas of fun games. From Wolves:
 Unfortunately for Benny, we had not yet developed the ability to empathize with the pain and suffering of other people, and his terrified fleeing was pretty much the most fun thing that had ever happened to us.
 When I was a child, one of the things I enjoyed doing was hitting other children with a stick. Many of my classmates also enjoyed doing this. We would walk through the forest in back of our school, trying to find the biggest stick we could feasibly wield as a weapon. When we found the right stick, we would lure an unsuspecting child out of the teacher's sight during recess and attack them. We called this game Stick War and it was the best game ever as long as you weren't the one being beaten mercilessly.
Pyrrhic Victory: A story of her younger self who devoured an entire cake and was sick for the rest of the day. She obviously considered it Worth It.
 When we were loading the dogs into the car, the constant, high-pitched sound emanating from the simple dog finally broke the helper dog. The helper dog wailed in anguish, which alarmed the simple dog. In her surprise, the simple dog let out a yelp, which further upset the helper dog. And so it continued in a wretched positive-feedback loop of completely unnecessary noise.
  "Thanks to Xtreme Muscle Product, I can explode a seagull with a single punch!"
Community content is available under
CC-BY-SA
unless otherwise noted.