Crew of the Siva
In General
The crew of the battle ship Siva that is lead by Colonel Emina Tristan. The crew is made of Space Marines that are tasked with hunting down Space Pirates.
Emina Tristan

The main heroine of the story. A young woman who was promoted to colonel at the age of 27 after earning many achievement and medals. Described as a smart individual with good motor skills and was the top of her class at the space military academy. After achieving the rank of colonel, Emina was given the command of the new battleship Siva. Her abilities as a colonel as earned her the hatred of many space pirates across the galaxy.
Claire Ballantine

A long time friend of Emina and Siva's operator and navigator. She does have the same merits and achievements as her friends and was only able to acquire her position on Siva due to her friendship with Emina. She is an excellent operator and radar technician, but lack skills in combat. At the military academy, Claire only learned the bare minimum in close quarter combat in order to pass. She is described as cheerful and friendly person that always liven the mood of her fellow crew-mates.
Silvia Carbay

Emina's former classmate from the space military academy who is the same age as her. Silvia specializes in close-range combat and firearms. Her fighting abilities is stated to surpassed Emina, and earned her the rank of major in the space army. She now serves as a captain in Siva's land warfare unit. Although Silvia has the best combat skills out of crew of Siva, she is not very good at operating machinery or navigation.
Soiree Serpent

Emina's lieutenant that originally belonged to Space Force (the Air Force In Space!) before joining the crew of the Siva. Soiree is the Siva's Ace Pilot that like to use her small fighter ship when going into combat. She believes fighting through space/air combat is far more brilliant than fighting through close-range combat and those that settle fights with melee weapons are no better than barbarian. Her beliefs often puts her at odds with Silvia. Soiree's combat abilities on the ground is stated to be on par with a regular soldier.
Manuela Santo

Siva's science officer who assigned form the Space Force Science and Technology department to the new battleship's medical team. She is a proficient physician, but has a wealth of knowledge as a scientist, and knows a lot about machinery. She used to immerse herself in research as a scientist, but has got little chances to by promoted for her research. Since she have saved a lot of lives uses to knowledge obtained through her research, it was decided that she would be a good addition to the crew of the Siva.
The Hawkins Pirates
In General
The Hawkins Pirate fleet that consist of numerous star ships and countless rogues. A large army of Space Pirates that have been known to target civilian transport vessels, occasionally attack military supply ships, and even invade entire planets. They have also been to known kidnap women and sell them off as Sex Slaves.
John Hawkins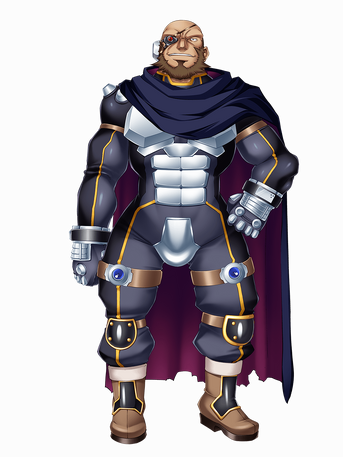 The leader of the Hawkins Pirate fleet that consist of numerous star ships and countless rogues. John is a very large man with the physical strength to match. He was a reputation for being a cunning, brutal pirate warlord.
Aliens
In General
Type 1 Aliens
A juvenile type alien hatched from eggs laid by the alien queen. These parasitic aliens seek out human hosts to attack themselves to. If the host is male, they would attach themselves to the back of the head of the host, after which removal is impossible. The alien would control there male host and use them to attack and impregnate any woman that they can find. If host is female, they attach themselves to their face, breast, or crotch. When attached to the female host's face, the alien would force them feed an aphrodisiac liquid substance. Ones attached to the breasts injects chemicals to cause lactation. The aliens that attach themselves to the crotch will implant an embryo in either the womb or anus. Impregnation from a Type 1 alien or its male host will result in a Type 2 alien.
Type 2 Aliens
An adult alien born when a Type 1 alien or another Type 2 alien "impregnates" a human woman. These aliens instinctively search for female human to mate with and will kill any male humans that they come across.
Type 3 Aliens
An alien type larger and more grotesque than the adult Type 2. These aliens are born from female humans that where directly impregnated by the alien queen. These alien severe as the Elite Mooks that are stronger than the Type 2 aliens, and are far better equipped to capture more female human for its hive.
Alien Queen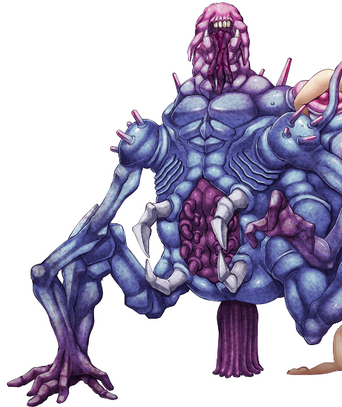 A large alien that serves as the leader. The queen has made its nest in the engine room of the abandoned Chronos. This alien is capable of laying eggs that create the Type 1 aliens. It also can incorporate human female into its body. Any women embedded in its body are forcibly impregnate by its Naughty Tentacles, resulting in a Type 3 alien.
Community content is available under
CC-BY-SA
unless otherwise noted.