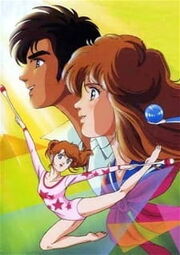 Hikari no Densetsu (光の伝説, lit. Legend of Light or Hikari's Legend) is a manga by Izumi Asou that ran in Shueisha's Margaret magazine from 1985 to 1988 and was recopilated in 16 volumes (first edition) and later in 8 (2008 edition). It also had a 19-episodes anime series.
The protagonist is Hikari Kamijou, a middle schooler who idolizes the Bulgarian gymnastics champion Diliana Georgieva and aspires to be a a great gym practicioner. Initially she's a bit clumsy when practising her routines, but she shows flashes of raw talent and decides to persevere anyway no matter what.
Hikari also has the encouragement of two of her seniors from the gym club, Hazuki Shiina and Takaaki Ooishi, who realize Hikari's potential and want her to develop it. Hikari's other big support is the leader of a local band, her childhood friend Mao Natsukawa. Soon, a Love Dodecahedron starts blooming... but at the same time the four youngsters work hard to go forward and reach their dreams...
Tropes used in Hikari no Densetsu include:
Community content is available under
CC-BY-SA
unless otherwise noted.