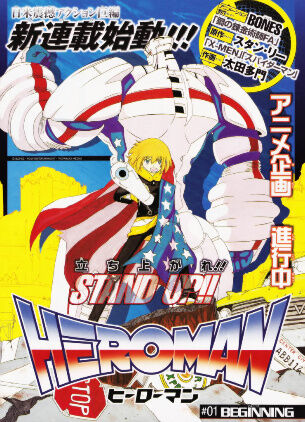 Imagine if, instead of getting bitten by a radioactive spider, Peter Parker acquired the controls for Giant Robo. [1]
Heroman, which debuted in spring 2010, is the result of Stan Lee working with Bones to create a manga and anime that can best be described as Giant Robo meets The Big Guy and Rusty the Boy Robot IN AMERICA!. Generic American Joey lives in Los Angeles, California Center City, West Coast USA. It's Twenty Minutes Into the Future, as humanoid robotics are the rage for those who have the money to buy them. Joey is not one of these people, and works as a part-order cook when not getting pushed around by The Bully. Joey is pretty much accepting the modern ennui of having no power in life; when a number of surprising things happen.
....Yeah, we've got the tropes coming rapid-fire.
Now has a character sheet in need of tropes.
You can read an entertaining recap blog here.
---
Some of these include:
| | | |
| --- | --- | --- |
| |   Denton: This is nonsense. This is complete nonsense! | |
Yeah, you know that alien invasion that was seemingly stopped in Episode 9? Well, the Eldritch Abomination Vines and Skrugg tech merge, the Spheres start flying, and New York Washington D.C. pretty much gets wasted.

I Will Definitely Protect You: After he gets yelled at in episode 23, Joey tries to tell this to Lina, but ends up getting drowned out by the approaching helicopter that's come to pick him up (however, we can just hear him say it).
I Will Fight Some More Forever: The US Army keeps trying to fight the aliens, even when it's clear that tanks and attack helicopters can't even scratch them.
Jerkass: Now that Will's out of the picture, Holly is filling in for him quite adeptly.
| | | |
| --- | --- | --- |
| |   (on Joey's actions in Episode 12): "So I thought: 'This has got to be a date!' I, as his big sister, have come to heckle him!" | |
| | | |
| --- | --- | --- |
| |   Psy: What am I, chopped liver? | |
 Psy: I thought she'd turn it down a notch after going through all that...

Joey: Nothing's too much for my sister.

Psy: * smiles* But, that's what's great about her.
| | | |
| --- | --- | --- |
| |  Sorry, but... my weak point... is... not... THERE! | |
This Is Gonna Suck: You can make a drinking game out of how many times Heroman has that expression on his face.
Those Two Bad Guys: Dr. Minami's two male lackeys, Stallion and Amanorich, could become this.
Took a Level In Badass: Good Lord,

Will

.
Tranquil Fury:

Joey enters this state when Heroman seemingly dies.

Transformation Sequence: Not exactly one, as it only involves Heroman's remote turning into a glove. The ones that happen from episode 2 onwards certainly plays out like it, which kinda gives Joey a bit of a Magical Girl vibe.

As if it weren't bad enough .
Transformation sequences aren't just for magical girls, you know. Humongous mecha and stuff like Kamen Rider and Sentai have been doing it since forever.

Yes, but Joey's transformation sequence is rather magical girl-ish, even with the sentai-ness of it. Kinda like if you mix Suo's, Subaru's or any of the Pretty Cure transformations with a Heisei Era Kamen Rider's or Ben 10.

Troperrific: Oh good lord.
Unusually Uninteresting Sight: A pretty minor one, but no one at all has commented on Joey's rather girlish... everything. Seriously, he pretty much looks like his mom, wears her shirt and sounds like he'd fit in doing some cheerleading and none of that is worthy of any mention?

Never mind the somewhat sentient GIANT ROBOT that obeys Joey's every command. The closest anyone has to bringing that up is Will complaining why Joey gets to control it. Of course, they have other things to worry about.

Unstoppable Rage: If you hurt Joey, Heroman gets pissed.

Kogorr finds this out the hard way.

Uptown Girl: Lina is really rich; and Joey is really poor. However, their class differences have not been brought up directly. Lina's brother does beat him up because he hangs out with her, but that could be Jock/Nerd relations.

In episode 12, their class differences start to be commented on.

Victoria'sSecretCompartment: Psy does this while disguised as a girl, to pull out some apples.
Villainous Breakdown:

Kogorr got one after getting the utter crap beaten out of him.

Wave Motion Gun: Heroman's O Spark, which can launch the shattered remains of its target all the way up into orbit.
We Need a Distraction: Joey's sister starts shrieking every environmental complaint and issue at the NIA in order to give Joey a chance to get away from the government.
Was Once a Man:

Will and Nick

.
Well-Intentioned Extremist:

Will

, who is not above blowing up entire government facilities in order to

stop the Skrugg from reaquiring their weapons and assimilating a greater force.

Wham! Episode: Both episodes 4 and 5 served as ones, 4 presenting Heroman with a challenge he and Joey could do little but stall against, while 5 has the Skrugg leaders deciding to not run risks and remove the only threat to their conquest by

brainwashing Will and Nick into becoming assassins that can fight Heroman evenly in a fight.

Episode 13, too: Joey gets home from his first date with Lina just in time to find out that

the military are at his doorstep, Heroman is now considered a threat, and it's time to fly the coop.

Episode 25, Kogorr reveals he's as smart as ever, and murders Heroman.

What Happened to the Mouse?: Will's ultimate fate, as of the final episode, is unknown. Nick's rather ambiguous exit is never brought up again either. The former will probably be addressed if/when the second season rolls around. The latter... not so much.
Wholesome Crossdresser:

Joey and Psy in episode 20. Fanboys rejoiced.

Joey didn't look any different...

Wingding Eyes: Holly in episode 16 after

she watches Heroman defeat Dr. Minami and save the dam.

Wrecked Weapon: Will smashes Psy's guitar in episode 17.
Wrong Genre Savvy: Will thought he was the hero, pretty much.
X Meets Y: The show is essentially every Superhero show meets Mecha.
You Are Not Alone: How Heroman and Joey's friends stop him from repeating his fathers mistake and performing a Heroic Sacrifice.
You Have Failed Me: Kogorr kills one of his own bridge crew when it's realized that their mind control isn't "perfect".
You Will Be Assimilated:

Will and Nick

get turned into Skrugg. Also has elements of Brainwashed and Crazy about it with their helmets acting as a sort of Mind Control Device.

The second wave of Skrugg have been carrying the tradition right along, turning not only humans but animals like dogs and cattle.
---
Heroman...ENGAGE!
Community content is available under
CC-BY-SA
unless otherwise noted.