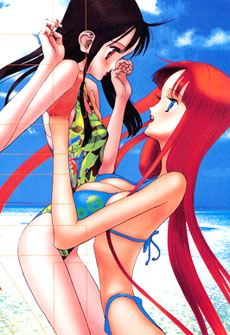 Chizuru Yoshida is a high-school girl with improbably large bosoms and a very active, very heterosexual sex life. However when a new student, Azumi Yamada, awakens some unfamiliar feelings in Chizuru's heart, our heroine is forced to reconsider her sexuality.
Hen was created by Hiroya Oku, better known as the mangaka of Gantz. It was adapted into a live-action drama in 1996, and also into a 2-episode OVA in 1997. The OVA was released by Central Park Media under the title Strange Love.
---
Tropes used in Hen include:
Community content is available under
CC-BY-SA
unless otherwise noted.