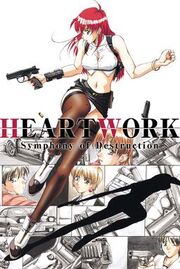 .
A 1997 visual novel by Active.
Yuu Asakura is just a common high-school student. One day, he accidentally changes his school bag with one belonging to a hitman. Once he discovers that by opening the bag in his family's apartment, he also finds the man's gun. The weapon for some reason feels attractive to the boy, and he ends up firing it, thankfully without wounding anybody. Scared but still weirdly attached to the gun, and mildly afraid of the original owner, Yuu...Well, this is a visual novel, so it's up to the player,and by that we mean, Yuu, to decide what Asakura must do with the gun and the other items in the bag.
Translated to English by Kitty Media in 2009. The artist behind the character designs is Sei Shoujo, the same behind Bible Black and STARLESS. And the storyline is as dark as of these works.
Tropes used in HeartWork include:
Community content is available under
CC-BY-SA
unless otherwise noted.