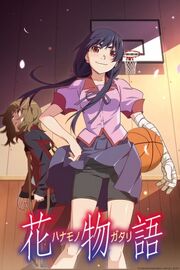 Hanamonogatari
("Flower Story") is ninth part of the
Monogatari Series
.
The story is set in Spring, at the beginning of the new school year in Naoetsu High after Koyomi Araragi's graduation. This time, the spotlight shifts to Suruga Kanbaru, who has to deal with a rumor regarding one Sir Devil, that brought her to face an old rival...
It contains only a single story, Suruga Devil.
Despite belonging in the Second Season books grouping, the story wasn't animated alongside the other in Monogatari Series: Second Season. Instead, it's broadcasted as a four-parter marathon in 2014.
In release order, it is following Kabukimonogatari, and is followed by Otorimonogatari.
Tropes used in Hanamonogatari include:
The Bus Came Back:

Kaiki confirmed to be alive, now with glorious beard.

Although this only held truer in the anime adaptation, since going with novel release order would make the event much less shocking.
Coming of Age Story: While most of the stories in the Monogatari series have touched the subject, Hanamonogatari is the most prominent with the theme.
A Day in the Limelight: This story has Kanbaru as the main character, making it more similar to Nekomonogatari: White in terms of atmosphere.
Duels Decide Everything: The finale is settled on with a one-on-one basketball match between Kanbaru and Numachi.
Expy: Higasa seems to be a sporty version of Hanekawa. Both are supporters with close relationship to the narrator, and the narrator usually seek their help first when facing certain problems. The two also look similar.
Flower Motifs:

White lilies feature in the opening, continuing Kanbaru's character theme.
Sakura blooms are also prominently featured, as a nod toward a new beginning.

Twenty Minutes Into the Future: Set during the Spring a year after the Kissshot Incident, making this story the furthest in the timeline, at least in the range of the main stories.
---
Community content is available under
CC-BY-SA
unless otherwise noted.