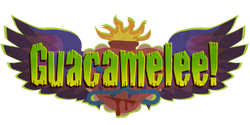 A 2013 videogame.
Juan is just a common farmer in a small village in Mexico. One day, his childhood friend (only called in-game as "El Presidente's Daughter) returns to his village for the festival of Dia de Los Muertos. Just after Juan meets her again, the President's mansion is attacked by supernatural creatures, led by a living skeleton known as Carlos Calaca. When Juan enters the mansion, Calaca unceremoniously kills our hero.
But of course, that's not the end of the line. Inside the world of the dead, Juan meets Tostada, guardian of a magic mask that allows Juan to return to the world of the living and that has apparently chosen Juan as its wielder. Imbued with the powers given to him by the mask, Juan embarks on a quest to defeat Calaca's forces.
Developed by DrinkBox Studios.
Tropes used in Guacamelee! include:
Community content is available under
CC-BY-SA
unless otherwise noted.