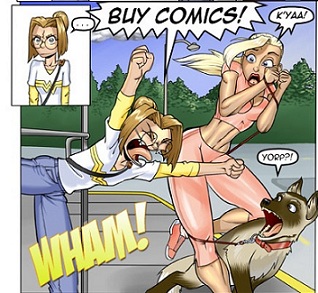 Grrl power is a webcomic about a super heroine that works in a comic shop.
Or, to put it their own words:
"A comic about super heroines. Well there are guys too but mostly it's about the girls. Doing the things that super powered girls do. Fighting crime, saving the world, dating, dieting, shopping, etc. There'll be explosions, cheesecake, beefcake, heroes and villains, angels and demons, cyborgs, ninjas, probably pirates."
Updates Mondays.
---
Contains examples of
 (Sydney screams and takes Kung Faux pose)

Sydney: You're not a ninja.

Reporter: You're expecting ninjas?

Sydney: Always expect ninjas.
Karma Houdini: Thanks to Harem's prank grabbing Maxima's attention, Sydney seems to have gotten away with snagging her hat.
Kicking Ass and Taking Names: Sydney minors in ass-kicking, but she has "THE LIST". When interviewed by the leaders of ArcLIGHT/ArcSWAT the first thing she does is dramatically take out a pen and "THE LIST".
Lawyer-Friendly Cameo: Does this scientist remind you of any world famous, poor dad, scientists?
Made Of Gold/ChromeChampion: Maxima. She looks like she's made of gold, but in reality it's a much, much stronger classified component.
Me's a Crowd: Harem. When she teleports, she leaves behind a functional copy of herself. She can create up to five at once, each with different clothing and hair style.
Most Common Superpower/ Heroic Build: Present in a good deal of empowered, but not the main character, Sydney Scoville, Jr.
Non Standard Character Design: Sydney is very often drawn in cartoony poses while the rest of the cast is drawn more realistically.
Pass the Popcorn: After Leon gets a copy of the robbery footage, Peggy, Dabbler, Anvil and Harem do exactly this.
Pettanko: Sydney
Pop-Cultured Badass: Sydney. She obviously has a detailed knowledge of internet memes, enjoys My Little Pony Friendship Is Magic enough to have it's opening theme for a ringtone, and when Maxima is testing the strength of her forcefield, Sydney starts dancing while singing "Can't Touch This".
Rules Lawyer: Sydney, in her superhero RPG game. She knows all the tropes concerning superpowers and how to bend them to her will. This is likely to translate into Genre Savvy later on.
Sir Swearalot: Sydney swears in a stream-of-conscious manner.
Statuesque Stunner: Maxima and most of the other female superheroes. Not Sydney, which is lampshaded in a way that has to be a future plot point.
Superpower Lottery: Sydney. See Ancient Artifact above.
Tangled Family Tree: Tony's dad got lucky with twins (college party or something), meaning that his half-sister is also his cousin.
They Would Cut You Up: Sydney's (Probably unfounded) fear if her powers are discovered. here
Tongue Trauma: Narrowly averted when Sydney pulled a robber by the tongue and slammed him on the floor.
Waif Fu: Even without superpowers, Sydney has taken on men much larger than her. Word of God is that adrenaline-powered fear rage allowed her to beat foes she normally wouldn't have a chance with.
Webcomic Time: At most a day has elapsed since the comic's start (23rd august 2010)
The Wonka: The General is shaping up to be this.
Notes
↑

The comic shows her as 'corporal' the cast page say 'Private'
Community content is available under
CC-BY-SA
unless otherwise noted.