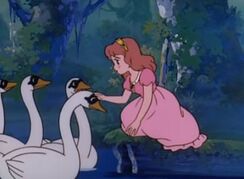 The Six Swans ["Roku wa no hakuchou" (Japanese: 六羽の白鳥)] is the 34th episode of Grimm's Fairy Tale Classics. It tells the story of Princess Elise and her older brothers, who are targeted by their cruel stepmother: after their father sends them away for safety, she finds them and then turns the boys into the titular swans, so Elise is the only one able to undo the curse. . .
The tropes used in this episode include:
Community content is available under
CC-BY-SA
unless otherwise noted.