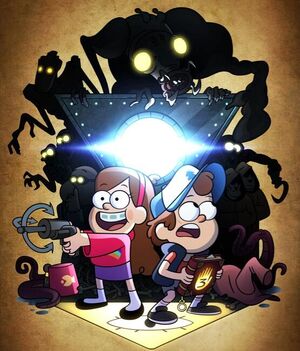 Gravity Falls is an animated Disney Channel Original Series created by Alex Hirsch and produced by Rob Renzetti. It began airing on June 29, 2012 and has quickly developed a cult following with its paranormal theme, inventive writing, quirky yet lovable characters, thrilling escapades, and enough eyebrow-raising jokes to make one wonder how a kid-friendly channel like Disney picked it up in the first place.
The show tells the story of twins Dipper and Mabel Pines, who have been sent to live for the summer with their "grunkle" note Stanford "Stan" Pines in the mountain town of Gravity Falls, Oregon, where he owns the Mystery Shack, "the world's most bizarre museum". Dipper and Mabel's situation worsens (or, rather, betters) when Dipper finds a mysterious book, whose cover is only marked with the number "3" and a hand with six fingers. Upon opening it, Dipper finds a Great Big Book of Everything explaining the many strange beings, past events, and even federal cover-ups that exist within this town of secrecy — all cut through with an urgent warning: Trust No One! Thus begins Mabel and Dipper's adventures as they interact with the supernatural world that surrounds them.
After the first season finale, Alex Hirsch announced that the series would be going on a possibly year-long hiatus. Several Miniseries were released over the break to keep fans satisfied.
Such miniseries include:

Dipper's Guide to the Unexplained, where Dipper attempts to make documentaries explaining supposed mysteries around Gravity Falls
Mabel's Guide to Life, in which Mabel tries to give out handy tips to live every day life
Fixin' it with Soos, a short series of videos that has Soos trying to fix various things around the Mystery Shack
TV Shorts, which consist of a few sketches depicting Gravity Falls' TV programming
Mabel's Scrapbook, which follows the Pines family on vacation outings.
Season 2 premiered on August 1, 2014, 364 days after the season 1 finale. New episodes now premiere on Disney XD first and Disney Channel later on.
---
This show contains examples of the following tropes:
Community content is available under
CC-BY-SA
unless otherwise noted.