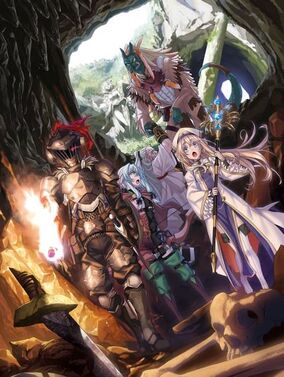 Goblin Slayer
(Japanese: ゴブリンスレイヤー Hepburn: Goburin Sureiyā) is a Japanese
Dark Fantasy
Light Novel
series written by Kumo Kagyu and illustrated by Noboru Kannatuki., which began serialization in 2016. It has two manga series, three Drama CD's, a side-story named
Year One
(both in manga and novel format) and a 13-episode TV anime series released in 2018. It started as a sort-of online textboard roleplay combined with ASCII artwork, which was later rewritten into a novel format and sent to some writing contests; it was picked up by the GA Bunko publishing label, and then one thing led to another...
The series itself begins in a terrible note, story-wise. A rookie party formed by a Fighter, a Female Wizard, a Warrior and a Priestess, all of them at quite the low power/experience rank, decided to go into a nest of goblins to try wiping them out and rescuing their prisoners. However, due to their lack of preparation, the group is horrifyingly overwhelmed: Warrior is literally torn apart, Fighter is captured and gangraped, Wizard is fatally wounded and molested, and Priestess is all but indefense against the goblins themselves. Suddenly, a stranger decked in full-body armor shows up and saves Priestess, helps her rescue the still-living Fighter, gives Wizard a Mercy Kill at her request and completely annhilates all the Goblins and Hobgoblins there... 
Priestess learns that the man is the Goblin Slayer, an adventurer whose one and only goal in life is to erradicate all kinds of Goblins. Feeling that she owes him her life and that she still wants to go further in adventures, she becomes Goblin Slayer's partner and keeps travelling with him. Eventually, the two form a more stable party with other travelers (a High-Elf Archer, a Dwarf, and a Lizard Priest) and keep on fighting, exploring the dangerous world, and exterminating Goblins and other menaces...
This page is under heavy construction, please help filling it!
Tropes used in Goblin Slayer include:
Community content is available under
CC-BY-SA
unless otherwise noted.