Wiki Targeted (Entertainment)
Play Sound
This page lists the characters of Gintama and their associated tropes.
Yorozuya Gin
Gintoki Sakata
A lazy, washed-up samurai living in an era when samurai are no longer needed. Gintoki resides with his friends Kagura and Shinpachi, taking on odd jobs to make the world a better place and to pay off their rent. The three of them run a freelancer business known as Yorozuya Gin (Odd Jobs Gin).
In the Joi war, he was known as the Shiroyasha or "White Demon" due to his silver hair and white coat he wore in battle, which, combined with his impressive capabilities as a swordsman, made him famous among his comrades and struck fear into the hearts of the Amanto. He fought the invaders until he realized the lack of sense in doing so, leading to him choosing to instead make a living as a freelancer for hire in Edo.
Gintoki has an insufferable sweet tooth and is also obsessed with acquiring and reading the Weekly Shōnen Jump. Despite his uncaring attitude and brash behavior, Gintoki has a great amount of pride for the old bushido code and will go to great lengths to protect anyone in trouble, be it those he considers close comrades or complete strangers.
---
Shinpachi Shimura
= Voiced by: Daisuke Sakaguchi (JP), Mark X. Laskowski (EN, movie) =
A 16-year-old samurai-in-training who joins Gintoki in hopes of studying under him. He stays at his family's dojo along with his older sister Otae Shimura. Although he commonly criticizes Gintoki's lazy behavior, Shinpachi comes to regard him as a very important person to him in the same fashion as Kagura.
Despite his meek, scholarly appearance, Shinpachi is a more than competent swordsman. He serves as the captain of the "Otsu's Imperial Guard," a fan club devoted to the famous idol singer Otsu and takes his role seriously.
---
Kagura
Seemingly an innocuous, carefree young girl of Chinese descent, Kagura is actually an alien belonging to the Yato Clan, one of the strongest and most bloodthirsty of the Amanto races. Because of her Yato blood, she is extremely strong and an incredibly fierce and capable fighter, able to singlehandedly take down multiple fighters, crush vehicles with her bare hands, and regenerate from wounds sustained in combat. She came to Earth to earn money for her family, and to escape her violent Yato heritage, which she staunchly rejects.
Kagura and Gintoki's relationship is very much a father-daughter one and she is highly protective of him, often affectionately referring to him as Gin-chan. Kagura also has an unusually strong appetite and is often seen devouring mountains of food or complaining that she's hungry. She is often seen with or riding atop of her gigantic pet dog Sadaharu.
---
Sadaharu
= Voiced by: Mikako Takahashi (JP), Kyle Jones (EN, movie) =
A huge dog that was abandoned on their doorstep by a pair of Miko sisters. At first Gin and Shinpachi weren't too keen of the idea of Sadaharu living at Yorozuya, thanks to his habit to chew on anything smaller than himself (including humans), but as the time has passed in series they have become attached to him too and he has become tamer and friendlier towards everyone as well, even letting Kagura ride on his back regularly. Shinpachi and Gintoki too, when the situation is serious enough and they need to get somewhere fast.
Sadaharu was named after Kagura's first pet rabbit which she accidentally killed while having a nightmare. After that incident, she vowed to never go near animals again, were the same thing happen again. Since Sadaharu is pretty strong himself, she doesn't have that problem with him. After seeing how important that is to Kagura, Gintoki agrees to take him in.
---
The Shinsengumi
Isao Kondo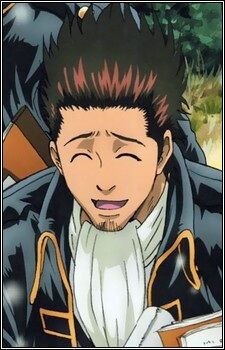 = Voiced by: Susumu Chiba (JP), David Wald (EN, movie) =
Commander of the Shinsengumi. A goofy, but good-natured and honorable leader who has won the respect and admiration of his subordinates. Despite appearing completely incompetent, he takes his job seriously and will not hesitate to make tough decisions in order to protect his comrades and the people of the country.
The members of the Shinsengumi are fiercely loyal to him and he shares a particularly close bond of friendship with Sougo Okita and Toshiro Hijikata. Okita often remarks that Kondo's nice attitude is also his weak point as he never takes notice of a person's negative traits.
He has a crush on Shinpachi's sister, Otae Shimura and stalks her, to which she responds by repeatedly beating him senseless.
---
Toushiro Hijikata
= Voiced by: Kazuya Nakai (JP), Blake Shepard (EN, movie) =
The chain-smoking "Demonic" Vice-Commander of the Shinsengumi who has garnered an infamous reputation for his ruthless, no-nonsense attitude both on and off the battlefield. Since he's the one usually left in charge of the operation, he takes his work seriously and is fiercely loyal to his commander, Isao Kondo, and the Shinsengumi as a whole.
Cucumber cool for the most part, Hijikata is respected and feared by his subordinates, as he's responsible for implementing the 45 Regulations (on pain of Seppuku). His swordsmanship is second only to Okita, although he ran into difficulties on discovering his sword was possessed.
Hijikata is also obsessed with mayonnaise and has a tendency to smother anything he eats under a mountain of it, in addition to carrying a mayonnaise jar-shaped cigarette lighter. Under his callous, brazen exterior, Hijikata is genuinely compassionate and cares as much about the people he protects as Gintoki. He regards both Gintoki and Okita as not only rivals, but close friends.
---
| | | |
| --- | --- | --- |
| |   "These crackers are so spicy... Damn. They're so spicy it's making my eyes water..(sob) So spicy..." | |
Sougo Okita
= Voiced by: Kenichi Suzumura (JP), Clint Bickham (EN, movie) =
The 18-year-old captain of the first squad and widely-regarded as the best swordsman in the entire Shinsengumi. He tends to be light-hearted and somewhat childish, though his speech is heavily deadpan. Unlike Hijikata or Kondo, he seems to take his position for granted and is often seen slacking off or napping.
Okita displays a strong dislike of his comrade Toushiro Hijikata, and continuously tries to embarrass, wound, or even kill him whenever he has the chance in order to take his rank of Vice-Commander. He also holds a deep grudge towards Toushiro for having left Mistuba, Sougo's beloved sister, and holds him accountable for her never being able to find happiness before her death. His violent tendencies and habit to torture others mentally in glee have caused his comrades to label him a "sadist," a title which he actively embraces. Nonetheless, he still thinks of Hijikata as his friend and also holds Gintoki, whom he addresses as "boss," in high regard.
---
| | | |
| --- | --- | --- |
| |   "Eat this! SADO BEEEEAAAMMMM---!!" | |
| | | |
| --- | --- | --- |
| |  Okita: (to Itou) What do you think you're doing, you piece of shit? | |
Sagaru Yamazaki
= Voiced by: Tetsuharu Oota (JP), Clint Bickham (EN, movie) =
A member of the Shinsengumi, he handles intelligence work, often serving as a spy. He's often seen with a badminton racquet (sometimes during sword training, when Hijikata's more likely to beat him up for it). Shinpachi and Yamazaki have a bit of a rivalry, being the more plain and generic guys on their respective teams, but they're good friends nonetheless.
---
Katakuriko Matsudaira
= Voiced by: Norio Wakamoto (JP), Kyle Jones (EN, movie) =
An infrequently recurring character, he is the daimyo who acts as the direct superior to the Shinsengumi and reports to the Shogun. He's often regarded as a dangerous, paranoid nutcase who resorts to violence at the first sign of provocation and sees potential assassins everywhere around him. In addition, he is extremely protective of his daughter, Kuriko, often ordering the Shinsengumi to assist him in shadowing any dates she goes on.
Although appearing to be an unstable lunatic, he is highly devoted to his job. Unlike Kondo, he is unable to sympathize with the Shinsengumi on a personal basis as he is not in direct command of them, but he holds the safety and well-being of the country and its people in high priority.
---
Four Heavenly Emperors
The Heavenly Emperors are the four leaders of Kabukicho. They are:
Otose
= Voiced by: Kujira (JP), Shelley Calene-Black (EN, movie) =
Gintoki's tough-as-nails landlady. "Otose" is just her alias, and her real name is Ayano Terada.
She owns a snack-bar and is usually helpful towards those in need. Up until the Kabukicho Arc, she mostly remained in the backgorund, often giving precious advice or taking in Tama, Catherine or Hinowa's son temporarily.
Despite constant arguments over Gintoki's inability to pay his rent, she is confident in his defense of her. She is apparently one of the four "emperors" that rule the Kabuki District and has the personal title "Empress of the Kabuki District," mainly because of her good relationships and channels... and Gintoki.
---
Tokumori Saigou
A former member of the Anti-Foreigner Faction. Since his wife's death he has done everything he could to be both a father and a mother to his son. He is the also the owner of an okama cabaret bar, and most of the crossdressers are formerly of the Faction as well. In his first appearance he tried to transform Gintoki and Katsura into crossdressers too until they helped him out.
---
Kada
Also known as "Kujakuhime" ("Princess Peacock"), she is an Amanto who operates most of the gambling outfits in Kabukicho.
Manipulative, vain and highly territorial, she runs her casino with an iron fist and isn't very close to the other "Emperors" of Kabukichou. During the Kabukicho arc, it is revealed that she is actually linked to the Space Pirates known as Harusame and that her intentions are far from benevolent.
---
Jirochou Doromizu
= Voiced by: Takayuki Sugou =
The last Emperor of Kabukichou to be revealed in the series. A former member of the Anti-Foreigner Faction, currently a yakuza. Grew up with Otose, he ended up befriending her future husband. Due to the fact that he also loved her, he backed down, allowing Otose to marry his best friend. When Otose's husband died protecting Jirochou from a bullet, Jirochou took it upon himself to protect Kabukicho.
---
Residents of Kabukicho
Tae Shimura
= Voiced by: Satsuki Yukino (JP), Shelley Calene-Black (EN, movie) =
Shinpachi's violent and unhinged older sister. She runs the Kakidōkan Dojo, the family dojo, with her brother, working part-time as a bar hostess to pay for the upkeep.
She is usually addressed as "Otae", although Kagura always addresses her as anego ("big sister" in Japanese informal speech), and the Shinsengumi call her nee-san ("big sister" in Japanese formal speech), which the usual honorific used to refer to a samurai leader's consort.
Despite her sweet face and cheerful demeanor, she is one of the most brutal characters in the show. She often delivers sound thrashings to Isao Kondo and Gintoki, or well, anyone else, whenever they anger her.
---
Taizo Hasegawa
A close acquaintance of the Yoroyuza Gin, introduced as an official working for the Bakufu. After an incident with Amanto dignitary Prince Hata, whom he was assigned to serve and protect, he fled. He has consequently become homeless, jobless, and a heavy drinker and survives pretty much the same way Gintoki and his pals do: doing pretty much anything he can get paid for.
He is often referred to as "Madao," which stands for "totally useless middle-aged man" in Japanese. In the English translation, it's "dork", which stands for "dumb old retarded kook."
---
Catherine
= Voiced by: Yuu Sugimoto (JP), Luci Christian (EN, movie) =
A middle-aged cat-eared Amanto whom Otose takes in. She used to be a cat-burglar and eventually gor framed for larceny by Gintoki and his pals after trying to steal from them.
Sharp-tongued and rather unpleasant, she often gets called out on her "lack of manners" by Otose and often gets into fights with Kagura. However, she can be genuinely helpful and kind when she wants to. Especially remarkable for her strange accent and her uneven accentuation when she speaks.
---
Tama
Tama is a female android found as a disembodied robot head in a trash can one night by Gintoki and Kagura. She was named by Kagura, who was obsessed with eating egg on rice at the time. She seems to have some rather strange main functions, such as acting as an interactive interface for a Dragon Quest game.
Tama was originally a robot servant created by Dr. Hayashi to provide his sickly daughter with a companion. Hayashi tried to implant the personality of his daughter, Fuyo, into Tama, but the experiment killed his daughter in the process. He gradually became wracked by grief and his intentions became more and more selfishly twisted after the event. Tama came to possess the element known as the "Seed", and is therefore capable of human emotion in addition to retaining some of Fuyo's personality.
After the events of the Android arc (in which she was introduced), Tama was fully reconstructed and has since been employed at Otose's snack house where she is always seen working alongside Otose and Catherine.
---
Gengai Hiraga
A crazy inventor who can repair any kind of machine. He is often concerned about his son who he often wishes to have raised better.
He is the one to put Tama back together and helped a lot in taking down the army of robot-maids.
---
Kurogoma Katsuo
= Voiced by: Katashi Ishizuka =
An infrequently recurring character and one of the higher-ranking members of Dobunezemi, Jirochou's organization. An on-again-off again antagonist.
---
Kyoushiro Honjou
The owner and frontman of the #1 host club, Takamagahara. Occasionally visits Gintoki and company for help.
---
Allies
Kotarou Katsura
A former comrade of Gintoki during the Joi war. Even after the Amanto take-over of Japan, Katsura continues to resist the Amanto, and has amassed a band of followers known as the Anti-Foreigner Faction, which is in continuous, direct conflict with the Shinsengumi.
Although his initial methods were more violent in nature, Katsura has since come to believe that there are people important to him in Edo, and decides that he no longer wants to destroy the country. He and his faction now seek a way to bring about change without causing needless bloodshed.
Since he is a wanted man, Katsura is often seen wearing disguises (which are always completely ineffectual). Katsura sometimes works odd jobs to raise money for his terrorist activities and is often seen trying to coerce Gintoki into assisting him with his eccentric endeavors. He is always accompanied by his pet, Elizabeth, whom he cares deeply for. Gintoki often calls him "Zura," to which he will typically respond with "Not Zura, it's Katsura."
---
| | | |
| --- | --- | --- |
| |   "He likes his pet alright, but he loves his costume, uh-huh." As Kagura put it once when he showed up in Captain Harlock cosplay for the second time. Live on television, no less. Using Captain Katsuura as his alias. | |
Elizabeth
= Voiced by: Shinji Takamatsu, Tohru Furuya (in Episodes 234 & 235) (JP), Andrew Love (EN, movie) =
Katsura's right hand... duck/penguin-costume-guy-thingy. Originally a present from Sakamoto, Elizabeth hangs around with Katsura, who doesn't even think twice about treating it like a dear friend (and not some person in a costume). It almost never talks, preferring to communicate with signboards (which it uses as weapons, whenever necessary). Real name is General Eren, and belongs to the mercenary race of Renho.Or not, as there are (at least) two Elizabeths; General Eren is apparently a temp who fills in on Mondays.
---
Tatsuma Sakamoto
A former comrade of Gintoki during the Joi war. He is perpetually cheerful and upbeat even in the most dire of situations. Despite his goofy nature, Sakamoto is actually a successful businessman and pilot with a private, well-equipped defensive business fleet, the Kaientai. Sakamoto's goal is to use trade to improve relations and negotiations between Earth and the Amanto in order to bring about freedom in a peaceful manner.
---
 "(...) Must've sweated while I was asleep too. Eh? Why's everything going red? ...Oh yeah...I was drinking tomato juice."

"Look, there's a limit to positive thinking, okay?!"
Mutsu
Sakamoto's serious, down-to-earth second-in-command, and the real leader behind the Kaientai.
Competent and reliable, Tatsuma usually leaves her in charge of everything while he's away... which is 90% of the time. A Running Gag in the series is her trying to find him.
---
Ayame Sarutobi
= Voiced by: Yuu Kobayashi (JP), Carli Mosier (EN, movie) =
A female ninja and member of the Oniwabanshū nicknamed Sa-chan. She meets Gintoki when she falls through his roof during a failed mission and has since become infatuated with him, much to his chagrin. Her feelings for him seem to be encouraged, as she enjoys being put down and threatened by him, due to her blatant masochism.
---
Zenzo Hattori
A skilled ninja originally from the Oniwabanshu, acquainted with Ayame. He's a big fan of Weekly Shonen Jump, just like Gintoki--once he and Gintoki fought to the death over the Jump Christmas double issue (which turned to be a double issue of Akamaru Jump). Despite his great skill, he's unfortunate enough to have the runs. Even more unfortunately, Ayame loves taking advantage of that fact...
---
Kyuubei Yagyu
An aristocratic young lady who was brought up as a male in order to succeed her family's clan. She dresses and behaves like a boy due to her upbringing. She was close friends with Otae Shimura when they were children, and lost her left eye protecting her when they were young. The incident also left her with the determination to become stronger and improve her skills.
---
Ayumu Tojo
= Voiced by: Koji Yusa (JP), Blake Shepard (EN, movie) =
A steadfast servant of the Yagyu clan who personally looks after Kyuubei. He is extremely dedicated to the point of obsession in his concern for his young master's well-being. He goes to great lengths to ensure that no misfortune ever befalls her, much to her annoyance. In return, Kyuubei is usually indifferent to Tojo's excessive attention, although she has stated on one occasion that she has never liked him from the beginning and never shys away from responding with physical abuse.
His obsession with making Kyuubei happy is most pronounced when he repeatedly tries to force her to wear gothic lolita outfits, claiming they suit her perfectly. Despite his radical approach to caring for his master, he geninuely has the best of intentions for both Kyuubei and the Yagyu family. He is generally incredibly calm and composed in both appearance and mannerisms although he easily becomes agitated whenever anything concerning his master is brought up.
---
Umibouzu
The father of Kagura and Kamui, he's another of the last members of the Yato clan. He travels the galaxy as a famous alien hunter. Like all Yato, he fights using an umbrella. He is one of the few characters able to overpower Kagura. He first appears when aliens go berserk in Edo, and he uses the opportunity to take Kagura away with him, despite her desire to stay with the Yorozuya. He relents after fighting an especially powerful alien off together with Gintoki.
He's appeared rarely afterwards, first via a letter, warning Kagura about Sadaharu, and then via his own day in the spotlight. He appears again after Gintoki defeats Housen, warning him about Kamui, who now wants to fight Gintoki himself.
---
| | | |
| --- | --- | --- |
| |   (in a letter to Kagura) If anything happens, all you need to do is send me a letter. I'll go over there and kill everybody. | |
Tsukuyo
The leader of the Hundred Blooms of Yoshiwara, a law-enforcement squad of Yoshiwara that consists of all females, deployed by the Night King Hosen. A competent Action Girl, she is also known as the "Courtesan of Death", which means she doesn't serve as a geisha, rather she protects them from unsavoury patrons and general aggression. She scarred her own face to display her refusal of classic femininity.
Despite initially appearing to be a bitch, she becomes quick allies with Gintoki and the Yorozuya who were successful at bringing out her nicer inner self and thanks them for it. Her loyalty and home lies with Hinowa who looked after her when she was a child.
---
Antagonists
Shinsuke Takasugi
= Voiced by: Takehito Koyasu (JP), Kyle Jones (EN, movie) =
A former comrade of Gintoki and Katsura during the Joi war and a major antagonist throughout the series. He leads a radical branch of the Anti-Foreigner Faction called the Kiheitai (Demon Soldiers Army) and is known amongst the Shinsengumi as one of the most dangerous criminals. After the war ended, he vanished and has since gained a deadly reputation due to his assassination of many of the Bakufu's main officers.
Unlike Katsura, he believes that the only way to save the country is to destroy the "rotten" post-Joi war world. His resentment and overwhelming spite drove him to strike a partnership with the space pirates Harusame in order to eliminate the Bakufu.
---
Bansai Kawakami
= Voiced by: Takumi Yamazaki (JP), Andrew Love (EN, movie) =
Regarded as one of the strongest swordsmen in the country, Bansai serves as second-in-command of the Kiheitai. He carries a shamisen which doubles as a tool for garroting or tying up his opponents.
On top of being famous as a skilled swordsman, Bansai is also a talented songwriter. He works as a music producer under the name Tsunpo and the pop idol Otsu's newer songs are written by him. Overall, Bansai is shown to have an extremely calm demeanor, although he is capable of violence when necessary and appears to take an interest in potential challenges to his skill.
---
Matako Kijima
= Voiced by: Risa Hayamizu (JP), Carli Mosier (EN, movie) =
A member of the Kiheitai who is skilled at using firearms rather than swords. She wields a pair of pistols and is known as the "Red Bullet" for her honed sharpshooting skills. She is extremely loyal to Takasugi to the point where it appears she has a crush on him. She is quick-tempered, easily agitated, and prone to screeching when upset.
---
Takechi Henpeita.
The strategist of the Kiheitai and mainly a background character.
Notable for his strange fetishes and his usually brilliant assessment of situations. He can fight but his abilities are lesser than most big players of the Kiheitai.
---
Kamotaro Itou
An advisor to the Shinsengumi who serves as the main antagonist of the "Shinsengumi Discord" arc. Initially introduced as a ruthless, power-hungry tactician, he is revealed to be a traitor, secretly allied with Shinsuke Takasugi
He considers himself a rival to Toshiro Hijikata and manages to get him suspended from the Shinsengumi, later attempting to assassinate Kondo.
---
Hosen
The ruler of Yoshiwara and a high official within the Harusame Space Pirates. He is of comparable strength to Umibouzu, the most powerful alien hunter in the universe, one of the few who opposed Housen. He founded the 7th Division of the Harusame, of which Kamui later would become the youngest leader.
---
Kamui
Kagura's older brother. He is the leader of the space pirates Harusame's 7th squad. He left his family after challenging his father and cutting off his left arm. Although he is almost always smiling cheerfully, he is in fact a violent fighter who lusts for blood, like the majority of the Yato clan.
---
Jiraia

/Danzo Tobita
= Voiced by: Yara Yuusaku =
---
Other
Tsu Terakado
A popular Idol Singer Otsu, who's sung multiple hit singles with surprisingly foul lyrics ("Where the hell is your mother from?"). When she started her singing career on the streets, Shinpachi was the first to cheer her on, and he's continued doing so as the leader of her fan club ever since.
---
Ana Ketsuno
= Voiced by: Sayaka Narita =
A reporter and weather forecaster for Oedo News, well-known and loved for her cheerful disposition. It isn't elaborated until later, but she uses fortune telling in both her weather and horoscope predictions, which are always very accurate. It's mentioned in the series that she gets married, and that she later gets divorced. The latter is the focus of one arc. Gintoki has a crush on her.
Her real name is Crystal.
---
| | | |
| --- | --- | --- |
| |   Today you die! Today your lucky color is red. So let's hide that blood-covered body with something red! | |
Shouyou Yoshida
= Voiced by: Koichi Yamadera (JP), David Wald (EN, movie) =
The swordmaster who taught Gintoki, Katsura and Takasugi everything they know. He was unjustly accused of trying to raise an army and executed by the government, in return for saving his students' lives.
---
Shigeshige Tokugawa
= Voiced by: Yuki Ono =
Also known as the Great General, he is the ruling Shogun of Edo in the Gintama world. He is a close-friend of Matsudaira.
---
Prince Hata
= Voiced by: Kouichi Sakaguchi (JP), Andrew Love (EN, movie) =
An Amanto prince that regularly visits Edo. He likes collecting unique and dangerous animal/alien species and when there is a Monster of the Week episode, he's usually the one at fault.
He really has little idea of how repulsive the rest of the characters find him.
---
Isaburo Sasaki
The leader of the newly-established and significantly more illustrious Miwarigumi. He comes from an elite samurai family, with the skills and training to match. He's polite and disdainful--but his personality changes completely when he uses emails, becoming sickeningly sweet instead.
At the end of the Baragaki arc, he was shown amiably conversing and plotting with Takasugi Shinsuke.
---
Nobume Imai
An assassination from the Miwarigumi. She serves as Sasaki's second-in-command.
---
Community content is available under
CC-BY-SA
unless otherwise noted.