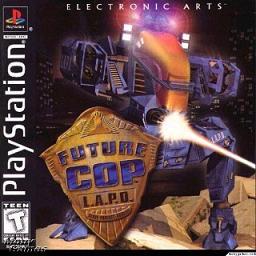 A Third-Person Shooter released in 1998, Future Cop: LAPD is a spinoff of sorts from the Desert Strike family, following you, the pilot of the Transforming Mecha X-1 Alpha and your coordinator. Your mission is simple: restore law and order to the hellhole that is the future-LA of 2098.
Sounds easy, right?
Think again, buddy.
---
Tropes:
AI Is a Crapshoot: One of the toughest missions has you putting down a rogue AI that has started turning people into an army of cyborgs. Sky Captain, the opponent in the versus/strategy mode, is an AI as well.
The Alcatraz: Hell's Gate Prison. It's a literal fortress.
Announcer Chatter: For Precinct Assault mode. Helps keep you informed of goings-on, especially if you're playing against Sky Captain.
 Announcer: "Blue base turret destroyed."

Announcer: "Enemy within Red base perimeter."
  Coordinator: "...I hope nobody saw that."
Community content is available under
CC-BY-SA
unless otherwise noted.