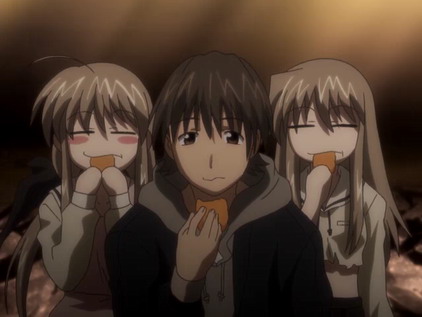 Futakoi Alternative is a very loosely done Spin-Off of the original Futakoi, which uses the original character designs and concept of twins and virtually nothing else. The male protagonist is Futaba Rentarou, a 21-year-old Private Detective who spends most of his time waiting for a case. He's accompanied by his twin assistants 15-year-old Shirogane Sara and Shirogane Sojyu, whose mutual affection for him is completely open to a threesome.
Genre Shift occurs almost by the episode throughout this show. One more serious example takes Rentarou from trying to resolve conflicted feelings of romance and responsibility to racing a bio-hybrid squid down a highway on a friend's bike in two adjacent episodes. The show does have an overarching plot, dealing with a mutual (and surprisingly non-rival) sibling love triangle.
Tropes used in Futakoi Alternative include:
Community content is available under
CC-BY-SA
unless otherwise noted.