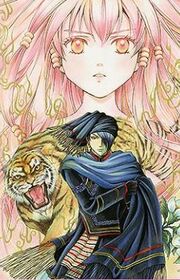 Fushigi Yuugi Byakko Ibun (
ふしぎ遊戯 白虎異聞,
Curious Tales of Byakko
) is a one-shot
Josei
manga by 
Yuu Watase
, published in 2015. It's a part of the 
Fushigi Yuugi
 story, set between the prequel
Fushigi Yuugi Genbu Kaiden
 and its own sequel 
Fushigi Yuugi Byakko Senki
.
This short story takes place "a little while" before the Priestess of Byakko, Suzuno Osugi, arrives to the country of Sairou to start her adventures. There's a small village named Nado, where a man named Tohotei and his family make a living handling a tavern; Tohotei's illegitimate daughter, a little girl named Reipin, helps them with the business despite their horrible abuse of her. One day a Mage Knight named Nirusha, a man who is hunting tigers for his own personal reasons, comes into the village, and his and Reipin's paths cross and change their lives forever...
---
The following tropes can be found in Fushigi Yuugi: Byakko Senki
Community content is available under
CC-BY-SA
unless otherwise noted.