Here are the characters of Full Service game. Beware of spoiler!
Tomoki Nakamodo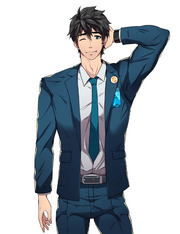 Voiced by: BB(EN), Taiyo Natsuno(JP)
Your traditional workaholic salary man protagonist. Tomoki is an employee at the Schwarz bank and is well known for his excellent work ethics which, unfortunately, makes him very tired of his somewhat boring life. That is, until his friend Hisami suggests him to take a break at the infamous Full Service Spa.
Sota Kobayashi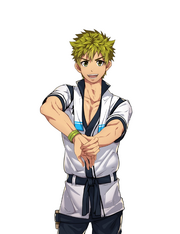 One of the masseurs at Full Service Spa who is skilled in Shiatsu Style. Sota is a cheerful University Student who works to support his family: his single mother and 11 younger siblings, and because of that, loves to earn any amount of money as much as possible. 
Voiced by: Kiba Walker(EN), Makoto Kannazuki(JP)
Disappeared Dad: His father never appears in the story, but is implied by him to be an irresponsible person who left his family in shamble and poverty.
Foil: To Tomoki, who sees Sota as a reflection of himself when he was still young and full in optimism for life, despite having less than ideal financial status.
Money Fetish: Due to him having been living in poverty for almost his entire life, Sota's only real goal in life is to make Mani and study hard so that he can become a businessman and makes even more Mani. The game deconstructs this, as being too blinded by wealth can lead Sota to forget why he wants it that much in the first place, and in the bad ending, 

leads him to become a sex slave/pet of the Fetish Customer

.
Older Than They Look: He is 18, a fully legal age to work at the spa, but looks more like a Jail Bait, though his muscular body at least offset the effect.
Remy Svesson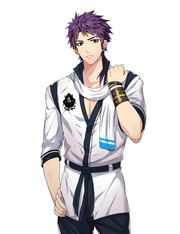 A famous male model who works at the Spa.
Voiced by: DJ Horn(EN), Tetsuto Furukawa(JP)
Kovit Chaiyarit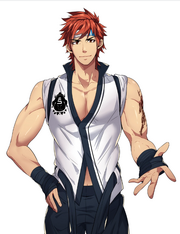 Voiced by: datenkou(EN), Ren Nakae(JP)
Broken Bird: His profile states that something terrible happened to him to the point that he has given up on love and refuses to go any beyond bodily contact, and in fact,

this will be his fate if Tomoki doesn't have a sufficient relationship point with him, with him sleeping around for shelter after the spa is shut down, and never has any hope for a loving relationship ever again

.
Everyone Has Standards: Kovit does not screw around with those he considers to be close friends/family.
I Owe You My Life: The major reason he works at the spa, apart from paying daily expense, is because he is full of gratitude for Thara who took him in when he was at the worst time of his life.
Fiery Redhead: Has red hair, and is the most passionate of the masseur team.
Really Gets Around: He sleeps around a lot, which is Played for Drama as much as it can be,

especially in his bad ending

.

Averted in his good ending, which he decides to stop after settled down with Tomoki, knowing that his heart finally found a place to call home.
Rald Schwarz
Tomoki's serious but reliable boss at the bank who also works as a professional masseur at the spa.
Voiced by: Sean Chiplock(EN), Yukimitsu Koshi(JP)
Arranged Marriage: Sir Schwarz arranges one for him for the purpose of increasing their family's social status and wealth.
Bury Your Gays: In the bad ending, he is molest by his father and is forced to live as a "straight" man for the rest of his life.
Calling the Old Man Out: In the good ending,

Rald eventually has it enough with having to live up to the impossible standard of his father and bearing the burden of being the heir of the family, and resigns from both being the manager of the bank and heir to marry Tomoki.
He Cleans Up Nicely: Inverted. Rald is a professional guy with proper suit and styled hair at work, but throws everything but his profession-ism out of the window at the spa.
Shout-Out: His two sides of life and over all design is arguably based on Superman.
Lenga Valentine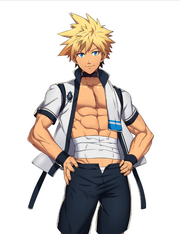 Original Designer: Lvlv
A mysterious man who has lost his memory.
Voiced by: Lord Azria(EN)
Big Eater: His major personality. According to Lvlv's, he always eats whenever he isn't on a job (or having sex).
But Now I Must Go: If you didn't have sufficient relationship with Lenga,

then he will leave and return to his world

.
Marth Debuted in Smash Bros: Protagonist from his own game: Paradiso Guardian (by his creator Lvlv), but debuted in Full Service first.
Really Gets Around: He is shown to be this in his own game Paradiso Guardian and various of Lvlv's works.
Oki Ardana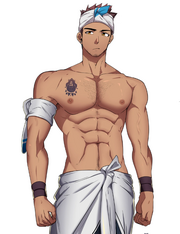 Always Identical Twins: Averted for a change, with both Oki and his younger brother are clearly Fraternal Twins.

Hidden Villain

:

Is one of Hisami's bodyguards and partners-in-crime, alongside his brother

I Owe You My Life:

Feels in-debt to Hisami after he brought him and his brother out of the life of human trafficking

.

Love Redeem

Perpetual Frowner: Is always seen frowning.
Okan Ardana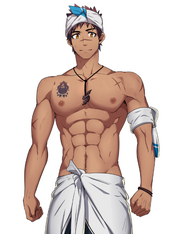 Always Identical Twins: Averted for a change, with both Okan and his older brother are clearly Fraternal Twins.
Dull Eyes Of Unhappiness: Slips into this from time to time, hinting that there is more to him beneath the smiling, friendly, and sporty guy.
Stepford Smiler: For all his smile and friendliness, Okan isn't really as happy as he tries to show.
Hisami Kondo
Tomoki's co-worker at Schwarz Bank.
Even Evil Has Standards: He doesn't tolerate non-consensual sex.
Only Friend: According to Hisami and Tomoki himself, he is pretty much Tomoki's only friend apart from Rald due to the lack of social life and his somewhat undesirable personality.
Nepotism: The bonus route reveals that Hisami got his job by seducing Sir Schwarz.
Walking Spoiler: A lot of his role in the story spoils half of the game by itself.
With A Friend Like This: The reason Tomoki has to stay at his workplace until late in the night most of the time can be attributed to Hisami screwing up and causing errors in his portion of work.
Thara Kornsuwan
The manager of the Full Service Spa. However "she" has more secret than to meet in eyes.
Gender Blender Name: In Thai, the name Thara is not exclusive to girls,

foreshadowing his true identity

.
Kacha
A mysterious elephant-like entity who stays at the spa as its mascot, but often calls the workers there his subjects. He can give Tomoki a special gift once per day through his Kachapon.
Satellite Character: He is not involved in any of the game's drama, having a role that is more or less equal to giving Tomoki some amusement in his life.
Community content is available under
CC-BY-SA
unless otherwise noted.