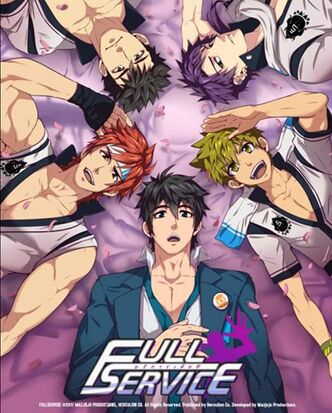 Welcome to Full Service! You play as Tomoki Nakamoto, a workaholic young adult who works at Schwarz Bank. Average in every way and bordering on anti-social, Tomoki isn't that great with people... However, after a chance encounter and getting a bonus at work he finds himself entangled in the lives of those at Full Service Spa! What exciting things will Tomoki experience this time?
Full Service is a Boys Love/ Bara Visual Novel by Herculion. The game was announced sometime between 2015 and 2016, with two demos being released so far. Accoding the Mazjojo, the game artist and producer, the game is currently 95% completed, and is set to be released some time in 2020.
The romancible heroes are:
Sota Kobayashi - a university student who works hard to support his family.
Remy Svennson - a famous model
Kovit Chaiyarit - the resident trickster
Rald Schwarz - Tomoki's boss at work
Lenga Valentine - a mysterious amnesiac guy
Oki and Okan Ardana - mysterious twin brothers of the secret course
Tropes used in Full Service include:
Color-Coded Characters:

Tomoki is grey.
Sota is greenish yellow.
Remy is purple.
Kovit is red.
Rald is black.
Lenga is golden yellow.
Oki and Okan are brown.
Hisami is orange.
Hunk: Pretty much most of the guys in the game.
Informed Attractiveness: Tomoki repeatingly describes his appearance as "plain and unattractive", despite being everything but such.
Reality Ensue: Enforced by Remy, who proceeds to criticize Tomoki during their first encounter for thinking that the World of modeling is an easy business.

You Gotta Have Blue Hair: Remy with his purple hair.
Community content is available under
CC-BY-SA
unless otherwise noted.