Wiki Targeted (Entertainment)
Play Sound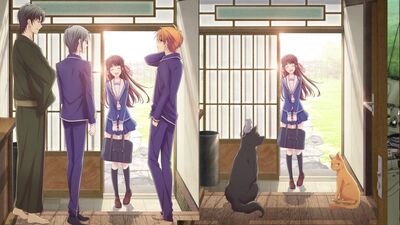 After the death of her widowed mother, the highschool student Tohru Honda has been secretly living on her own in a tent, since her paternal grandfather's home is under repairs and the rest of her family either is out of the question (her mom's) or mistreats her (her dad's, save for the grandpa). Her life changes forever when she stumbles upon the secret of the rich and powerful Sohma family, whose land she has been living on. They are afflicted by a Hereditary Curse that changes some members of the family into animals of the Eastern Zodiac when either they are under absolutely unbereble stress or they are hugged by someone of the opposite sex that is not also a Zodiac member.
Now living with three members of the Sohma clan (her classmate and friend Yuki, Yuki's cousin Kyo who's just moved in, and their older cousin plus guardian Shigure) and working as her housekeeper in exchange for it, every day is an adventure for sweet Tohru, as she gets to know all of the very different family members better, in both common and bizarre situations. But the Sohma family curse is certainly no laughing matter... it also holds horrible cruelty and heartbreak, due to how it affects the clan's relationships between themselves and the rest of the world. Despite this, the members of the Sohma family find a new peace thanks to the presence of Tohru, which leads her to also make discoveries about herself. . . All of this eventually leads her and her newfound Sohma friends to start defying the curse itself and especially the cruel leader of the clan, the much-feared Akito Sohma, who turns out to be a very troubled and broken individual rather than a simple Card-Carrying Villain.
Written by the manga author Natsuki Takaya (real name: Nana Hatake), Fruits Basket (also known as Furuba) ran in Hakusensha's Hana to Yume shoujo magazine from 1998 to 2006. Hailed as one of the best shojo series out there, during its five years in-print in the USA (2004-2009) it was the best-selling shojo manga series in America, and often the second best-selling manga series in the US period, beat only by a certain ninja.
Also see this page for tropes that can be applied directly to the characters.
An animated version was aired in 2001, and it had 26 episodes. A new anime was announced in 2018, and its first season and its 25 episodes ran from April to September 2019; the second season, which also had 25 episodes went from April to September 2020, and the third and last one (Fruits Basket: The Final) is slated for 2021. There is also a sequel, Fruits Basket Another, which takes place around 20 years after everything and features a girl named Sawa Mitoma and the children of some of the FB characters (plus sidestories written after the end of the proper story); it ran through 2015 (both online and in paper) and had three volumes (and will have some additional chapters in 2020).
Tropes used in Fruits Basket include:
 Shigure: Yup, we were inseparable! So much so that they called us the Mabudachi Trio/Three Musketeers.

Tohru: Really?

Kyo: More like the Three Idiots if you ask me.

Yuki: How did Hatori put up with you for so long?
Our Dragons Are Different: Rather than becoming a mythological creature, the "dragon" Hatori becomes a sea dragon.
Our Werewolves Are Different: While not called werebeasts, each member has a single and unique alternate animal form, brought about by being hugged by non-Zodiac members of opposite sex. The animals are a cat, rat, dog, tiger, rabbit, dragon (seahorse), ox, snake, sheep, monkey, horse and rooster (sparrow).

Also, the person possessed by the cat will turn into a foul-smelling monster if their prayer-bead bracelet is removed.

Overtook the Manga: Barely averted. Due to Natsuki Takaya's hand injury necessitating a leave of absence from the series, the first anime would have done this had it continued any longer than it did. And the second anime was made several years after the manga ended.
Personality Powers: While more obvious for certain characters than others, their animal forms tend to reflect their personalities: Yuki (the rat) is quiet and shrewd

and pretty screwed up mentally

, Kyo (the cat) is impulsive and hotheaded

but defrosts to certain people he chooses

, Shigure (the dog) is laidback and friendly, etc.
Pimped-Out Dress: When she and Yuki visit Ayame's shop, Tohru gets dolled up in one by Mine, causing Yuki to have a "Romantic BSOD".

Not to mention the dress Ayame had been wearing a few minutes before.
Ayame's store tends to deal with these in general. The ones he provides for the girls in the cast of "Sorta Cinderella" are pretty nice as well, with Mine loving Hanajima's request for a "pure black" one.

Please Don't Leave Me: Akito, who's terrified of abandonment, says this

after Kureno's curse breaks when both of them are teens.

.

A variant is done when Tohru dreams that she is back in her old apartment, and it is the morning that her mother left and was hit by a car. While she dreams that she is stuck in her bed, she mentally screams for her mother to not leave or else she'll die.
Akito also says this to

Momiji

when

he's released from the Curse. Momiji politely refuses.

Plucky Girl: Tohru Honda, Kimi Todou and Kagura Sohma
Posthumous Character: Kyoko Honda
Puppy Love: Hiro and Kisa Sohma. He's about to finish elementary school, she's just entered junior high.
The Power of Friendship: Tohru's kindness, healing the hearts of the Zodiac members.

Yuki's later friendship (such as it is) with Kakeru also helps him out a good bit.

The Power of Love: There are about six Official Couples by the end, and everyone's lives are improved as a result.
Raised as the Opposite Gender:

Akito

in the manga and second anime. Not the first TV series since it ended before The Reveal.
Reincarnation: The agents of the curse, not the characters themselves.
Rapunzel Hair: Isuzu/Rin, Ren, and Ayame all have incredibly long hair. Hanajima and Minagawa are borderline. Isuzu loses hers during one of Akito's rages later on, and doesn't grow it back.
Red Oni, Blue Oni: Kyo and Yuki, respectively.
Rousseau Was Right: In the end, the only real "antagonist" of the series was the misunderstanding brought on by the curse and the closed nature of the Sohma family, and even the worst individuals are revealed to be scared and lonely onside. A good example is the rivalry between Yuki and Kyo: both actually hold the other in esteem, but their jealousy and perception of the "curse" prevents them from saying so until they have no choice.
The Scapegoat: According to Shigure,

this is why the Cat is so despised by the Zodiacs.

Schedule Slip: Takaya broke her left hand - her drawing hand - while working on the 8th book, forcing her to take an extended break from the series. This is one of the reasons that the first anime ended the way it did, the other reason was the Creative Differences between her and anime director Akitaroh Daichi.
School Idol: Yuki, complete with an insane fan club.
Shout-Out: Early on in the manga, Tohru refers to the massive garbage pile in the Sohma's kitchen as "the Sea of Decay".
Single-Target Sexuality: Run, Kyo, run! Kagura's coming!
Social Services Does Not Exist: Tohru is living in a tent in the woods at the beginning of the series, and the Sohma kids have all been so abused/neglected that they're barely able to socialize at school. Justified in that Tohru always and constantly makes clear she does not want to be a burden to anyone, probably including any social service that would be responsible for her (not to mention she sees it as a training for the harsh real life), so she apparently took care that Social Services never learned about her one-week-adventure with the tent. And the big messed up Sohma family are secluded and VERY rich and stick to themselves, so Social Services could hardly step in.

Not to mention, poor Tohru was loathed by her remaining family except for her grandfather, who can't do a lot about it since he's extremely old and sickly. When she has to live with them for a while, her aunt and cousins badmouth her and her Missing Mom every five minutes. At that rate, it was for the best for her to return to the Sohma's house.

Sound Effect Bleep: Hana, in the first episode/chapter.
| | | |
| --- | --- | --- |
| |   Hanajima: I could *beep!* her with electro-poison waves. | |
Community content is available under
CC-BY-SA
unless otherwise noted.