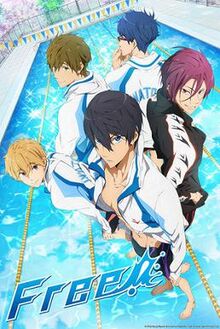 Free! is a Japanese anime television series produced by Kyoto Animation and Animation Do. It's actually a sequel to the light novel High Speed! (Japanese: ハイ☆スピード! Hepburn: Hai Supīdo!), written by Kōji Ōji, published in July 2013. It has three TV anime seasons: Iwatobi Swim Club (2013), Eternal Summer (2014) and Dive to the Future (2018); plus three movies - High Speed! Free! Starting Days (2015), Free! Timeless Medley (2017) and Free! Take Your Marks (also from 2017)
The story happens in the fictional city of Iwatobi, based on the city of Iwami (Tottori Prefecture). The protagonist is the highschool student and once swimming prodigy Haruka Nanase; after a bitter encounter with his former friend Rin Matsuoka, who lived abroads for years, he and his other two childhood friends, Makoto Tachibana and Nagisa Hazuki, decide to revive the swimming club of their highschool. They also recruit a newbie named Rei Ryuugazaki and Rin's younger sister Gou, who not only has a thing for muscled guys but hopes that they can help Rin, who became a jerk after having gone through quite hard times. As other characters join in (Rin's kouhai Aiichirou Nitori, their captain Seijuuro Mikoshiba and his brother Momotarou, Rin's other childhood friend Sousuke Yamazaki, etc.), things get even more heated up and competitive...
This page is under heavy construction!!!!
Tropes used in Free! include:
Community content is available under
CC-BY-SA
unless otherwise noted.