Here be the Foster's Home for Imaginary Friends characters and the tropes they embody.
Mac
A creative, smart, and very warm-hearted eight-year old. Bloo is his imaginary friend.
---
Bloo
Mac's reckless, hyperactive imaginary friend. Mac's complete opposite; however without him, Mac would do everything Bloo says and does.
---
Wilt
A one-armed imaginary friend desperate to be a nice person and gain acceptance.
---
Coco
A palm-tree/aeroplane imaginary friend with a language based on her own name.
---
Eduardo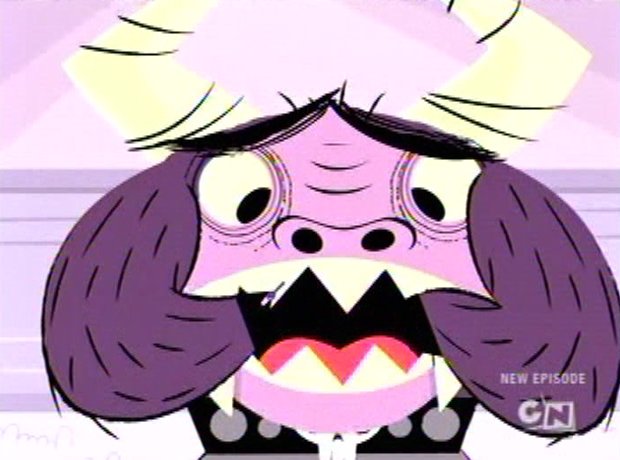 An imaginary friend resembling a huge, hairy monster with a heart of gold.
---
Mr. Herriman
Madame Foster's imaginary friend; a Victorian, upper-class rabbit obsessed with maintaining order.
---
Frances "Frankie" Foster
Granddaughter of Madame Foster; caretaker at the mansion.
---
Madame Foster
Owner of the mansion; very lively for her age.
---
Cheese
A cheese-based imaginary friend with a childlike disposition; likes chocolate milk and cereal.
---
Goo
An extremely talkative girl who has imagined LOTS of friends.
---
Berry
A small, cute imaginary friend with a dangerously obsessive crush on Bloo.
---
Duchess
An ugly, snobbish and downright mean aristocratic imaginary friend.
---
Jackie Khones
A small, green, furry imaginary friend with a deep voice, one eye, and a cool personality.
---
Terrence
Mac's evil thirteen-year-old brother, and one of the antagonists of the series.
---
Notes
↑

She eventually got sick of it and lashed out the bullies in return, and began to protect Ed instead of vice versa.
Community content is available under
CC-BY-SA
unless otherwise noted.