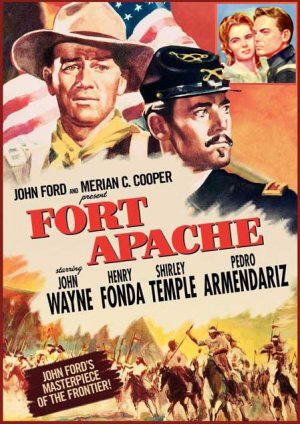 Fort Apache is a 1948 Republic Pictures Western film starring John Wayne, Henry Fonda, Shirley Temple, her then-husband John Agar, Ward Bond, Victor McLaglen, Pedro Armendariz, and directed by John Ford. Fort Apache is considered, with She Wore a Yellow Ribbon (1949) and Rio Grande (1950), a part of Ford's "Cavalry Trilogy." Essentially a fictional retelling of the Battle of Little Bighorn, relocated to Monument Valley and using Apache instead of Sioux, the film details the arrival post-Civil War of by-the-book West Point graduate Colonel Owen Thursday (Fonda) to a remote and run-down cavalry post deep in Indian territory. Thursday quickly works to shape up the ragtag group of soldiers, occasionally butting heads with his underling Captain York (Wayne), a less educated but more experienced officer especially with dealing with the local tribes. When the Apache under Cochise rise up against the corruption of a government Agent, Thursday sees the brewing conflict as a chance to reclaim some of the glory he had during the Civil War, despite the protests by York that the Apache have legitimate grievances, and that the Apache are better fighters than Thursday thinks.
The movie's subplot involves Thursday's daughter (played by Temple) Philadelphia (don't get started on where she gets her name) falling in love with the fresh-from-the-academy Lt. O'Rourke (Agar). Colonel Thursday doesn't approve of the potential match, primarily because O'Rourke's father (also stationed at the fort) is an enlisted man, but it's implied also due to then-prejudices against the Irish.
This film is associated with the following tropes:
Community content is available under
CC-BY-SA
unless otherwise noted.