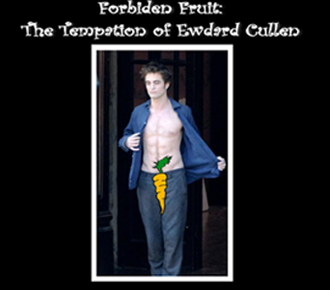 Forbiden Fruit: The Tempation Of Edward Cullen—note the spelling mistakes in the title—is a Twilight fanfic written by one 'BeckyMac666', who is widely believed to be Tara in disguise. It's the story of Atlantiana Rebekah Loren, commonly called "Tiana" or "Tiaa", who moves to Forks, Washington, to live with her new foster parents. Tiana is antisocial and psychologically damaged due to a traumatic childhood, which doesn't help when added to her beauty and her first day of school, when she meets Edward "Ewdard" Cullen, who believes she is a vampire. It just goes downhill from there.
The story can be found here. And a dramatic reading of the first chapter can be found here.
Compare and contrast Twila the Girl Who Waz In Luv With A Vampyre, a spiritual predecessor of sorts.
Now has a drinking game.
---
Tropes used in this fanfiction:
Abusive Parents: Okay, so Dave and Marie aren't actually abusive, but if they didn't figure out that something was wrong with Tiana after every time she runs off and cries, they should never be allowed to take care of a child again.
Adults Are Useless:

Dave finds Tiana in her closet crying and "smokin drugs" (he thinks the cigarette of pot is a chapstick). When she says that she wants to die, we get this gem:
 "u teenagers and ur problems, LOL!" he said laughing a lot.
When Tiana hurls an ashtray at his head using her telekinesis, he doesn't even comment. And neither him nor Marie seem to have a problem with their foster daughter (who is sixteen, by the way) dressing like a dominatrix and staying out all night.

Author Avatar: As one reviewer said, "Did you honestly think no one would notice that her middle name is your first name spelt differently?", and Tiana's three friends are clearly the author's friends.
Berserk Button: Tell Tiana she's pretty, and she'll probably launch into an aggressive tirade about how shallow you are (before rhapsodising about the beauty of Edward - "the pale hawt guy" - herself). When Mike Newton Nooton glanced at her cleavage she went Kung Fu on his ass, even though she was wandering around school in her bra at the time. 'Cause, you know, men are just perverts.
Body Horror: Edward's penis has been described as a 'mancarrot' and a 'throbbing lavender man-fruit thing'. He still fares better than Jacob; Jacob's is charmingly described as looking like a "horrible wet mushroom." Also, the tendency of the author to describe people as "mussely."
Common Mary Sue Traits: Tiana's looks.
Department of Redundancy Department:

"there was a man standin in the middle of the road he was tall and mussely and had black hair like the black feathers of a raven in the black darkness." (Ah, but were they the black feathers of a black raven in the black darkness?)
"Jasper Cullen was tall with blond curly hair like straw only soft and nice and not dry. he was tall."
" I cryed and cryed but he didnt stop for hours and when he finally stopped he left me on the floor and spat in my face and left me there. I pulled on my clothes and cryed madly and ran off into the seething darkness of the midnight street. I ran and ran un till I came to some woods and then I fell down in the woods and cryed."

Dirty Old Man: Dave and Tiana have a brief exchange in Chapter 8 where he mentions her cleavage as casually as any dad would remark about the weather. And then there's Uncle Larry, of course. And Tiana, for absolutely no reason, neglects to tell anyone that he raped her.
Dissimile: Again, "Jasper Cullen was tall with blond curly hair like straw only soft and nice and not dry." Also, Jacob's drool was "sloapping down his face just like rain only thick and foam-like".
  "...he said in a voice like wet heaven..."
 "WHAT DO YOU THINK YOUR DOING YOU EVIL RODENT PEOPLE?!!!!! [...] " It was Bella Swan!!
If it is a parody, the lavender genitals are likely to be a Shout Out to Celebrian. Also, Snoofles' line "Don't ask me, I'm just a panda" may be a reference to Davey and Goliath.
 "Your so pretty people lose there minds when your around and forget there names and forget to brethe!"
 "omg my sweet lady" he cried! "what has this frightful asshole been doing to thee?"
Also, Tiaa's description of her Wangst:
 "I was pissed! and the tears were falling down my face like a tepid summer rain of misery and woe"
Community content is available under
CC-BY-SA
unless otherwise noted.