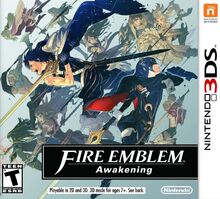 Two sleeping dragons--one a sacred ally of mankind, the other its sworn destroyer. Two heroes Morganed with the symbols of the dragons. Their meeting heralds the dragons' awakening--and the world's ending.
The thirteenth Fire Emblem game, the first original title (as in, not a remake) since Radiant Dawn in 2007, and set nearly 2000 years after the third game and its remake. It stars Chrom, yet another blue haired swordsman and the prince of the Halidom of Ylisse who leads a vigilante force, and a player-created custom character (the Avatar, known as Robin in the West and as Reflet in Japan) who acts as both a strategist and part of his force; accompanying them are Chrom's Badass Crew, the Shepherds, whose size increase as their adventures go forward and the group finds out about trouble looming from the horizon thanks to the mysterious swordsman "Marth"...
The game brings back the world map system of Gaiden and The Sacred Stones, and reintroduces the Skills system in a form reminiscent of its Tellius incarnation, allowing you to freely swap skills between characters. It sports a graphical style reminiscent of the Tellius games with a more cartoonish bent, sporting a Two Point Five D map and 3D fights. The character design and portrait art style - the work of Yusuke Kozaki - looks like it belongs in a Seinen anime, which is a fresh departure from the overly-realistic art style from the DS games. A new feature introduced allows units to gang up on enemies when next to an attacking ally (The exact mechanics of this are unknown). It's the first first-party Nintendo title to feature paid Downloadable Content, here coming in the form of "episodes" comprising map packs telling side-stories, not unlike BS Fire Emblem: Akaneia War Chronicles.
After New Mystery of the Emblem failed to make the translation leap, some fans initially feared the possibility of No Export for You; a European release was confirmed in the February 2012 instalment of Nintendo Direct and as of E3, a North American localization has been confirmed by Reggie Fils-Aime after the Nintendo 3DS Software Showcase event, with no release date given. The name Fire Emblem Awakening is a straight translation of its Japanese name, Fire Emblem: Kakusei (though given this series' history, that's really nothing new). It was finally released in April 2012 in Japan, and in April 2013 in the West.
---
This game has examples of:
Notes
↑

It still counts, as DLC Marth wears the same outfit as "Marth"
Community content is available under
CC-BY-SA
unless otherwise noted.