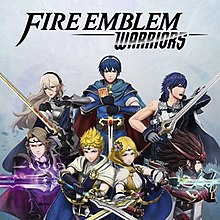 Fire Emblem: Warriors (Fire Emblem Musō (ファイアーエムブレム無双 in Japan) is a hack and slash role-playing video game developed by Omega Force and Team Ninja, and published by Koei Tecmo in Japan and Nintendo internationally for the Nintendo Switch and New Nintendo 3DS. The game was released in Japan in September 2017, and worldwide the following month. The game is a collaboration between Koei Tecmo's Dynasty Warriors franchise and Intelligent Systems' Fire Emblem series.
The protagonists are Rowan and Lianna, the twin prince and princess of the Kingdom of Aytolis. They have both learned and trained hard under the watchful eye of their Widow Woman mother, Queen Yelena, and their friend Prince Darios from the neighboring realm of Gristonne... and now they're currently trying to decide which one will inherit the throne. But one day, all of a sudden Aytolis is attacked, breaking many years of peace!
The twins and Darios can only watch in shock and horror as their realm is invaded by monsters. Queen Yelena hands her children the treasure of their realm, the Shield of Flames, but disappears and is believed to have been captured or killed. And it seems that the one behind the attack is Darios' father, King Oskar, who seeks to revive the evil dragon Velezark for his own purposes, and doesn't care if his son and heir is caught in the middle.
Soon, the trio learns that there IS something they can do to stop this madness: they must power up the Shield of Flames with magical jewels known as the Gleamstones. The ones who have said Gleamstones are the Heroes who have been caught and brought into Aytolis via Outreal Gates, so now it's time for them to seek for said heroes and make them their allies. So as Rowan, Lianna and Darios travel around Aytolis, they meet said heroes who come from all kinds of Fire Emblem continuities and make them their allies...
The roster includes the following characters:
This page is under heavy construction!!
Tropes used in Fire Emblem: Warriors include:
Community content is available under
CC-BY-SA
unless otherwise noted.