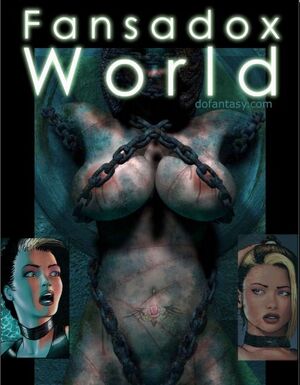 How about Fansadox BDSM Stories, just the descriptions will make me loose sleep for a month! -- NC17 to all you wanks (possible Gorn)
Fansadox is a BDSM pornographic comic franchise centered around rough BDSM play, the beating and rape of women. As it's expected, being made for a specific niche, readers will have reactions ranging from Squick to High Octane Nightmare Fuel to beyond that. In rare cases, it can even turn to snuff.
It consists of contributions from several artists with several (and highly different) way of draw, or even think. This obviously results in different numbers with different stories.
In more recent issues, the company has made several disclaimer pages, almost mocking the porn industry, in which the fictional cartoon characters swear they're over 18 and that they are actually BDSM (sometimes payed) actors who enjoyed every moment of it. Hilarity Ensues, but it also becomes a Narm moment as you realise they appear in just about any issue, from when they started using it so to not have trouble with the US law, fact confirmed by creator Gary Roberts himself (link).
Warning: Vulgar language ahead and if you don't like how it starts, leave now before needing to use some Brain Bleach.

On the Sliding Scales, it ranges thusly:

Issues with continuity include
Novels include
Women Hunt is (loosely) based on Fansadox Novel 05 - Year 2050. Slave Training;

Compare
Tropes used in Fansadox include:
Can't fall through... Broken glass'll kill me. But must alert neighbors...!Annie, #121 The Snatcher
Of course, why she doesn't break the glass with her head or something to alert the neighbors is anybody's guess...

Southern Belle: Mrs. O'Hara and her two daughters in "1850, White Slaves".
Spikes of Villainy: Goes well with the bondage theme.
Stalker with a Test Tube: The female party in Sex Wars are shown to use these to get their attackers' sperm, so they can procreate (they're a society of Hot Amazons).
Standard Fifties Father: Although the girls comment "they could be their grandfathers", these are usually the types of older abusers. Sometimes strongly deconstructed.
STD Immunity: Some stories Hand Wave that all venerical diseases have been cured in the near future, some don't bother and some thoroughly subvert it regarding veneric diseases. Pregnancy is more common, because it's a fetish itself in some circles (read more on Fetish Fuel Future).
Straw Feminist: They will usually be the main characters, before being submissed as part of Break the Cutie/Break the Haughty plot.
Strictly Formula: A female character possessing any amount of innocence and/or dignity at the start of the story will have it all taken away in the most horrifying way possible by the final page. Or by page three.
Super Fun Happy Thing of Doom: Reformatory School For Lost Girls.
A Taste of the Lash: Favorite punishment of the franchise.
The Taxi: Taxi Cab Mafia.
Telepathic Space Amazons: It doesn't really help them...
Tempting Fate: Pretty much every girl that managed to escape for the time being, or worse, who for a moment think they turned the table on the captors. Hilarity Ensues.
This Is My Story: Some girls tend to tell their story. One even declares she's forced to, for her masters.
To Be Continued: A lot get this line slapped at the end, few are actually continued.
Too Dumb to Live: Some of the victims, always lampshaded in such occasions. Eventually just played with: in one comic, in a slave-state, women are actually euthanized if they don't learn to perform their sexual duties.
Too Kinky to Torture: Subverted by the many female Dominatrices that got the other end of the torture...
Torture Always Works: To be fair, it's also highly advanced.
Torture Cellar: Played straight and many variations on it.
Trauma Conga Line: So abused. Victims fall from A to F, B being the rarest.
Trap Door: There was one in at least one strip.
Trope Overdosed: Mainly because each number is set in virtually a different world with different characters, and around 10 artists, each with their own worlds, contribute here. That makes the range of tropes fall all over the grid.
Tragedy: Implicit for the women.
Twenty Minutes Into the Future: Some of the stories are placed then.
Twincest: Usually with blond barely 18 year old sisters.
Twin Telepathy: Alluded in one comic that two twin girls could feel each other's feelings. Again, it didn't help them much. If anything, it makes it worse.
Two Plus Torture Makes Five: Some girls are made to honestly believe this life is now what they must strive for. Mostly, their owners try not to let them get that far, since it's considered a "release" they're not willing to give.
Uncanceled: The rarest of the stories have this luck. May be the case of the Confiscated Twins series, which had a new issue 80 issues after the second (out of 260). A few other series were as lucky.
Undead Horse Trope / Forgotten Trope / Dude, Not Funny / Unfortunate Implications / Did Not Do the Research: Nothing's too old, too worn out, too unfunny or too vile to use. Except what would offend the target audience.
Ugly Guy, Hot Wife: Most of the men are ugly as hell - probably one of the reasons they need to kidnap a woman to even have some. Replace "wife" with "slave".
Underestimating Badassery: Women actively provoking very rich people or sheiks (or just strong men) in public places and thinking they can get away with it (they can, for the moment). Taken to extreme with a Drug lord by a female chemist. Ok, female cop we'd understand, but humiliating a Drug lord in public and thinking you can nail him, too? Too Dumb to Live, baby.
Unwilling Suspension: The Cold-Blooded Torture type.
Vapor Wear: Again, girls forced to wear revealing clothes.
Villain World: Has a few of these.
Yank the Dog's Chain: Cagri loves to do this. Towards the end of their predicament, the women are presented with an escape chance apparently coming from Heaven itself... only to be told that their "saviors" are in on it too.
You Fail Biology Forever: Some of the things those women go through should leave them horribly mutilated or dead.
We All Live in America: Deconstructed: acting and dressing American or even westernly in other countries will set off views (sometimes (Hypocritecal) of Moral Dissonance and will be punished harshly.
What Does She See in Him?: Hinted in the beginning of some issues, until it's revealed the women are forced to serve.
What Measure Is a Non-Human?: What measure is a Non-man (woman and/or slave).
Working on the Chain Gang: "African Chain Gang" etc.
Wrong Genre Savvy: Most women don't realise they're born in Crapsack Worlds.
Community content is available under
CC-BY-SA
unless otherwise noted.