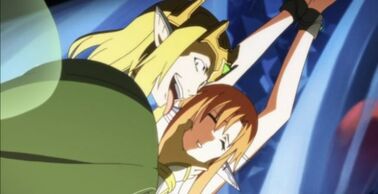 Think all anime are made up of Moe and Bishonens? Think again.
---
---
Pictured above: In the Fairy Land arc of Sword Art Online, seeing the beautiful and busty Asuna in a cute white get-up and suspended/bound should be aesthetically pleasant. When the Arc Villain (and her arranged fiancé in real life) Sugou/Oberon has her restrained, touches and smells her hair (since he went through lots of effort in Real life to get that done in the game), leers at her with quite the Nightmare Face, rips her top, tells her that he'll rape her in-game and later do it in Real Life, and licks her face in front of her boyfriend and partner Kirito (who not only has been severely wounded, but now is pinned down to the floor via Sugou stabbing him with his BFS)... while the poor girl can barely restrain her Tears of Fear... it's squicky as HELL.
Of course, Hentai series have a tendency to enter Fan Disservice mode at times, particularly when the bad guys of a given series use sex as a way to show how evil they are. A good example are the flashbacks to Chloe's youth in Kuroinu Kedakaki Seijo wa Hakudaku ni Somaru, where the reason for her dislike of guys is shown: she was used as a Sex Slave when she was a pre-teen girl. And her present, where she's gangraped by horrible orcs with gigantic dicks, isn't much better. . .
For the longest time, Espada #3 Tia Halibel from Bleach seemed to be set up for major fanservice. Then she opened her lower-face-covering jacket to reveal her full cleavage, covered in bone armor...and her demonic skull-like jaw. Needless to say, a lot of people were squicked. Then it's revealed that her actual face is a human-like one.

In an intentional comedic example, transvestite Charlotte Cuuhlhourne generally either disgusts people to no end or makes them burst into laughter.
People got squicked when they got a glimpse of Yammy's crotch in the manga, but the anime gave us a whole tour of the place in episode 285.
Orihime Inoue puts on a white dress and looks very pretty in it. She wears said dress while being horribly abused in one way or another during her captivity in Hueco Mundo. Finally, she gets said dress torn... by two arrancar Clingy Jealous girls who want to kill and/or torture her out of pure jealousy. And they have brutally beaten the shit out of her before.

In the X-Cution arc, Orihime also gets a panel that focuses quite a bit on her breasts... when she's actually being cut through them thanks to Tsukishima and his katana.

Bambietta Basterbine is a gorgeous Dark Action Girl with pretty big Boobs of Steel. At some point she's seen fixing her clothes after apparently having sex with a cute-looking and shirtless Vandenreich soldier. After cutting him in two.

Perfect Blue has a good amount of this. There's the rape scenes, the scenes where Mima is getting photographed naked (pubes and all), Rumi in the

CHAM get-up

, etc.
Neon Genesis Evangelion is chock-full of it. Along with the numerous nude scenes Rei has, perhaps the best example is the scene where Shinji "confronts" a semi-naked yet comatose Asuka at the beginning of End of Evangelion. That scene eventually grew infamous enough that the manga quietly excised it for something equally disturbing yet not so icky.

In End of Eva, Rei nearly spent the entire time naked. However, every scene featuring her was paired up with her staring at the floating intestines of

her clones

; or her left arm randomly falling off while she's talking to Gendo

because her AT field is failing

; or Gendo placing his hand on her breast, immediately followed by said hand morphing through her body so he can place the Adam embryo that's grafted on directly into her womb; or going through some ugly Transformation Trauma to a giant, quasi-godlike being that sucked out everyone's soul, only to fall apart in the most disturbing ways.
After devouring

Unit-00 with its pilot

in the remake Evangelion 2.22 Angel Zeruel assumes the form of naked female torso and lower body - along with its original Angel upper half and two arms the length of its body.
Asuka has a Furo Scene near the end of the series - when she's in the middle of a terrible breakdown, claiming that she hates the whole world while clutching her belly, seemingly in pain due to period cramps.

A few episodes later, she's seen naked in a bathtub... and her cheeks are hollow, and she's very much crossed the Despair Event Horizon by now as she claims to have no will to live anymore. What little water there is in the bath appears to be red, giving the implication that she's just tried to kill herself by slitting her wrists.

In episode 23 we briefly see Ritsuko naked. However, she's being humiliated by being made to stand naked before Seele and she's utterly depressed. Also, later in the episode we see a graveyard of Eva skeletons in the basement, making Rei's hobby of going there naked much worse. We also see soulless and naked dummies of Rei being destroyed by Ritsuko, while they giggle in a creepy manner, and Ritsuko herself is having the biggest Heroic BSOD ever.
A couple of times in End of Evangelion we see Asuka wearing skimpy wear, daisy dukes and a tank top with close-ups on her chest and butt. Fan Service, right? Not when she's depressed and having a breakdown in the one scene and yelling at Shinji in the other scene while disturbing music plays in the background.

Another intentional example in Revolutionary Girl Utena:

Akio

and Anthy's sex scenes are pretty standard stuff... if you forget that Anthy is his younger sister. That alone would be bad enough, but there's even more to it that make it even more twisted. Anthy turns out to be Beautiful All Along, especially when she's fully nude and with her long hair down; unfortunately, the reason for said nude scenes is not appealing in the least, and she is shown with a frozen, corpse-like stare. (In-universe, Nanami and Utena witness it and do not take it well.) It Got Worse when she was rendered nude again in the finale, only to be impaled by a million swords.

Likewise, anything involving the

Akio

Car in the second half of the series tends to have the same effect, for many of the same reasons. Notable scenes include

Ruka and Shiori having sex in the back of the car, which is part of Ruka's plan to humiliate and discredit her

, and Touga sexually assaulting his own sister.
Don't forget that scene between

Akio and Utena

in episode 33, made all the worse by the age difference and dubious (or even lack of) consent. Honestly, though, while

Akio

looks like a very attractive guy, just about all of his sexual relationships (be they overt or implied) have something seriously wrong with them. And it's intentional: the character uses his sexuality to get what he wants, and "what he wants" is to control people of either gender for his own purposes.
And from the movie: the scene of a naked Shiori gaining butterfly wings. While it's beautifully animated, it's what it represents that causes the Squick, mainly her hatred as well as Touga's hatred combining, and the fact that the scene is overlaid with a child Touga being raped by his adoptive father..
And again from the movie (can you tell Ikuhara loves this trope?) Anthy and Utena take turns sketching each other nude. In Utena's case she's extremely nervous throughout and covers herself up as soon as it's over, and then tells Anthy that it's only fair that she do the same. Anthy agrees and we get the standard Dress Hits Floor shot and her beautiful nude silhouette... only to see that Anthy has a giant hole in her chest where her brother stabbed her before killing himself! By the same token, the scene of Anthy and her brother turns nightmarish as soon as he puts drugs into her drink and proceeds to take advantage of her, only to panic when she wakes up and he realizes that she was awake the whole time, leading to him stabbing her and then Akio killing himself. Yikes.
In the movie-manga, Utena comes across a nude drawing of Anthy, which happens to be the only time in any version of the story that Barbie Doll Anatomy is averted. However,

as Utena recalls her earlier conversation with Touga about the so-called "prince", a blood-like smear appears on the Anthy drawing, right between her breasts... and then the whole thing melts away

and Utena learns about the movie-manga's version of Anthy's past with her brother, which plays out in much the same way as it does in the actual movie.

Most of the "fanservice", of which there is a large amount, in Studio Gonzo's bizarre action series Speed Grapher. This is partly due to the fact that it's based around people who have become the Anthropomorphic Personification of disturbing sexual fetishes.

Kagura is a beautiful young girl with long legs and a sweet face. Except that she's also the biggest Woobie of the whole series, and whenever she's shown in anything similar to Fan Service, she's being physically/emotionally abused and/or molested. Sometimes while wearing a very Stripperiffic white outfit.

Elfen Lied begins with the very beautiful Lucy walking around wearing nothing but a helmet -- while slaughtering people left and right. Within the first six minutes of the first episode alone, she kills 23 people.
Haunted Junction loved this. Kazumi (and the audience) would think he was looking at (or buried in) a woman's breasts, only to find himself face-first in some male's butt.
Hiromu Arakawa used this for comedy in an omake of a Fullmetal Alchemist volume - it showed us Winry's grandmother Pinako in a bikini, calling her the 'heroine of Fullmetal Alchemist', with the words 'anti-fanservice' underneath.

It's also played for drama many times, like Roy's Shirtless Scene

showing his bloody and wrecked side after he used his fire powers to cauterize his own wounds

, Riza toweling herself after a shower

revealing the alchemy-related tattoo and the scars on her back

, Ling taking off his shirt

to bandage Lan Fan's arm stump with it after she mutilates herself

... but the undisputed champion must be the moment when Ed sees

Al's terribly emaciated (and completely naked) body on the other side of the door

.
When

Father obtains God, he turns into an incredibly hot, muscular man

, this look cemented status in the Draco in Leather Pants fandom, but, in the Brotherhood anime adaptation... He keeps his old man voice, in a body that looks like Slave 23, aka Young Hohenheim, turning off many.

Berserk may be the champion of fanservice that isn't. While the manga contains a lot of blatant sexual imagery, most of it isn't too appealing unless you're into blood-drenched demon rape.

Probably the worst example of this comes in Volume 13 where Casca gets stripped naked by demons before being raped and given a Forceful Kiss in horrific fashion by Femto, the Godhand who was once her commander Griffith, while Guts is made to watch it happen right in front of him. We're more disgusted by this single scene of the Eclipse than when

everyone else in the Band of the Hawk gets savagely devoured by demons.

However, one moment in the manga comes close to that: Slan decides to show up to taunt Guts in the Qliphoth. She decides to do this by appearing in front of him completely naked and acting as though they're having sex. However, the body she's in is made out of the internal organs of the hundreds of trolls that Guts has just slaughtered, they are surrounded by blood and gore, and she's impaling him with her hair. Squick doesn't even begin to describe it.

Gunslinger Girl contains an example in the sixth volume, with a page of Alessandro "checking out" his new cyborg's body that would only be sexy to either a very, very twisted reader or one who found the page out of context.

It also has the lovely side shot of a half-naked Triela,

after being found at the scene of her rescue from her "accident" (being the starlet in a snuff film)

.
And Claes in her underwear

when she's having a medical test and it's revealed she has a heart condition

.

Gantz does this a lot, but it peaks in one manga, where a giant alien monster turns into a giant naked woman made up of smaller naked women. Women fingers, a fully expressive face made up of female bodies... and then one of the Gantz team tries to have sex with it in the mouth.
Kurosagi Corpse Delivery Service. Large amounts of female nudity. Almost entirely from corpses. Many of which are decomposed or badly mutilated. When one of the living female characters appears naked in the fourth volume the shock of genuine Fan Service is palpable... up until you remember the bad guys are planning to replace her bodily fluids with preservatives while she's alive.
Welcome to The NHK features several nude scenes, but almost all of them are rather distressing borderline-Loli rape-fantasies from the mentally disturbed hero.

As well as the original ending, in which the scenes are played out by the physical manifestation of his insanity - a grey demon-imp-creature with an excessively masculine voice wearing a pointy nightcap.

A lot of the nudity in Mnemosyne is this, from Rin being chased while half-naked before being blown away in a messy and disturbing manner, to her being tortured to death by a cheerfully sadistic research scientist who happily cut her clothes away before piercing every inch of her body and then bashing her brains in with a large club. Immortality has its downsides.
Monster has plenty of scenes taking place in various red-light districts, often featuring startlingly bold frontal nudity and scenes of sexual content. These couldn't possibly be any less erotic, because they're all drawn with unflattering details intact -- and the actual prostitutes and strippers we see make it clear just how degrading and sleazy this is.

Also, there's the flashback sex scene between

Eva and Roberto

. To make it even more squicky, it's entirely from Eva's POV, meaning the entirety of it is spent focusing on Roberto.

The nudity scenes in the Black Jack OVAs tend to be of this sort. For example, when Michelle goes full frontal, it's not for the sake of a sexy shower scene so much as it's to show how much her body has deteriorated from a few weeks ago. In fact, the sight of herself in the mirror this way is enough for her to reach for the razor blade.

The greatest example is in the Ninth OVA 'The Carbuncle' when a mysterious female serial killer is revealed to be Black Jack's male patient, who suffers from a face shaped tumor on his stomach and is presumably being controlled by it. 'She' rips off the blanket covering her naked body... to reveal numerous face shaped tumors all over 'her' arms, stomach and torso, all of which laugh evilly along with 'her'.
There are similar examples in Say Hello to Black Jack. When a person is shown naked, it's often an elderly person or a cancer patient drawn with icky details.

Ping Pong Club is another example of this; ostensibly an Ecchi series, the unattractiveness of both the art and the teenage male characters' personalities turn multiple fetish cameos into "ugh" moments.
Late in Saikano, Chise spends a lot of time naked, and near the end

there's a remarkably graphic (and nicely drawn) sex scene between her and Shuji

. It's in such a context that you may have trouble even seeing it through your tears. And then

at one point, her arm falls off during coitus and she has to reattatch it. They keep going.

This is preceded (at least in the manga) by two equally fitting sequences:

the scenes of Fuyumi's tryst with the 13-year-old Shuji

and Shuji's final sequence with Akemi. After a particularly devastating enemy attack and Chise's counterattack, Shuji finds poor Akemi on her deathbed, bloodied and broken, where she confesses that she has loved Shuji for a long time, and asks him to look at her naked and to touch her breasts even as her injuries sap the last of her strength. It's a brutal mix of Squick and Tear Jerker.

The second half of episode 6 of Tengen Toppa Gurren Lagann is arguably this trope Up to Eleven and completely insane. No amount of Fan Service provided by Yoko and the three Black sisters (which there isn't that much of) can cover for Simon and Kamina spending the entire time running around buck naked, with Simon's privates covered by his drill of all things, and Kamina being kept something that could only vaguely be described as "decent" by Team Pet Boota (who manages to look even more grotesquely phallic than Simon's drill).

The uncut version is even worse, and features Gimmy mistaking a request to "look for a hole" and shoving his finger up Simon's anus, Kamina smacking his own ass and telling Gimmy to stick his finger up his so by the same bizarre Toon Physics that sent Simon flying, it'll send him high enough to see over the onsen wall and peek at the girls, as well as one scene where the only visible naughty bits are Gimmy's.
And then we have Yoko taking a shower in the manga, showing us her body in all detail. However, said Shower Scene is a heartbreaking Shower of Angst coming right after

Kamina's death in battle

.

Higurashi no Naku Koro ni has scenes with characters locked up in dungeons, chained to tables, and even bound to crosses. And Gainaxing. It all just contributes to the horror of how the former friends are about to brutally murder one another over some silly misunderstanding. The most obvious one has

both Sonozaki twins

wearing white robes and clearly without bras/panties underneath... but poor Mion is locked inside a dungeon, Forced to Watch how a Hate-Plague-affected!Shion in full Yandere mode brutally crucifies, tortures and stabs their common friend Satoko to death.

Umineko no Naku Koro ni has another case of this at the very least in the second ending, where Beatrice demands that Battler undress and redress her for a banquet, given his new status as Beatrice's furniture. All the while, she lectures him about how pathetic he is and why she is not afraid of being undressed in front of him. She then strips him and puts him in chains... in order to show off to everyone at the banquet. And then they rip him apart and devour him.
And then we get to the first episode of the Rei OVA series, where the loving close-ups of Keiichi's crotch and rear while he's in a speedo are not going to go away without industrial strength Brain Bleach.
The last episode of Tatarigoroshi-hen has a Furo Scene. Three things bad about this scene: 1. The character bathing is a loli--namely, Satoko. 2. Her abusive uncle forced her to take a bath. A very hot bath. 3. She's being forced to (or rather, the Hate Plague is making her think so) count to 10,000 in the bath, and has been counting all night; when Keiichi breaks in, she is only halfway done with her counting.
Let's not forget the most common way Rika is killed throughout the series. She is usually

found at the shrine, naked and disemboweled, complete with crows eating her remains

.

One Piece:Robin spending two long arcs wearing lots of leather and a cleavage-baring blouse... while getting beaten bloody and quite literally "biting the curb" as the Big Bad tries to drag her away in a scene that strongly resembles a rape?

Nami getting pinned to the wall by an invisible Absalom when she was taking a bath -- again with the uncanny resemblance to a rape.
There are some characters who are Walking Shirtless Scene types. However, Hannyabal and Blackbeard, two very unattractive men, are among them.
New Kama Land. Sanji in a dress fighting while wearing bloomers. The man he is fighting is a gonk in a dress with fake breasts.
In a flashback during the Amazon Lily arc, we see a very cute-looking girl with her hair in pigtails and wearing both Zettai Ryouiki and a midriff-baring outfit. Bad thing? That girl is a 12-year-old Boa Hancock; she's also in chains alongside her sisters Sandersonia and Marigold, and the three are utterly terrified since they're about to be subjected to years of cruel punishments, tortures and humiliations coming from the World Nobles.

After the Post Episode Trailer in each episode of Mai-HiME, there is a short, generally Fan Service-y Omake for a character who featured prominently. The one for Akane Higurashi features a voiceover in which she's talking to

her boyfriend Kazuya, who died in that episode

, and the last shot fades from a picture showing her in her underwear to

black, with her HiME mark glowing red in the dark, after she lost it, and her powers, in the same incident that took Kazuya's life.

Another pops up later in the series, when Shizuru undresses in front of Natsuki and lying down with her... except Natsuki's also asleep at the time, leading to a rather disturbing conclusion reached by Haruka. It's not clear whether that ACTUALLY happened or Yukino and Haruka saw something else and then mis-interpreted it..

Mahou Sensei Negima once gave Jack Rakan a shower scene.

Tsukuyomi went from a semi ditzy minor minion to a rather creepy psycho lesbian over the process of her second fight with Setsuna, which was actually closer to her almost raping Setsuna.
A chapter settled in the Magical World had

the fake

Asuna attack an enemy, who attempted to disarm her destroying her clothes as usual. When she continues to attack him, he slashes her across the back, injuring her badly and leaving her lying on the ground in pain.

Fake or no

, seeing the main heroine lying naked on the ground in a pool of her own blood is quite disturbing.
Seeing the very cute

Ako Izumi

fully nude at some point... when she has a Shower of Angst after learning that her dear "Nagi-san" didn't relly exist, and was just an aged-up Negi. Followed by a chance to see her friend

Akira Okochi

just as naked...

while trying to comfort poor woobie Ako over her loss.

One of the last volumes of Lone Wolf and Cub has three scenes of Retsudo bathing. For several pages at a time.
There is an issue of the Excel Saga manga that has Kabapu at a hot spring, rendered in painful wrinkly disturbing detail.

An earlier volume has him relaxing at a pool with Miwa Rengaya; one panel focuses straight to his crotch, and the word balloon placement makes it look like he's talking from it.
A good chunk of the last episode of the anime also counts. Especially the part where Excel gets stuck in Hyatt's body and decides to feel herself up while naked... and promptly starts coughing up enormous amounts of blood and shriveling up into a mummy. Then there's all the stuff that goes on in the love hotel...
| | | |
| --- | --- | --- |
| | | |
The Anime version of Hyatt in general can be seen as disservice, always being shown wearing tight or scantly clothing, but always being kind of disgusting (Blood, contagious disease, vampiristic aura etc).

Franken Fran:

One girl gains a perfect tanned skin, only to find that it is made of cockroaches and eventually cockroach legs start to sprout out of her face. One old lady looks at her new and attractive body in the mirror, only to become a sentient blob of cancerigenous cells with eyes a few moments later. Another schoolgirl becomes a mass of meat before splitting into two copies of the girl.

Mazinkaiser. Naked Baron Ashura, who is a semi-artificial construct, with a man's body on his left side, and a woman's on her right.
Street Fighter II: The Animated Movie. Right after that famous and very fanservicy "naked Chun-Li scene", the fans are treated to a brutal fight between her and Vega/Balrog, where he slices at her chest, so recently uncovered for prying eyes, with his claws.
While Ranma ½ had a lot of fanservice for both men and women, the occasional Genma in the shower scene probably appealed to neither. While his Stout Strength is due to having a build like a barrel compared to the litheness of his son, or even Soun Tendo, he is still a homely bald guy whose panda form looks bloated even in anime (which, for once, has a better design then the manga). In fact, it's mentioned that Genma's panda form is apparently fat and ugly even by panda standards.

On that note, Episode 110 deserves special mention for its featuring Dominatrix Genma complete with leather bustier, fishnets and whip.

Umisho is all about the swim team fanservice. Unfortunately, this includes the male team captain Ikamasa, who's an annoying, cartoonish blowhard.
Similarly, Onsokumaru of Ninja Nonsense frequently shapeshifts into a big muscle-man... without changing his colour (bright yellow) or his minimalist facial features.

Also, any time one of the male ninjas ends up losing his clothes.

In the Super Robot Wars OG OVA, we are given a lot of opportunities of Lamia Loveless being restrained with cables, butt naked... while her personality is being drained and had it not been due to her robotic nature, she'd be a pile of goo in a short moment (this happens to a nameless woman they encountered before). Then you see her riding another robot, still strapped and butt naked. Except... she's Brainwashed and Crazy and trying to KILL the protagonists.
Claymore: Aside from the so-far-unseen "horrible scar" on their bodies from their transformation, it has an attempted rape scene where the girl is like "whatever," a female monster literally made of Naughty Tentacles, and naked twin sisters merged together. Nearly all of the female Awakened fall into this trope, with most sporting exposed breasts and bodies, but always at the center of a writhing mass of One-Winged Angel Meets Lovecraftian Superpower.

The Abyss Feeders are almost or stark naked, nicely endowed women...with their eyes and mouths sewn shut. They also eat you alive, little by little.
Ophelia's One-Winged Angel form, who is a hideous Lamia-like monster that was defeated by Clare, and after she concentrated her human self at the opposite end of her snake form in a squicky Alien-esque way.

In Black Butler, Sebastian's sex scene with

Beast

.

In the second series, the flashbacks of

Alois being sexually abused by the previous earl Trancy

were definitely this. In episode one,

Alois is naked in bed with the Earl

. In episode 8, Trancy is naked in a bath-tub with a sexy-looking Alois in a red kimono acting all seductive. And in episode 9, Trancy is kissing the foot of the much younger Alois, and later Ciel's.

Eyeshield 21 gives fans of the male physique a lot of fanservice (fabulously fit athletes, yay!). Unfortunately, it also gives us the Running Gag of Ootawara's bare-assed farts. There's also the beach football team called The Sexy Queens whose skin tight outfits show off all their bulging... bulges. The outfits are also very easily ripped apart.
Jungle de Ikou!: Dirty Old Man Aham demonstrating the "sexy" Magic Dance that triggers Natsumi's Transformation Sequence.

Natsumi herself doing that dance is guaranteed to discomfit a few viewers. She's ten years old.

Naruto. There is so much Fan Disservice surrounding Orochimaru that his actual evildoing doesn't compare to the amount of Squick he causes. For God's sakes, he has a Shower Scene, and if the guy simply naked isn't enough this is when his arm were suffering from severe necrosis because part of his soul was eaten by a Shinigami.
The various openings for Zoku Sayonara, Zetsubou-sensei contain a scene where Itoshiki-sensei and his stalker/student are falling through the sky, grasping for each other. They finally catch each other's hand and embrace in an intensely romantic fashion... at least, it seems romantic until you think about why they're falling - then it becomes not a little horrifying.
Episode 14 of Vision of Escaflowne: shirtless Van? Awesome. Shirtless Van writhing and screaming in unimaginable agony while bleeding from countless psychosomatic wounds that won't close? Yikes.
The Blue Seed "Omake Theater" 12. Case in point, Momiji's grandma going to town and dancing in this skimpy outfit. Complete with a scene with her flabby granny boobs flopping around while she dances. The outfit that would be total fanservice on any other female character in the series, combined with grandma's body... granted, many of these segments probably were intended to be silly, but this one is a cross between Crowning Moment of Funny and horror.
Code Geass has the instance with Nina... and Table-kun.

Lelouch is normally a Tall, Dark and Snarky Magnificent Bastard who looks gorgeous in female clothes. However, in his Belly Dancer stunt in the video dramas, the picture of him with his bare midriff and clad in skimpy clothes is.. eugh. The drawing style really didn't favor his body shape, and his horribly long torso was a stark contrast with Kallen and C.C who did their Ms. Fanservice "roles" far better. "Noodle people", indeed.
Also, Suzaku in a midriff-baring female cheerleader uniform in Lost Colors. It was hilarious to see Suzaku laughing and having fun with it, and he himself is Tall, Dark and Handsome... but he's got exactly the same torso problems as Lelouch (this time, you can see Suzaku's ribs!) and thus he looks more freaky then sexy.

Then we see that Rai, the game's lead character, is right behind him. He's also crossdressing... and his Anime Chinese Girl outfit includes HUGE and saggy fake breasts. Erm.

Darker Than Black has several scenes involving naked or barely-dressed Dolls that are more freaky than sexy. On another front, the OVA, in its grand quest to parody the entire series, gives us a rather ugly guy with the same "teleport out of your clothes" power the Sociopathic Fanservice Girl has.
Durarara: The scene where Certy is being vivisected while fully conscious by

Shinra's father Shingen

.
The opening chapters of Akumetsu contain scenes of Dirty Old Men molesting schoolgirls.
In Mirai Nikki, we see a pale and beautiful young girl laying naked on the floor, her long black hair spread underneath her, neverously waiting for someone else. She is

Tsubaki Kasugano, the future 6th Diary Holder

, and she's actually terrified instead of just nervous - because she's about to be gang-raped by the male members of a Religion of Evil that keeps her prisioner.

For worse, we soon get to see Yuno with her blouse and bra ripped open and her miniskirt falling off her hips... due to

her clothes being forcibly ripped/taken off her.

Not only that, but she's screaming in terror and squick and is about to be gang-raped by the same male followers who repeteadly violated Tsubaki for years. And they do it under Tsubaki's orders, as she has become a crazy Woobie, Destroyer of Worlds due to all the trauma of having been a Sex Slave and has lost a hand to Yuno herself.

Yukki and Yuno's sex scene

is beautifully drawn, but neither of the people are out of middle school and one of them is... unstable. Plus,

she starts reaching for an axe right after the fact and chases him around in her underwear while wielding said axe

.
Yuno in her underwear with her parents' skulls.

Gretel's conversation with Eda in Black Lagoon. Normally, a little girl-on-girl touching is nice, but not at the hands of an insane underage sexually-ambiguous serial killer who is also holding the other female at gunpoint.
An In-Universe example in Ranamon of Digimon Frontier. She is so proud of her beauty and she even has her own legion of fanboys! ('Cause she really is pretty damn cute.) However, once they see her evolved form, Calmaramon, they quickly aborted their missions and even started rooting for her enemy!
Ghost in the Shell: In the first movie, Motoko Kusanagi is frequently naked, as this is the only way her Therm-optic Camouflage can work. This is far less sexy than it sounds,

especially when you see her naked body rippling with massive muscles which tear through her skin and gib her from overexertion, during the movie's climax

.
Legend of the Blue Wolves has the hugely grotesque Captain Continental's sex scene with a blue haired subordinate in the beginning of the movie.

Jonathan Tyberius

being forcibly thrown under said shower spray by a naked Captain Continental, and then being brutally tortured and raped

.

Ookamikakushi: The maid in the second half of episode 12 advances on Hiroshi while simultaneously unbuttoning her uniform top... and flashing her best Slasher Smile.
Texhnolyze: Ichise's shirtless scenes and Doc's copious nudity should provide a pleasant respite from the impending grimness of the show. Instead, it only serves to unsettle the viewer even more.
Bobobobo Bobobo: In the Manga, Killarino didn't wear those underpants with a duck head coming out of them on his head, he wore them like a normal pair of undies. And the duck was over his crotch.
In Wolfen Crest: Chapter 66,

where Haguro uses Ryuuko as bait to lure Inugami out and rips her shirt in half, revealing her bare chest... and then tracing cuts on them.

Anything sexual involving the nihilistic sociopath Ryuuko in general. In fact, whenever she is turned on by something, the following panels will most likely be enough to turn your stomach.
When we finally see Hot Teacher Akiko Aoshika in her lingerie, it's as she's chained to a wall, visibly terrified, and about to go through a horrifying multichapter gang-rape sequence at the hands of a full-on Yandere mode Haguro and his Yakuza.

Goshuushou Sama Ninomiya Kun: Reika's alternate personality appears to a shirtless Shungo while wearing lingerie in the 11th episode, straddles him and attempts to seduce him... after she tied him up, and is basically intending to rape him.
Karate Shoukoushi Kohinata Minoru: Minoru getting the crap beat out of him by an equally shirtless, insane and rather Gonkish Kevin.
In Blood Plus, at some point

Diva

gets naked and we see both a Toplessness From the Back shot and how her white Pimped-Out Dress hits the ground. She is very attractive, yeah, but the guy she's undressing for is a shit-scared boy, Riku Miyagusuku, who's at most 15 years old. And then it's even worse, because she not only rapes Riku to impregnate herself, but she kills him by turning him into stone.
In Yu-Gi-Oh!, of all things; a naked Yami in a vision during a high-tension duel is not what people came to see.

From season zero and the manga, shirtless Ryou Bakura...

when he's got parts of the Millenium Ring drilling holes into his ribs

Anzu is a cute girl with lovely legs, but once they get quite the focus when she's first brainwashed into putting herself in a Death Trap and then when she's already in it, Forced to Watch Yuugi and a Brainwashed and Crazy Jounouchi in what's about to become a Due to the Dead.

Ikki Tousen Dragon Destiny: Kaku Bunwa gets a Sexy Shirt Switch under the rain... but the very dramatic context makes it less squee-worthy than it would normally be, because she has just found Kakuka, her current lover (and the only one she seemed to more or less care for), bleeding to death in the rainy streets.
Yami no Matsuei: The view of a naked Tsuzuki when he's actually screaming in horror and

being horribly mind raped

.

Tsuzuki having what looks like a run-of-the-mill shower scene... before he collapses in agony because of Demonic Possession.
In the flashbacks to Hisoka Kurosaki's backstory, his kimono falls off and we get a nice Toplessness From the Back shot (bonus butt included). This is followed almost immediately by

poor Hisoka's memories of being caught, raped, and then cursed to a long and painful death by Muraki.

Everything Muraki does has a strong chance of falling into this trope. Not only do we know early on that he's a pedophile and murderer, but the incredible amount of Ho Yay he aims at the main character becomes really really weird when we discover that

his goal is to put his dead brother's head on Tsuzuki's body.

And he appears to be turned on by all of his experiments, ranging from turning pop stars into vampires and feeding schoolgirls to demonic hounds.

Lacy lingerie is more often than not used for Fetish Fuel, is it? Narutaru says otherwise! First, the girl wearing such lacy underwear (sans panties in the manga, to make it worse) is

Aki Honda, a 12-year-old loli

. Second, Aki is possibly the most monstrous Alpha Bitch ever written, who recently crossed the Moral Event Horizon by raping another girl, Hiroko. Third, the guy that she's Ready for Lovemaking for is her older brother Yasuhito (which was bowdlerized in the English manga to make him simply her boyfriend), whom the half-naked Aki lovingly straddles while only in said lingerie. And fourth, she keeps it on after her disturbing Karmic Death... in which she's first raped, and then cut into half by Hiroko's Mon Oni. ... Eeeeeep.
Oniichan no Koto Nanka Zenzen Suki Janain Dakara ne!!. Overly detailed man-nipples. WHY. Even worse because the show's choke full of censorship of the girls (Just to boost DVD sales, mind), while this... disgrace to everything that's good remains uncovered for the world to see.
Most of the sexual content in Kaze to Ki no Uta honestly comes off this way, given that a lot of it involves the waifish and gorgeous Gilbert Cocteau - who, let's not forget, is only fourteen - being horribly abused in one way or another.

Any scene that doesn't have consensual sex (

i.e. explicit rape scenes

) comes off as this.

The original Cutey Honey manga had lots of nudity. Most of it was from nudity and was legitimate Fan Service, but there was also the Gonk bullies at Honey's school (hairiest breasts you'll ever see), Danbei (full-frontal even!), and a detective whose anus won't stop bleeding.
Oh God, Wicked City is chock full of this. Renzaburou's Tall, Dark and Bishoujo one-night stand?

She turns out to be a spider woman who tries to kill him right after they go at it.

The High Class Call Girl that Giuseppe fondles?

Another demon woman, who almost kills him by absorbing him into her through her ginormous boobs.

The time we finally get to see Renzaburou's beautiful and badass partner Maki naked? First she's getting fingerbanged by a guy who's holding her down against her will. Then a giant worm demon mouth rapes her after exploding her clothes off. Then she gets gangraped at least twice.
Canaan deals two huge ones in episode 11. Pick in between

Liang Qi

wearing very skimpy and fancy lingerie as she first gets beaten bloody by Alphard (and she's enjoying it like whoa), and later suffers one Hell of a Rasputinian Death after trying to give 'self Synesthesia and horribly failing (which includes, among other things, a truly epic quantity of Blood From the Mouth); and the gorgeous but now completely despaired Hakko stripping naked and having sex with her beloved Santana...'s corpse. Either way will be, like, ew. And in the second, it'll also be, like, SOB!
Keroro Gunso had Kururu in a bikini in one of the pictures on the thirteen ending song.
In the Magic Knight Rayearth OAV, the three Magic Knights appear naked within their mecha. Nothing can go wrong with three very pretty girls riding naked into battle, right? Add horrible bloody injuries as they fight, though, and it quickly becomes Squick of the highest caliber.
After War Gundam X's Lorelei Arc has a surprisingly subtle example. There's a beautiful woman with an hourglass figure and Rapunzel Hair of Gold, and we get to see her in the buff... so far so good, huh? Except that the poor naked blonde has been like this for 15 years, locked inside a capsule and in a forcibly-induced coma. There's no blood or fluids involved, but oggling such a beauty when she's like that feels just... wrong.
A very similar scene happens in the Full Metal Panic manga. A certain girl whom

Kaname and Tessa

find completely naked (and with her slender body drawn in all glorious details)? Uhm, that girl is Sophia, a Whispered shackled and kept inside a capsule for 18 years. Also, the "details" include her pubes. Not to mention there's the detail that

Sophia's body isn't her real one, but a manifestation of her conscience - since her corpse decomposed long ago.

And to make it worse, after Sophia pulls a Grand Theft Me on Kaname, her capsuled body crumbles. ... Uuuugh.
This clip from Panty and Stocking With Garterbelt shows Panty pole dancing and later being disturbed by the judge (who seem to the anime expy to Nester from Scaredy Squirrel). Panty stated that he was the one who told her to do so.
Another example from a series by Kunihiko Ikuhara happens in Mawaru Penguindrum. Ringo Oginome is a very cute girl, indeed, but seeing her in a black negligee when she's about to rape a completely drugged and indefense Tabuki so she can be the mom of his child in episode 8 is all but ACK. It's not much better in episode 11, when we see her wearing a rather nice dress -- and then she gets Tabuki to "love" her via a Love Potion, but backs off the sex deal... and the guy is so Not Himself that he starts making really creepy Nightmare Faces while he tries to drag her back inside the room she has just left, almost surely to rape her. Um, no.

Episode 14 takes the cake. Two cute girls (

Yuri and Ringo

) bonding and spending a whole day together in an onsen? Oh yes, please. A mentally-broken Yuri drugging up Ringo, stripping both of them naked and then trying to rape her, while mentally repeating how much she hates herself due to her body issues and loneliness? Whaaaaaaat?!
Episode 15 has a quite bit of it, what with all the nudity of a young girl

like a loli!Yuri

who is about to

be heavily scarred and possibly raped by her father.

The ending card for episode 17 features a very handsome-looking

Tabuki

, with his shirt open and

his glasses off

. The bad thing? He's actually leaning his head on a little girl's lap. And while we don't see her face, the little girl is pretty obviously Momoka. Aaaaawkward.
In episode 23,

Kanba

goes towards

Shouma

and hugs him rather tightly. Looks like Ho Yay unleaded, huh? Not when this happens after Kanba's Face Heel Turn and when

Kanba knocks out Shouma to take Himari away.

Blood C. Seeing the panties of either of the very cute Motoe twins would be fanservicy... if one of the twins wasn't about to get her left leg ripped off by an Elder Bairn, right before being horribly murdered.

Then there's Kanako -- who not only had several panty shots, but a full breast exposure when she was killed.

Oniisama e... gives us

Kaoru Orihara

stripping twice (one of them also including Kimono Fanservice). She's very beautiful, in a Ladette way, but both times we see her naked, are in regards to how

she had a mastectomy due to breast cancer and is showing her physical scars to others (first to her boyfriend Takehiko, to break up with him; later to her friend Nanako, while explaining her backstory).

We don't get to see that, exactly, but the context will get your eyes blurry anwyway.

Earlier, Nanako and Mariko took a bath together after returning home from Mariko's birthday party, which seems to be pretty friendly...if it wasn't for the fact that Mariko goes Yandere on Nanako and threatens to kill her when she wants to return home afterwards. Brrrrrr...
Also, in the anime we're fooled into believing that Nanako and

Fukiko

will have a Les Yay-tastic "moonlight swim". But then Fukiko almost drowns Nanako to scare her off, via hooking her foot under a log and then leaving. She only survives because Fukiko didn't mean to go for the kill and returns to her soon. The scene goes from prospect Girl-On-Girl Is Hot to utterly chilling in few seconds flat.

Kannazuki no Miko
Soul Eater has Medusa, a very beautiful and cruel villainess who hits MANY Fetish Fuel points, what with being a barefooter and having a nice body clad in black robes. Medusa acting all seductive towards her old partner Stein? Mind Game Ship, Foe Yay and Interplay of Sex and Violence, if you're into that. Medusa acting all seductive towards her old partner Stein while in the body of a five-year-old little girl, which she possessed a short while ago ? EEEEEEEEWWWWW.
In School Days towards the end of the anime, when things go to hell,

Makoto is murdered by Sekai

, whose panties are clearly seen as she does so and later sits in a pool of

Makoto

's blood. The scene where

Kotonoha murders Sekai, cuts open her stomach and checks to see if she's pregnant while in a short miniskirt

counts as well.
In one scene Osanai has Paprika captive, gropes her, and tears off her skin to reveal a naked Chiba underneath who he attempts to rape before the Chairman shows up to try to kill the naked unconscious Chiba. Squick incarnate.
Gankutsuou we have the Count's Shirtless Scene. Also there's Andrea Cavalcanti, a charming deranged Bishonen who gets a naked bath scene where we see him crush a glass and lick the blood from his arm. And let's not forget Danglar's Death by Materialism, or Héloise de Villefort, a Stepford Smiler Yandere who gets naked and masturbates while thinking about the Count and the poison ring he gave her, which means she's schlicking to the thought of using that poison ring to kill her stepdaughter Valentine and her husband Villefort.

And about Andrea, we also have

his sexual assault on Eugenie

and his sex scene

with his own mother.

AUGH.

Hellsing: Seras is a Ms. Fanservice with big boobs which are nicely accentuated by her police uniform. This would be reason to Squee.. except for her battle with Zorin Blitz. She mind rapes Seras into seeing her childhood trauma, which consisted of her mother's corpse being stripped of her clothing and raped while she watches. Then Zorin slashes Seras's eyes, hacks off her arm, and stabs her through with her weapon. She's left crawling on the ground utterly maimed... and still in her revealing outfit.
Kenichi: The Mightiest Disciple has Action Girl Miu Furinji as one of its many Misses Fanservice. But it's not as "pretty" (despite how beautifully drawn her body is) when she's given massive Clothing Damage while she's in a Brainwashed and Crazy state and fighting against Kenichi as a Batman Gambit from a Complete Monster who wants to force her into a Face Heel Turn via having her kill Kenichi and being broken as a result.
Kamen no Maid Guy. The Brawn Hilda strips herself nude on-screen as an attempt to prove her "SEXY!" to God. God does not respond favourably.
Tekkaman Blade has Takaya "Tekkaman Blade" Aiba being found by Aki and Noel when he's totally naked. Except this happened right after a huge battle, so he's unconscious AND covered in bruises and wounds from head to toe.
The recent dark fantasy series Goblin Slayer is chock FULL of this, since near any time a cute-looking girl or woman is seen in one or another state of undressing, she's very likely to be sexually harassed or downright raped. The first episode had the very pretty and tomboyish Fighter attempting to protect herself and the just as cute in their own ways Priestess and Female Wizard from the Goblins that have just literally ripped apart her best friend Warrior... and after a Hobgoblin stops her, the Goblins pin Fighter to the ground, rip her clothes off, and then savagely gangrape her (and while the "rape action" mostly takes place offscreen, one still gets to see the poor girl being pinned down and near nude as she begs Priestess to escape, then hear her screaming, and as Priestess escapes while begging for forgiveness, there's a brief shot to Fighter's face and her Dull Eyes of Unhappiness...). THEN the Wizard, whose dress shows off her nice curves, has two other goblins ripping her clothes and starting to molest her as she lays dying from a wound in her stomach; when the titular Goblin Slayer shows up, kills the Goblins and gives Wizard a Mercy Kill at her request, the unfortunate girl is near naked. And when Fighter is found still alive, one sees her nude and still completely catathonic...
The 5th Master of Martial Hearts OAV has the rest of the martial tournament participants, all of them very pretty women in heavily damaged clothes... as maddened Empty Shells with Frozen Smiles and Mind Control Eyes... after having been brainwashed into Sex Slaves for losing. No wonder Aya is shocked and grossed out at the sight.
Community content is available under
CC-BY-SA
unless otherwise noted.