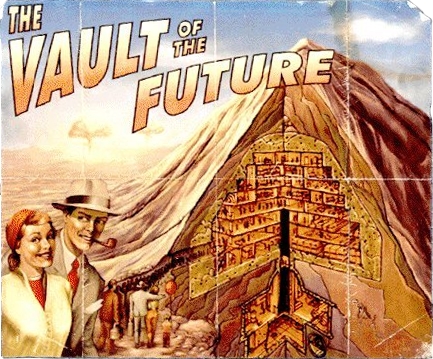 This is about the game series; if you're looking for radioactive fallout see The Deadliest Mushroom.
It has been many decades since the winds of the apocalypse blew in over America and took the old world with it, leaving only the Wasteland in its place. The event, known as "The Great War", was the culmination of a long and bloody struggle between USA and China over the last oil in the world. It came in the form of a massive global nuclear attack, which in two hours bathed the Earth in fire and radiation and ended all human civilization. But the human race is stubborn, and not so easily eradicated, and now small societies are starting to pop up all over the North American mainland, and you, the player, can either help them prosper or take away their hope, and watch them wither and die.
Arguably one of the best examples of how to make a nonlinear RPG ever, the original two Fallout games are loved by a small but passionate audience across the world, who laud the game's intuitive turn-based action and detailed world building, which takes its atmosphere from The Fifties' pop-culture and Weird Science stories from Pulp Magazines. The biggest draw is the way the games - particularly Fallout 2 - allow the player to do pretty much whatever they want.
Character creation is very flexible, letting the player specify their age, race, sex, physical and mental statistics, known skills, and special talents. The player is then dumped into a post-apocalyptic wasteland with a distant end goal, no clear means of how to reach it, and a map that gives directions only as far as the one nearest settlement.
It quickly becomes clear that Fallout is very flexible when it comes to completing goals. For example, upon entering a crime-ridden area, the player can help the sheriff to take down the crooks, help the crooks take over the town, or Take a Third Option and mindlessly slaughter every living thing in sight. (Hey, at least there's no more crime!) A Karma Meter tracks the player's behavior, and affects the reaction of other NPCs; if you're too good then criminals won't trust you with their missions, but being too evil means the same for law-abiding folks. If you ever gain "child killer" status you'll be ostracized by almost everyone.
Fallout 2 takes this even further, with the player able to gain all kinds of different statuses. They can be deputized into the police force, become a porn star, join the Slavers and sell captured tribespeople (or their own NPC friends!), join "The Brotherhood of Steel," go grave robbing, or become made men in the post-apocalyptic Mafia. They can even choose to play with an Intelligence score of 1, which makes them barely smart enough to speak, and completely changes the way the game plays.
Sadly, the multitude of options made the sequel incredibly buggy and virtually unplayable without patches (included in today's jewel case versions, so you have no excuse not to play it). Still, despite isometric 2D graphics that look distinctly crude by today's standards, the Fallout games continue to appeal to thousands worldwide because of their incredible depth.
The original Fallout games were followed by a pair of non-RPG spin-offs. The PC-based Fallout Tactics was a tactical strategy game that used settings, characters, graphics and the turn-based combat engine from the Fallout games. Fallout: The Brotherhood of Steel was a 3D, above-viewed shoot-em-up that challenged the player to wipe up the wasteland as a member of one of the clans from the RPGs. They both received variable reviews, although Fallout Tactics has built up a cult following, the console games never gained all that many equals.
Producers Black Isle had nearly completed a third game in the Fallout series, code-named "Van Buren", when parent company Interplay went bankrupt and shut them down. After spending several years as Vaporware, Interplay sold the rights to the series to Bethesda Softworks, best known for The Elder Scrolls, to save themselves from bankruptcy.
Bethesda chose to start development of Fallout 3 from scratch; their game was released October 2008, and is a fully-three-dimensional game with light FPS elements. It follows a Vault Dweller from Vault 101 as he or she searches for a lost father. The FPS elements were integrated well into the experience, and character advancement is far more enjoyable than in the Elder Scrolls games.
On April 20, 2009, Bethesda Softworks announced Fallout: New Vegas, with Obsidian Entertainment as the developers. The game came out on October 19th, 2010 in North America and October 22nd in Europe (the days the bombs fell) on the PC, Xbox 360 and PS3. Somewhat ironically, Obsidian is run by Black Isle refugees, the developers of the first two Fallout titles, and several Obsidian employees worked on Black Isle's original Van Buren project. Fan reaction is perhaps best described as "a tiny spark of hope shining through lots and lots of cynicism."
List of Fallout titles:
Fallout Brotherhood of Steel: Another linear spinoff, this one developed for the Play Station 2 and X Box. Received mixed to terrible reviews and sold poorly. One of the last games produced by Interplay before they went bankrupt. Acknowledged as non-canon.
Fallout: New Vegas: An RPG by Obsidian very much in the same vein as Fallout 3, released in October 2010.
Fallout Extreme: Working title for a canceled project briefly developed by 14 Degrees East which would have been a sequel to Fallout Tactics released on the Xbox. It would have apparently been a first-person/third-person squad-based tactics game with strategic overworld management similar to Jagged Alliance, but never got past the concept stage.
Interplay, during its financial difficulties, proposed an MMO based on the Fallout franchise. They had been going forward with it, but then as of January 9, 2012, gave up the rights to carry on after a settlement with Bethesda.
See Also Wasteland, the series' Spiritual Predecessor, and Arcanum, the series' Steampunk sister game.
Note: Tropes relating to the series and the Fallout Universe in general goes here. Please put tropes that applies to individual games in the series on their respective pages.
Tropes used in Fallout include:
 "You've heard of the Sierra Madre Casino. We all have, the legend, the curses. Some foolishness about it lying in the middle of a City of Dead. A city of ghosts. Buried beneath a blood-red cloud... a bright, shining monument luring treasure hunters to their doom. An illusion that you can begin again, change your fortunes. Finding it, though, that's not the hard part. It's letting go."
Which leads right back to the "Let go of the past" theme.

After the End: Nobody knew who fired the first missile that triggered the apocalypse. By the end of the day, nobody cared....

Fallout's opening sequence deconstructs this. Everyone considered it would be the end of the world. But humanity still survived, mutated, blood thirsty, and completely shattered, but still the world moves on. The Great War isn't the end, simply one more sad chapter.

AI Is a Crapshoot: Mostly averted in the first two games -- in fact, on multiple occasions the A Is you encounter in prewar facilities are the only things that aren't malfunctioning. Played straight with

President John Henry Eden

, who turns out to be a computer, and also

considers himself a far greater president than any human because of this

. Also played straight in Fallout Tactics - the Big Bad is an insane AI and his army of robots, in a Shout-Out to Wasteland.

Actually, Tactics has several interesting subversions. Originally, the Calculator was going to be a perfectly rational computer, still soullessly following orders after its superiors were dead. This was changed in the game, where the Calculator is now not a computer, but several dozen insane disembodied brains. The (completely sane) computer itself, which oversees the brain's actions, offers the protagonist the chance to upload his own, sane mind into the machine. This returns the calculator to sanity, and to your control. Depending on how nice you are, this could be an Earn Your Happy Ending or a Bittersweet Ending. Simply destroying it works too, and that gives you the slightly good canon ending. Or you could shove the Jerkass's brain into it, creating the worst ending.
Also, robots without their inhibitor pack attack whoever happens to be nearby. Which just so happens to be almost any robot not tied to a specific location.

All Crimes Are Equal: Insofar as the idea of "crime" can exist in a society with no more centralized legal structure, any sort of wrongdoing will typically be met with the same sort of response.

This may mostly be because of the game's programming in the third game. It's the same reason the guards pull swords running to arrest you in Oblivion for simply picking up a cup that happens to be owned, even accidentally. Since Fallout 3 has neither a jail system nor any form of fine to pay for your crimes, it practically only leaves one option: attack the perpetrator. This can become especially tricky if you do this kind of stuff in places like Paradise Falls, since all non-prisoner NPCs will turn hostile permanently.

Then again, Paradise Falls is that kind of town where everyone who's not a slave is so evil that you literally get good Karma for massacring the town's residents and, naturally, freeing the slaves.

In certain towns in the first two games the situation is similar - in Klamath, for example, if you do so much as insult someone the entire town tries to kill you. Note that the towns in question are frontier settlements with little or no government - once you get to more 'civilized' areas there are militias, sheriffs, and even outright organized police forces, all of whom typically have jails of some sort, and dispense means of justice other than 'shoot everyone'.
Largely averted in the first two. For example, child-killing carries specially negative consequences, also depending on the town/city different crimes will be met with different outcomes (carrying counterfeit papers or prohibited drugs may get you banished while other crimes arrested and others, shot down). All the different crimes will also have different values for the karma system.

The Alleged Everything: 80% of the tech you find is literally falling apart, broken, or trying to kill you. However, that doesn't mean that technology is useless.
Alternate History: The Fallout timeline diverges from the real world just after World War II, with the social, political, and technological status quo of The Fifties enduring well into the late 21st century. The changes are minor at first but continue to cascade as the decades go by. Some of the changes include: NASA being replaced by the United States Space Agency (U.S.S.A.), American astronaut Captain Carl Bell becoming the fist human in space instead of Yuri Gagarin (though the game mentions that Russia and China dispute this), the first lunar landing occurring a few days earlier then it did in Real Life and with a different module and crew, the states are divided into thirteen commonwealths in the 1960s and the American flag is changed to reflect this (it now depicts thirteen stars, twelve in a circle and one in the middle) and then there is the divergent technological development.

Note that it's rather strongly implied that this 50s Stasis was limited mostly to the United States, and even in the US there were some slight changes (the band Ratt, and thus presumably the rock and alternative rock genres, are confirmed to exist in the Fallout universe, for example). Also, there's also a running undercurrent that the optimistic happy cheerful retro-futuristic utopia was teetering on the brink of collapse and massive social upheaval by the time the bombs finally fell (a few months before the Apocalypse, for example, the President was unanimously impeached for annexing a sovereign nation).

Aluminium Christmas Trees: The picture of Uncle Sam with a huge sack of loot from the Fallout 1 opening movie is based on an actual, real-life WW 2 U.S. propaganda poster, and not originally made for the game to parody U.S. imperialism. Of course, the image had a much different context back in WW 2 than in the modern era.

If you look closely you can see Uncle Sam is in fact carrying a flag and pole, but the way it's bunched up makes it look like a sack with stars and stripes.

Always Chaotic Evil: The majority of the Vault 87 Super Mutants in the third game (likely Justified by the FEV there having different properties). Averted with the Super Mutants created elsewhere in the first and arguably more the second, as well as New Vegas.

The nameless Raider factions in DC definitely count, as well as the Fiends and Jackals and Vipers of New Vegas.

The Great Khans also qualify during the time of Fallout 1 and 2, but by New Vegas they have suffered significant Villain Decay to hardly qualify for this trope anymore, and can even be convinced to make a full on Heel Face Turn.

Ammunition Backpack: The Minigun, Grenade Machine-gun, Flamer, and Gatling laser from Fallout3 onwards.
Ancient Conspiracy: The Vaults were never meant to save anybody. The Enclave, a cabal of members of the government and some powerful MegaCorps, were considering colonizing an entirely new world once Earth got nuked to hell and back, but wanted to know if people could handle generation ships. So the Vault Experiment was hatched: except for a handful of "control" Vaults, every supposed shelter would have a flaw that would test the population inside. One was deliberately overcrowded, one's door would never close all the way, one was inhabited by a thousand men and one woman (another had the same setup, but flipped the roles), one would pump hallucinogenic gas in the air systems, one was a test to see how an all-powerful Overseer would behave, and so forth, with cameras and uplinks sending all the data to a secret command and control Vault. Suffice it to say that your character, by comparison, got off light.

Though one has to wonder, other than for invoking the Rule of Funny, what the purpose of Vault 43 was, which contained twenty men, ten women, and one panther. Yes, it was from Penny Arcade, but it's canon.

To see which of the men would be willing to protect the women from the panther. Obviously.

Then there's Vault 77, you know, the one with the guy and all those puppets? Total complete waste of space, but at least Penny Arcade got something to make fun of.

Not useless at all, but rather quite pertinent to spaceship issues -- it's an excellent experiment in the psychology of long-term total isolation, such as would be entirely likely in a risk prone spaceship or lone shuttle out scouting. The puppets were obviously to see if primitive simulacrums of companions would be enough to stave off total madness.

Some of these are probably intended to give the impression that despite the seemingly logical explanation, the leaders of the Enclave were in the process of being driven insane by the impending end of the world.

Apocalypse How: The Great War caused a Planetwide Class 2. Fortunately, by the time of Fallout: New Vegas, some governments such as the NCR have gained a foothold in the world and re-established civilization.

Actually, civilization was re-estabilished all the way back in mid-22nd century, as the original Fallout showed. It just got bigger and better from there. Not so much elsewhere.

Apocalyptic Log: Being set After the End there are many in the game series.

Also a series of log entries on a terminal in Vault 92 that demonstrate the failing mental capabilities of the owner as she

succumbed to some poorly implemented mind control

.
In Fallout Tactics, you find data on the vault network scattered all over the game. Turns out that doing the robots AI on the cheap was a bad idea...
The Enclave soldiers in Mariposa Military Base in Fallout 2 left several holotape recordings of their last moments.
Subverted in Operation Anchorage. The player can find a log recorded by a soldier whose hopes for survival gradually fade, but later it is revealed that he was rescued by friendly forces (though badly wounded and heavily shell-shocked).
The logs of a nurse called Nancy Kroydon, found outside the Germantown Police HQ. Literally apocalyptic, a few passages are made about the war, a few scribbles of the actual event and further updates of supplies dwindling and people dying of radiation sickness.
Honest Hearts also has a literal apocalyptic log, which progresses to a post-apocalyptic log. A former soldier and survivalist left journal entries spanning the 47 years he lived in Zion National Park after the Great War.
"Have a happy Holocaust."

Arc Words: "War. War never changes."
Artificial Stupidity: Stop shooting me in the back with your Uzi, Ian! (Somewhat corrected in Fallout 2, where you can adjust the combat A.I. of your party NPCs.)

Stop getting in the way of my shots, Dogmeat!

And also, get the fuck away from the force field that will kill you! There's a doorway, right over here! No! Bad dog!

Hey, Dogmeat, when I tell you to wait over there, would you stay there, and NOT charge towards the 50-foot tall Behemoth when I'm about to nuke it to death with the MIRV?!

Stop charging recklessly at those Plasma Turrets in Navarro, Goris!
Stop throwing grenades into the middle of the party, Marcus!
Where's Cassidy?
- Ask that big green guy behind me.
Dammit, Sulik, why the hell are you eating my surgically-removed sixth toe in the middle of combat?
Everybody, just because you accidentally shot a friendly does not mean you have to finish the rest of them off!
For the love of God, Fawkes, it's a rock! Jump over it! Or hell, step over it! It doesn't go up to your shin!

Fawkes, was shooting up the entire of Megaton really necessary? I know Moriarty is kind of a dick, but really?

Dammit Charon, it's a two-foot drop into a trench, just climb down... no, don't run away looking for another way down! And he's gone; alright, he'll come back eventually when he finds a way... wait, he died!?
For Christ's sake, Dad! There's a wall here, and a fire there, and that turret is not on our side!

Whoa, Dad, I guess I underestimated you, where did you get that flamer? Well, there are a couple more Raiders in our way, let's- NO DON'T DROP THE FLAMER AND START USING A TIRE IRON AGAIN.

That's not Artificial Stupidity. He'll only do that if the flamer breaks or runs out of ammo.
Darn Deathclaws. Okay, Dad, if we just stay behind this -- wait, what are you -- oh crap.

Sydney, I do not care how awesome your SMG is, you cannot beat the Super Sledge-wielding Super Mutant Master at point-blank range.

Jericho... keep up the good work.

Hey, Smiley. Do me a favor and STAY OUT OF THE GOO YOU TOLD ME TO STAY OUT OF.
ED-E, please STOP ramming into those Cazadores while playing your annoying guitar sound!

And you know being quiet is part of sneaking, not blasting your little music clips whenever you see a Deathclaw?!

Boone, you know I like your shooting, but that doesn't mean you should shoot every enemy we pass by, especially if we're trying to sneak and they haven't seen us yet!

Goddamnit Boone, don't switch to your Machete damnit.
BOONE! I know you probably know a bunch of these NCR guys here at Camp Golf... BUT COULD YOU NOT RUN OFF WITHOUT TELLING ME?! ESPECIALLY as I'm about to leave when there are Cazadores nearby?!

Veronica, there's a reason I'm trying to snipe the Deathclaw Mother with the Anti-Materiel rifle at a hundred feet!
Woah... the Raiders have a Super Mutant Behemoth locked up in Evergreen Mills? That's pretty badass... Wait... Where's Star Paladin Cro- NO DON'T OPEN THAT GATE YET... Goddamnit Cross, could you at least use the Assault Rifle and shoot it through the fence instead of trying to Super Sledge it?
Ted (Gunderson), can you at least try to sneak?! I'm trying to save your life from a crazy cannibal, for Dog's sake.
Butch, for some strange reason, the Super Mutant Overlord is not scared of your switch blade, no matter how many times you threaten to 'rumble'.
For Fallout 1: "Alright guys, you've locked me in a corner, and I really don't want to reload, so would you mind moving... that's it. Good... wait, no, TYCHO! Stop getting in front of me! There are only so many hexagonal spaces to click on! Damn it!"
Let's just say that most of the NPCs are Too Dumb to Live.

And not just the friendly ones. Even most enemies, regardless of what kind of they are or what kind of weapons they have, are limited to a single combat tactic: "CHAAAAAAARRRGE!!!"
This troper has noticed, with a feeling of irony, that Bloatflies are amongst the smartest NPCs - if only by the fact that they avoid melee combat.

Art Major Biology: Somewhat justified since the Fallout laws of physics are literal interpretations of 1950s pulp comic "SCIENCE!"

Super Mutants are mentioned to have a quadruple DNA helix; they are formed by exposing adult humans to a virus. Radiation (and exposure to trace amounts of Forced Evolutionary Virus in the air) turns those heavily exposed into zombie-like Ghouls, or gives them odd mutations, such as regeneration or harmless DNA screwups. These absurdities are entirely intentional, though. Quadruple DNA helices are real and known to happen in nature, even in humans. However, unlike in Fallout, this doesn't cause fantastic mutation; rather, these quadruplexes are generally found at the ends of chromosomes to protect them from damage.

It's a bit more complicated than that. The FEV virus is derived from an earlier project called the "Pan-Immunity Virion Project" whose purpose was to protect people from biological weapons by synthetically inducing quadruple helixes in DNA strands. The side effect of the project was that the subjects grew stronger and larger - this became the FEV virus we see in the Fallout universe as the focus shifted to creating super soldiers. The other side effect of the quadruple helix scenario became that of sterility, and that becomes a plot point. The Ghouls, however, have mostly been RetConed away from FEV exposure, and now play this trope straight by being created only by Radiation.

The Ghouls - humans deformed by exposure to intense radiation - can live for hundreds of years, implying that radiation gives you magical immortality rather tha just, y'know, killing you. Excused by the world working the way scientists believed it did during the 1950's. Of course, most people who are exposed to lots of radiation just get cancer and die, like the rest of us. Very few actually go through ghoulification.

Attack Its Weak Point: Robots take more damage when hit in the head with a targeted attack--but then again, so does every other enemy in the series.

Not the Sentry Bots! Nope, the mechanized terror of the Capitol Wasteland take half damage from headshots, and only take full damage from torso shots. The only reason to aim for the head is to cripple their sensors so their gatling machine guns LASERS and rockets aren't so frighteningly accurate.
You may be an all intelligent mad scientist bent on dominating the Mojave, Mr. House, but please explain why you thought building robots with ONE leg supported by a TIRE was such a good idea?

Authority Equals Asskicking: Seen in Fallout 1 with the Lieutenant and the Master. Averted in Fallout 2 with President Richardson, who's a standard unarmed civilian, and in Fallout 3 with Colonel Autumn, who is only slightly tougher than a normal enemy soldier. Played straight in Fallout 3 with Bonus Boss Commander Jabsco of Talon Company (who has a rocket launcher and more health than almost any other character in the game), and Chinese General Jingwei in the Operation: Anchorage DLC expansion (who has an insane amount of health which, combined with his body armor, makes him the 2nd toughest enemy in the entire game next to the 15-foot tall Super Mutant Behemoth, possibly to encourage the player to convince him to surrender instead, or maybe just an example of Executive Meddling on the part of General Chase). Both seen and averted in New Vegas. The NCR President and General are both bog-standard humans, while Caesar himself is only about as tough as an Elite Mook. Legate Lanius, however, is a frickin murder machine (for reference, the guy can take multiple anti-tank rounds to the face and still have more than 3/4ths of his health left).
Auto Doc: The Trope Namer. For the most part, they seem to work pretty well, but AI Is a Crapshoot is still in full affect here.
Badass Bookworm: Virtually any character build in any of the games that relies heavily on intelligence. The intelligence attribute contributes to skill points granted per level. As a result, high level intelligent characters will almost certainly have mastered a wide variety of skills, including ones related to direct combat.
Badass Normal: The Vault Dwellers and the Chosen One all perform some pretty amazing feats.

The Lone Wanderer and their Dad, especially Dad, are quite amazing for

wastelanders

.
The Courier. Getting shot in the head almost at point-blank range, twice, and buried while still alive? Meh, some sleep, a tiny scar and he/she's good.
Arguably, Dogmeat from Fallout 3; he has absurd amounts of regenerating health and a very powerful melee attack. For a Non-Human Sidekick, he's a veritable Disc One Nuke, since he can be obtained very early on and will f*ck up every single enemy low- and mid-level enemy without any help. Band of Raiders? No problem. Horde of Mirelurks? Enjoy the show. Brigade of Super Mutants? They'll be running scared. He's either a seriously mutated canine or the Chuck Norris of dogs. Honestly, you're his sidekick.

Ballistic Discount: You can kill pretty much anyone and take their stuff, shopkeeper or not, which includes killing them with a gun they just sold you and taking back your cash.

In fact, if you're trying to stay Neutral, killing random traders you encounter is a very effective karma management strategy!

Before the Dark Times: Pre-War United States. While it was better than the Wasteland, in reality, it was really a Crap Saccharine World, and an Eagle Land type 2.
Berserk Button: Set from the first game has a very short fuse, and tends to act violently when it's out.

Apparently Brick from the third game has one too. Her mercenary colleague Reilly relates a story in which she nearly creates a bloodbath when a merc from rival Talon Company spits on her boot.
Rhombus is slightly better than Set, as he at-least forgives you, albeit still as harshly.

BFG: The "Big Guns" skill determines how well you can use them. Without question, any given game in the Fallout series has many more BFGs than any other video RPG.

Big Guns was removed in New Vegas, with the weapons being assigned to either the Guns, Explosives or Energy Weapons skills as appropriate. However, strength requirements are reinstated, and the formerly Big Guns weapons all have 8+ STR requirement to use effectively.

Big Brother Is Watching: Actual quote from the museum of technology Vault tour: "Concerned about security? Our eye-on camera allows the Overseer to watch your every move. You'll never be alone again!" Yay?
Bittersweet Ending: Fallout ends with the

player banished from the Vault forever despite saving most of West Coast humanity

. Depending on the choices you made in Fallout 2, a lot of places can end up badly despite your best efforts (or more likely, because of them). In Fallout 3, Lyons' Heroic Sacrifice ending probably falls here,

as it's your ally sacrificing herself to activate Project Purity to provide clean, fresh water to the Wasteland. It doesn't solve everything, but it's a start. Of course, you're a cowardly bastard for not doing it yourself.

The Corrupt and Coward Endings are even worse. Finally, one of the third game's optional sidequests is a setup for a Shout-Out to the ending of the first (and it hurts just as much).

Although you can run into an old cohort from Vault 101 if you

make Amata the Overseer, and chat about old times and let them know you're doing okay and still watching out for them

, which takes the edge off a bit.
Pretty much every ending for New Vegas has some negative consequence to it.

Bloody Hilarious: The main purpose of the Bloody Mess trait, which causes your enemies to die in the most horrific ways from even the lightest of death blows. At its best, your enemy may spontaneously be reduced to bloody chunks from being hit by a teddy bear. Fallout 3 made it both amusing and helpful by tacking on a + 5% damage bonus. Even without Bloody Mess, you still get this effect if you score a kill in the right spot using VATS.

To elaborate: it is always possible in the first and second games to get a gruesome splattery death, especially with overkilling something. The bloody mess perk means that it happens every time. Its only real drawback was that you had to individually pick up the loot off the ground instead of getting a neat loot window. Fallout 3 fixes this problem, too. The loot window pops up for any chunk you care to click to. Sorting through piles of gibs can be a pain at times, but it's wonderful when Jerkass enemies stand on rafters where you can't rob them.

Blown Across the Room: Most guns simply poke holes in enemies until they fall down, but the Gauss Rifle from Operation Anchorage will send enemies flying on a critical hit. It's a good idea to knock the particularly tough enemies down to render them temporarily out of action. Plus, sending giant scorpions flying around ass over teakettle is hilarious.

In the original two games, certain critical hits with most weapons will blow enemies (or you!) right off their feet and send them tumbling across the room, sometimes knocking them unconscious.

With the right stats and perks, the Super Sledge in the second game can easily send someone flying across the map. This can actually be a problem when the corpses fly offscreen, and become unlootable. Looking at you, Sulik.

Body Horror: Several, but none come close to The Master.
Boring but Practical: In all games, Small Guns is the combat skill that will get you through with the least fuss. A hunting rifle acquired fairly early on will serve you well for a very long time.
Boss in Mook Clothing: Deathclaws are the Devil. In all five games.

The Broken Steel expansion DLC adds Super Mutant Overlords, Feral Ghoul Reavers, and Albino Radscorpions. A single one is way tougher than almost any of the original game's boss-like characters, and there are several locations (such as Vault 87 or the President Metro) where you're expected to fight several at once if you're at high enough levels.

The Ghoul Reavers are the worst of the bunch as they're often bugged to where they only take splash damage. At least Overlords and Albino Radscorpions are coded correctly.

Brain In a Jar: Professor Calvert, the Big Bad of the main questline of Point Lookout, is one of these. Additionally, the robobrains (a fairly weak robot enemy) use human brains as processors. Unlike Calvert (who's egotistical and meglomaniacal), the robobrains seem... overly cheerful. While announcing their programming is to keep trying to kill you.

It's implied that the brains used as processors were taken from unwilling victims who are still conscious and aware, but unable to go against their programming.
Also, the recruitable NPC Skynet in Fallout 2, who can use anything from a chimpanzee brain to an advanced cybernetic model.
Several brains in jars serve as advisers to the Calculator of Fallout Tactics.
Oh, and in Point Lookout

part of your brain is removed and placed in a jar which you can get back when the quest is over

.
Rex from New Vegas is a cybernetic dog whose brain is in a jar. It can even be swapped out for a new brain.

The Think Tanks of Old World Blues, which come with monitors to simulate eyes and mouths. Even more preposterous, there's your brain, who's quite the dick to you.

Canon Dis Continuity: Despite having almost no inconsistencies with previous games, Brotherhood of Steel isn't considered canon by Bethesda, likely due to the negative fan opinion of the game. Fallout Tactics is considered Broad Strokes canon due to design inconsistencies with the rest of the series.
Canine Companion: A dog is a staple companion character in all the Fallout games. Dogmeat serves as one for the player in the first two Fallout games. His desendent with the same name serves as the canine companion in Fallout 3. New Vegas has cyber-dog Rex. Dogs are a recruitable race in Tactics. A dog can be obtained in Brotherhood of Steel with a perk. Non-player characters such as merchants and raiders occasionally have a canine by their side as well. The NCR and Caesar's Legion also join in with the puppy love.
Captain Ersatz: Say "hi" to Riddick in Tactics.
Cartography Sidequest: In Fallout 3, you can map out the Wasteland for Reilly after you've saved her squad in exchange for caps.

Two smaller ones appear in Fallout 2. Vault City asks you to map the grid squares surrounding Gecko and to find a route to NCR. Technically, you just have to get to NCR. It doesn't matter if you go by way of New Reno and San Francisco.

Chainsaw Good: The 'Ripper' weapon is, quite literally, a chainsaw stuck on a one-handed sword hilt.
The Chosen Zero: When you have a character with low intelligence, pay a visit to your Vault or your native village and the locals will all express various levels of horror that your drooling moron of a character is the only thing standing between them and total destruction.
Church of Happyology: Hubology. See the trope's page for details.
Cluster F-Bomb: Used quite a bit. In Fallout Tactics there is an option so that the offensive words are bleeped out and/or replaced with less offending words.
  ALARM! Intruders in the camp! Wake up you piss ant sons of bitches! I'll swear I'll cut the balls of anyone I don't see fighting! Get up you curs! If they escape, God help me, I'll burn you motherfucking still to the ground!
 Loxley: Bloody fine job making it through the defenses, mate! I'm rather impressed. Toss me your name!

You: Nuhhh?

Loxley: Well, "Numa-numah-num-nuhhh", how did a total moron, such as yourself, get past my defenses? Sorry, no idiot savants allowed, we like good conversation here. Jasmine, show our drooling friend the door please.
Community content is available under
CC-BY-SA
unless otherwise noted.