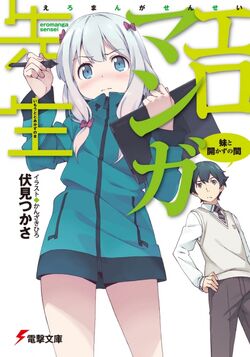 A 2013 light novel.
Masamune Izumi is a 15-year old light novel writer that lives alone with his 12-year old step-sister Sagiri since their parents have died. Sagiri refuses to even come out out of her room and Masamune barely sees her.
One day, Masamune discover that the illustrator of his light novels, an anonymous artist known as Eromanga Sensei, makes live transmissions on his blog through the Internet. That's when Masamune discovers by looking at the background of the video that his partner that he never met was his step-sister all along!
Written by Tsukasa Fushimi. Art by Hiro Kanzaki. Published by ASCII Media Works.
Tropes used in Eromanga Sensei include:
Community content is available under
CC-BY-SA
unless otherwise noted.