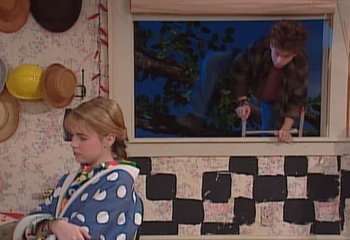 Someone -- often the Girl Next Door, though not necessarily -- enters the hero's house by climbing in their bedroom window. This can be done via ladder, trellis, close-standing tree, or some other, more obscure method. In some cases, there's a good reason for this: they're sneaking in, or the more traditional entrances are somehow blocked. Often, though, it seems like they do it just because it seems cool. Though found in many kinds of fiction, this trope is particularly prevalent in television.
Subtrope of There Was a Door. Contrast Bedsheet Ladder, which is for the person inside getting out. For the glass shattering Dynamic Entry variant, see Fast Roping.
Examples of Enter Stage Window include:
Anime & Manga
 Dr. Tofu: (referring to Ranma) So, tell me. Did we have a visitor last night?

Akane: Uh-huh. Through the window.

Dr. Tofu: *laughs* Yep, that's pretty much what I thought.
Film
Fairy Tales
Literature
Live Action TV
 Clarissa's Dad: Why doesn't that kid ever use the door?
Music
Theater
Webcomics
Western Animation
 Pac-Man: Next time, try using the door.

Morris: I prefer windows. You don't have to wipe your feet, just your face.
Community content is available under
CC-BY-SA
unless otherwise noted.