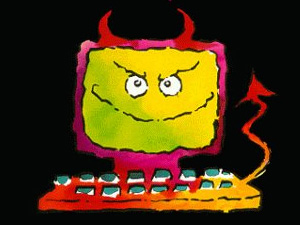 We'll always be together,

However far it seems --

We'll always be together,



Together in electric dreams!

—Phil Oakey and Giorgio Moroder, Together In Electric Dreams
Electric Dreams is a 1984 Romantic Comedy (hovering about halfway between Science Fiction and Fantasy) film from Metro Goldwyn Mayer, directed by Steve Barron, and starring Lenny von Dohlen, Virginia Madsen, Maxwell Caulfield, and Bud Cort as the voice of Edgar; the score, by Giorgio Moroder, incorporated songs by popular artists of the era such as PP Arnold, Culture Club, Heaven 17, Jeff Lynne, and Phil Oakey (of the Human League), which found their way onto an album that proved substantially more popular than the film itself -- particularly the concluding song, "Together in Electric Dreams," which became a world-wide hit for Oakey.
Miles Harding (Lenny von Dohlen), an architect working for a large firm in San Francisco, having problems arriving at work on time, buys a computer to arrange his schedule and help him design his "earthquake brick" that will hold buildings together in seismic upheavals. Just moving in to his building is pretty cellist Madeline Robistat (Virginia Madsen), to whom Miles is intensely attracted. In order to facilitate work on his brick, Miles decides to patch his computer into his firm's immensely powerful super-computer; accidentally spilling champagne onto his motherboard, he is astounded when this produces a sentient computer [1]. While he is at work, the computer (Bud Cort), hearing Madeline practicing a Bach minuet, engages her in a musical duel -- she, naturally, attributes the music to Miles. When Miles realizes this, he decides to use the computer to woo Madeline for him -- with phenomenal ill-success, at first, as the computer cannot understand what Love is -- until Miles reminds it of how it felt when listening to Madeline's music. Unfortunately, this causes the computer to fall in love with her himself itself, and thus begins an escalating rivalry between man and machine for a woman's heart...
As mentioned above, the film was only a moderate success at the box office. Some critics found it generally disjointed and unbelievable, and disliked the obviously music-video influenced cinematic style. Others found it quirkily charming, recognizing particularly the "chemistry" of the cast, and recommended it as an ideal date movie. Lately, it has been gaining ground among children of The Eighties as a typical film of the era and a vehicle for nostalgia.
---
Tropes Employed In Electric Dreams:
 He was a boy who bought a computer,

To put him right, wake him up on time --

What an appliance -- a matter of science --

Taking over was its only crime!

...

Electric Dreams! Electric! Ooh, lalala! Ooooooh!
Community content is available under
CC-BY-SA
unless otherwise noted.