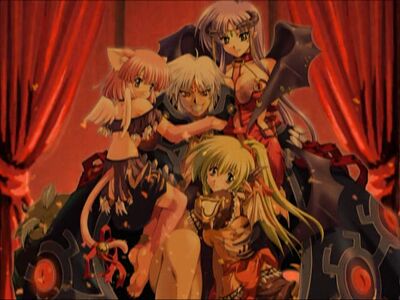 Lord Felser is a Demon Noble in a land where demons co-exist uneasily with humanity. Angered by encroaching humanity, he decides to take over the world to put them in their place. He hits upon the means to do this after defeating and sexually assaulting an attempted intruder, who becomes pregnant and gives birth to powerful demon children.
So he sets out on the trail to conquest, with his cohort and confidant the demoness Lady Liese, first to unite the demon lands under his rule, and then to challenge the powerful Que Kenz Church and the opulent Kingdom of Gikraf. Along the way, he gathers more champions and commanders, and more brood mares to produce his demon spawn in greater numbers and variety.
Eiyuu X Maou (translates roughly to "Hero vs Devil King") is primarily a Turn-Based Strategy with RPG and Dating Sim elements, Visual Novel style storytelling, and H-scenes justified in both gameplay and plot. Though inseminating the known world to amass forces is an important aspect, the gameplay actually stands well enough on its own. The H-scenes, although non-interactive, feature beautiful artwork and full voice-acting (sometimes breathtaking.)
Tropes used in Eiyuu X Maou include:
Community content is available under
CC-BY-SA
unless otherwise noted.