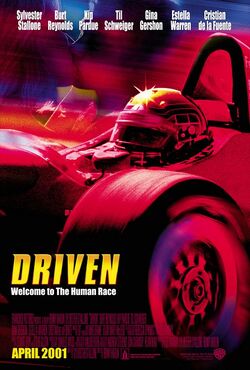 Driven is a 2001 auto-racing movie directed by Renny Harlin (Die Hard 2, Cliff Hanger, Cutthroat Island), written and produced by Sylvester Stallone, and starring Stallone, Kip Pardue, Til Schweiger, Burt Reynolds, Robert Sean Leonard, Estella Warren, Gina Gershon, Stacy Edwards and Cristian de la Fuente.
Ambitious rookie driver Jimmy Bly (Pardue) has been fast rising through the ranks of the ChampCar World Series at the behest of his brother/manager Demille (Leonard), but his performance has recently been slacking. His arch-rival, ex-champion Beau Brandenburg (Schweiger), is rising to the top again. To bolster his performance he dumps his fiancee Sophia (Estella Warren). Bly's team's owner Carl Henry (Reynolds) attempts to bolster his performance by having veteran Joe Tanto (Stallone) come out of retirement and mentor him, replacing his teammate Memo Moreno (Fuente). To further complicate matters, Joe's ex-wife Cathy Heguy (Gershon) is now married to Memo, and isn't pleased about Joe replacing him. The film portrays Jimmy, Joe and Beau sparring at various races to win the championship. Yet another character, journalist Lucretia Clan (Edwards) stands on the sidelines and romances Joe.
Was originally going to be about Formula One, but this was scrapped to be about Champ Car instead because Stallone couldn't procure enough information about the former, and couldn't get enough access to film at the real life races. Was not well-received by critics, on the grounds of unrealistic plot dynamics, underdeveloped characters, bad acting, bad special effects and an all-round tasteless portrayal of auto-racing.
---
This film provides examples of:
Community content is available under
CC-BY-SA
unless otherwise noted.