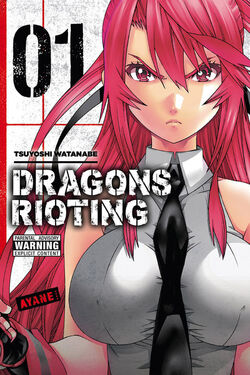 A 2012 manga about a teenager boy with a ridiculous disease.
Rintaro Tachibana was diagnosed when he was six with a disease known as "Hentai Syndrome". Basically, if he becomes sexually aroused, he will suffer with excessive Nosebleed and die. His father decided then to train him to control his body's impulses, but Rintaro still decided to go to an all-boys high school when he was 16.
The problem is, he committed an error and Nangokuren High School is actually the biggest all-girls school that has just gone co-ed. Also, the school's only solid rule seems to be "survival of the strongest", with students divided into factions fighting between themselves for control. Not surprisingly, Rintaro ends up in the middle of a fight in his first day and, thanks to his martial arts prowess, Ayane, one of three big faction leaders, desperately stalks him so she can become his "disciple". And she's hot as hell, that is a big problem for Rintaro.
Written and illustrated by Tsuyoshi Watanabe. Serialized on Fujimi Shobo's Monthly Dragon Age.
Tropes used in Dragons Rioting include:
Community content is available under
CC-BY-SA
unless otherwise noted.