Back to Dragon Ball
In order of appearance
---
Son Goku
Son Goku (孫 悟空)
(Saiyan birthname: Kakarot (カカロット; Kakarotto))
Main hero of Dragon Ball. Started off a rather extraordinary child with super strength, a tail and naivety of the outside world. Later, though, it is revealed that he's a Saiyan, an alien race of warriors who hire themselves out as mercenaries to tyrants who destroy worlds. However, he is amongst the last four (well, eight) of his kind. Although originally sent to devastate Earth, he instead becomes the saviour of the world multiple times over.
Bulma
Bulma Briefs (ブルマ ブリーフ; Buruma Buriifu)
The very first human Goku came across (apart from his grandpa) at the start of the series. One could say she's the trigger that kicks off the series as a whole. Originally on a quest to gather the Dragonballs for her own reason (to have a boyfriend), Bulma gets dragged into the craziness that comes along with the search. Even when the quest is finished, she still keeps close ties with Goku and his friends and helps out whenever possible. Which, considering she's a mechanical whiz, is quite often.
Master Roshi
Master Roshi (武天老師; Muten Roushi)
AKA Kame Sen'nin (亀仙人)
| | | |
| --- | --- | --- |
| |  Voiced by: Kouhei Miyauchi, Hiroshi Masuoka, Masaharu Satou (Japanese); Dean Galloway (Harmony Gold dub); Ian James Corlett, Peter Kelamis, Terry Klassen (Ocean dub); Mike McFarland (Funimation dub) | |
Goku's first mentor. A hermit whose home is located on a small island in the middle of the ocean. Very strong (at least at the start of the series) and with a keen eye. Also very perverted and usually hits on any pretty tail that comes his way.
Yamcha
Yamcha (ヤムチャ; Yamucha)
Yamcha was a desert bandit, Bulma's first love, and Goku's first rival. Even in the original series, Yamcha was often used as the primary victim of the Worf Effect, hardly winning any important fights despite being one of the most powerful protagonists. By Z he was pretty much a target to show how tough the villains were, so much so that around the Buu Saga he gave up fighting entirely (except for fillers in which he somehow defeated enemies even Goku had trouble with a few years before).
Yamcha was the series' originator for a lot of the tropes and quirks that would later be popularized by characters like Krillin, Piccolo, and Vegeta. The rival-turned-friend, Butt Monkey, Mr. Exposition, and "bad boy" roles these characters fulfill all started with him. Even Gohan and Future Trunks draw from him: they both inherited his shy awkwardness, sword fighting, and long-haired character designs.
Krillin
Krillin (クリリン; Kuririn)
| | | |
| --- | --- | --- |
| |  Voiced by: Mayumi Tanaka (Japanese); Terry Klassen (Ocean dub); Laurie Steele (Kid Krillin), Sonny Strait (Adult Krillin) (Funimation dub) | |
One of the few human characters who retained most of their screentime even in DBZ (even though it was mostly as a Comic Relief and by few we mean the only one). Started off as a rival to Goku when both trained under Muten Roshi when they were kids. He soon became a best friend and Heterosexual Life Partner to Goku and the two have been through thick and thin through their battles and lives.
Tien
Tien (天津飯; Tenshinhan)
Introduced in the second Budokai arc, Tenshinhan (Tien) and Chaozu were initially rivals to Goku, Kuririn and Yamcha (as they belonged to an opposing dojo to Roshi's). The two eventually become friends to our heroes after realizing the lack of honor in their own methods. They become instrumental in the the next few arcs following their introduction, but by Z their roles had become less and less till they were reduced to cameo appearances and a few references in Dragon Ball GT.
Arrogant Kung Fu Guy: Tien was one of these before he became one of the heroic characters. While most Dragon Ball villains are this to a certain extent, Tien is the most clear example of it as afterwards the villains are all Aliens, Demons, Androids, and Genies. He was arguably the Trope Codifier of an Arrogant Kung Fu Guy for anime.
Awesomeness By Analysis: How he learns the Kamehameha and the Mafuba in Dragon Ball. He is stated to have the ability to copy techniques.
Badass
Badass and Child Duo: Tien and Chiaoutzou in Dragon Ball. Mess with the kid and he'll tear you apart.
Handicapped Badass: He lost his left arm during his fight with Nappa. It didn't stopped him from continuing the fight.

Berserk Button: Hurting Chiaotzu, who is like a little brother to Tenshinhan.
Big Damn Heroes: Tenshinhan gets some pretty awesome ones.
The Big Guy: Until his resurrection.
Bond Villain Stupidity: In his fight against Goku during the 22nd World Martial Arts Tournament, Tien, who was starting to feel overpowered by Goku's tremendous stamina and having several of his techniques outdone by Goku's very own, ingenuously decided that, if he could not knock Goku unconscious or push him out of the platform, he would simply destroy the entire platform; that way, Goku would lose by ring out because there would be no platform left to stand on. Tien, who possesses the ability to fly, did not have that problem. He managed to destroy the platform with his powerful Kikoho attack, but instead of simply waiting for Goku, who had jumped very high to escape the blast, to hit the ground, Tien decided to fly close to him, accompanying Goku as he fell down, in order to gloat about his inevitable victory. That opened an opportunity for Goku to use one last attack that knocked Tien unconscious, and now both fighters were falling to the ground. Subverted because Tien, by a stroke of luck, actually won the fight, but he was arguably in worse physical condition than Goku by the end of it.
Broken Pedestal: Tenshinhan idolized the assassin Tao Pai Pai, until he realized Tao Pai Pai had no honor.
Cannot Tell a Joke: He did manage a joke. Once. But it took rigorous discipline and concentration.
Can't Catch Up: He lasted a little longer then Yamcha and Krillin and was still useful after he fell behind though.
Cast From HP: Tenshinhan's Kikouhou (Tri Beam) drains your life and will kill you if you use it too much.
Characterization Marches On: Upon his introduction, Tien was an arrogant fighter who enjoyed taunting and mocking his opponents, and even had a somewhat acid sense of humor, like when, after an accidentaly humorous and rather embarrassing exchange between Roshi's students, Tien mockingly suggests that comedy must be one of the disciplines taught at the Kame school of martial arts. Once he changed sides, Tien became a lot more serious and composed, rarely smiling and so humorless that he is shown struggling to tell a simple joke.

That's likely because his earlier humor was mean spirited and not meant with any sense of irony. As he became nicer and more emphatic that kind of humor probably would be hard for him to pull up again.

The Determinator: He has no problem rushing into battle with opponents he knows he can't beat.
Defeat Means Friendship: Subverted. Tenshinhan actually won; Goku didn't beat him until the next tournament.
Demoted to Extra: Buu Saga and GT. He shows up again to fight in the Buu Saga only to be one-shotted.
Doppelganger Attack: His Multiform technique, unfortunately the copies are weaker than the original.
Deadpan Snarker: In his early appearances, he displayed an acidic sense of humor:
| | | |
| --- | --- | --- |
| |   Tenshinhan (To Yamcha): For someone who doesn't speak pain, you sound very fluent. | |
Piccolo
Piccolo (ピッコロ; Pikkoro)
A Namekian (a race of green skinned aliens), though at the start this wasn't really known; he was the son of the self-proclaimed Demon King Piccolo, who Goku defeated in the original series. After being spat out as an egg and hatched. Piccolo tried to carry on his father's work but was defeated by Goku and allowed to live. As the series rolls into the Z saga, his evil exterior softens due to training Son Gohan, and eventually becoming a second father to the kind-hearted little boy during Goku's frequent deaths. The one-time Demon King eventually becomes one of Goku's most trusted allies, and incredibly popular amongst the fanbase.
Son Gohan
Son Gohan (孫 悟飯)
Son of Goku and Chi-Chi introduced in the Z series, and a half Saiyan (he starts off having a tail like Goku did). At first was just a child crybaby with hidden strength. But under the tutelage of Piccolo and his experiences in battle, turns into quite an accomplished warrior. Unfortunately for him, he hates violence and would rather be a scholar.
Vegeta
Vegeta (ベジータ; Bejiita)
The royal prince of all Saiyans and, next to Goku, one of the few surviving of his kind. Started out as a villain who came to Earth to use the DragonBalls for his own ends. But after that battle and his repeated run-ins with the heroes, he slowly but surely starts to come over to the heroes' side... somewhat.
| | | |
| --- | --- | --- |
| |   (to Nappa) "A paralyzed Saiyan has no further need to live. Die!!" | |
Trunks
Trunks Briefs (トランクス ブリーフ; Torankusu Buriifu)
 Voiced by: Takeshi Kusao (Japanese)

Kid Trunks voiced by: Cathy Weseluck (Ocean dub), Laura Bailey (Funimation dub)

Adult Trunks voiced by: Allistair Abell (Ocean dub), Eric Vale (Funimation dub)

Baby Trunks voiced by: Stephanie Nadolny (Funimation dub)
Son of Vegeta and Bulma. There are actually two versions of him in the story. When first introduced, he is a traveler from an alternate future where androids have destroyed much of the world. Comes to the main timeline to warn Goku and his friends of their fate and then sticks around to make sure none of it comes to pass.
Future timeline

Main Series timeline
Afterward, the Trunks of the main timeline is revealed to be somewhat of a daredevil and thrill seeker (partially thanks to his father's influence), usually being the one to make the decisions between Goten and himself. He mellows out by the GT saga though and is a bit more rational.
Son Goten
Son Goten (孫 悟天)
The second son of Goku and Chi-Chi, born sometime between the Cell Saga and Buu Saga. Has a very childlike naivety not unlike Goku when he was little; though also has Gohan's childhood crybaby tendencies. Between Trunks and himself, he's surprisingly the voice of reason, though he usually goes along with the former's ideas. By GT, he's worrying more about girls than fighting.
Adorkable: Well mannered, naive and so dorky he's the only person who finds Gohan's embarrassing superhero costume to be "cool."
Fusions
Vegetto (ベジット; Bejitto)
The combined form of Goku and Vegeta, using the Potarra Earrings. A long-awaited combination and the most powerful character in the manga Z series. And then he got turned into a gumball. Hilarity Ensues.
Gotenks (ゴテンクス; Gotenkusu)
When Goku returned from the afterlife with the knowlege of the Fusion Dance but no eligible partner to perform it with, Goten and Trunks were taught it, and their mothers came up with the combined name Gotenks. The result combines Goten's childishness with Trunks' brattiness to create one of the weirdest and goofiest fighters in the series, the kind who would come up with the Super Ghost Kamikaze Attack.
Gogeta (ゴジータ; Gojīta)
The combined form of Goku and Vegeta using the Fusion Dance. He debuted in the Movie 12 as a last ditch effort to defeat Janemba, and it worked. He shows up again in GT as a rather goofy Super Saiyan 4 to fight against Omega Shenron.
Pan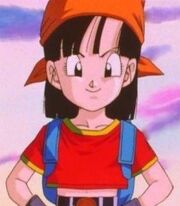 Pan (パン)
 Voiced by: Yuko Minaguchi (Japanese)

Kid Pan voiced by: Kate Bristol (Funimation dub)

Teen Pan voiced by: Elise Baughman (Funimation dub)
The daughter of Gohan and Videl, introduced at the tail end of the original series though given more of a fleshed out character in the anime-only GT series. Very much a tomboy and thrill-seeker, willing to prove she's just as tough as her grandfather when given the chance. But not without a soft side either.
Community content is available under
CC-BY-SA
unless otherwise noted.