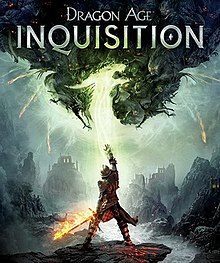 The third game in BioWare's Dragon Age franchise, it's an action role-playing video game developed by BioWare and published by Electronic Arts. The game was released worldwide in November 2014 for Microsoft Windows, PlayStation 3, PlayStation 4, Xbox 360, and Xbox One. Several DLC's (Jaws of Hakkon, Dragonslayer, Spoils of the Avvar, The Descent and Trespasser, the last one serving as the Epilogue of the game itself) followed through 2015.
The story of Inquisition follows a new Player Character known as the Inquisitor. The player can customize their gender, class and race - he or she can be either a human, an elf, a dwarf or a Qunari. In any way s/he sets out on a journey to settle the civil unrest in the continent of Thedas and close a mysterious tear in the sky called the "Breach", which is unleashing dangerous demons upon the world: this is because s/he is viewed by some as The Chosen One, as they have a 'Mark' on their hand capable of closing the Breach. The Inquisitor assembles the titular Inquisition (formed by Mages [Dorian, Vivienne and Solas], Warriors [Blackwall, Cassandra and the Iron Bull], Advisors [Leiliana from the earlier games, plus Cullen and Josephine] and Rogues [Sera, Cole and Varric]) in an attempt to stop Corypheus, an ancient darkspawn, who opened the Breach in the course of his attempt to conquer Thedas and achieve godhood. . .
---
Tropes used in Dragon Age: Inquisition include:
An Arm and a Leg: The Inquisitor, in Trespasser.
Badass Gay: Dorian (an homosexual Black Mage), Seras (a lesbian archer), the Iron Bull (a pansexual Qunari warrior), Josephine (a bisexual ex-bard and now Guile Heroine), Krem (Bull's Transsexual Number Two), and if the player so desires, the Inquisitor themself.
Incompatible Orientation: Cassandra and Dorian can only be romanced by male Inquisitors; Cullen, Sera and Solas are only avaliable to Female ones (and the latter will only get together with an Elven female one)
The Reveal: That That Solas, the elven mage companion, is not JUST any elf. He is freaking Fen'Harel, an Elven God.
Community content is available under
CC-BY-SA
unless otherwise noted.