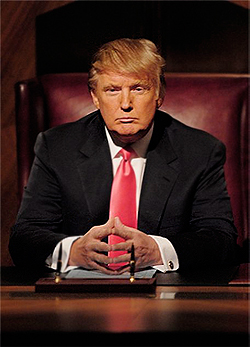 A famous (sic) real estate mogul known for slapping his name on the front of his innumerable hotels, casinos, resorts and golf courses. He also hosted a TV program you might've heard about.
Most of his capital is rooted in New York City, where he owns several million square feet of property, including half of the Empire State Building. But this is a secondary achievement to Donald's hairstyle, which rivals any architecture he's built.
In The Seventies, Trump inherited his real estate business from his father Fredrick (rechristening it "The Trump Organization", natch). Following a five-year apprenticeship under his dad, Donald relocated to New York City to begin his career in earnest. He went on to gather up Manhattan's most profitable properties like so many vacant Monopoly squares.
Had IMDb existed in The Eighties, Trump would already have had an entry on it. His 1987 semi-autobiographical book, The Art of the Deal, sold extremely well as people began to identify him with American entrepreneurship and shrewd power brokering. It was around this time that Trump started to appear As Himself in television Dom Coms and films, including Home Alone 2 and The Fresh Prince of Bel-Air, where the characters invariably treat him with a reverence usually reserved for royalty. His golden boy image took a beating in The Nineties as the result of bankruptcies, a much-publicized extramarital affair, and mounting debt (partly as a result of the 1980s recession), but he managed to bounce back.
Beginning in 2004, Trump starred in The Apprentice, his own reality TV series (created by Mark Burnett, the brains behind Survivor) on NBC. The show consists of a selection of candidates competing against each other for an open slot in one of Trump's companies. The program was wildly successful and remains one of the highest-rated reality shows to date. Since then, Donald Trump's mug has been pretty much impossible to avoid.
He also holds joint-ownership over the Miss Universe pageant, also encompassing Miss USA and Miss Teen USA. Not bad work if you can get it.
In 2011, Trump briefly ran in the Republican presidential nomination primary for the 2012 election, seen by some as a ratings stunt. He was a proponent of the "birther" theory, so his campaign was ended after the birther train was stopped for good by Barack Obama providing his long-form birth certificate. He later ran for President again in 2016. His campaign, and his Presidency, have been controversial, to say the least. To his supporters, he's the strongman out to Make America Great Again. To those Americans who did not support him, he's a narcissistic blowhard with a fragile ego who refuses to condemn racists, among other things.
Donald Trump provides examples of:
Community content is available under
CC-BY-SA
unless otherwise noted.