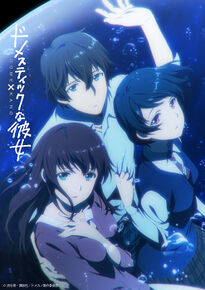 "YOU'RE BECOMING SIBLINGS WITH THE GIRL YOU HAD SEX WITH *AND* YOUR TEACHER?!"

—-- The plot, in a nutshell. As eloquently described by Natsuo's best friend Fumiya.
Natsuo Fujii is a highschool student and prospect novelist who lives with his widowed father Akihiko and has one Hell of a crush on his English teacher, the beautiful Hina Tachibana. In an attempt to get over himself and his feelings for Hina, at some point he goes out with some friends and meets a cute but antisocial girl around his age, Rui. The two agree to give their virginities to each other, thinking it'll be a one-night stand and nothing else.
This turns out to be a big, BIG mistake.
Few later, Akihiko Fujii announces that he has finally found a love match and that he's remarrying. The lady he's hooking up with, Tokiko Tachibana, has two pretty daughters... and they turn out to be both Hina AND Rui. So Natsuo, who's dealing with his conflicted feelings after (in his view) "betraying" his love for Hina via sleeping with Rui, is now caught between both sisters as the two families move in together...
Domestic na Kanojo (Japanese: ドメスティックな彼女, Domesutikku na Kanojo, or Domestic Girlfriend) is a Japanese shonen manga series written and illustrated by Kei Sasuga. It's been running from 2014 onwards in Kodansha's Weekly Shonen Magazine, and as of early 2019 it has 20 tankoubon. An Animated Adaptation has begun its run on January 2019.
Tropes used in Domestic na Kanojo include:
Community content is available under
CC-BY-SA
unless otherwise noted.