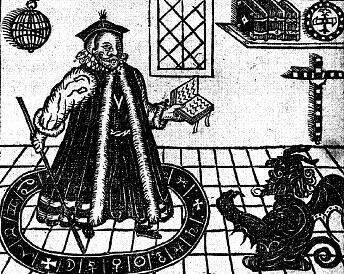 So you're a doctor in post-medieval Germany who's getting tired of the dreary drudgery of everyday life. What to do when saving the lives of your patients no longer brings you a feeling of satisfaction and joy? Why, turn to satanic magic and summon a devil to use as your own personal slave of course! We're sure you can guess what happens next.
The Tragicall History of the Life and Death of Doctor Faustus is 16th-century English playwright Christopher Marlowe's take on the classic legend of Faust, or, as he calls him, Dr. John Faustus. Marlowe, who in his own time was considered something of a rebel and an atheist, represents Faustus as a typically Renaissance figure, seeking above all things knowledge--and the expansion of personal wealth and power that knowledge brings. His play is the first version of the story to present the central figure as an Anti-Hero, who is somehow magnificent even in the midst of his crimes, exactly because his desires have no limits.
Perhaps the best known part of this play is the famous invocation of Helen of Troy (or, as Faustus calls her, "Helen of Greece"):
 Was this the face that launch'd a thousand ships,

And burnt the topless towers of Ilium?--

Sweet Helen, make me immortal with a kiss.--
This play is, of course, the Trope Namer for Launcher of a Thousand Ships. See also Faust for further information, including versions of the story by other authors.
---
Christopher Marlowe's Doctor Faustus contains examples of the following tropes:
Community content is available under
CC-BY-SA
unless otherwise noted.